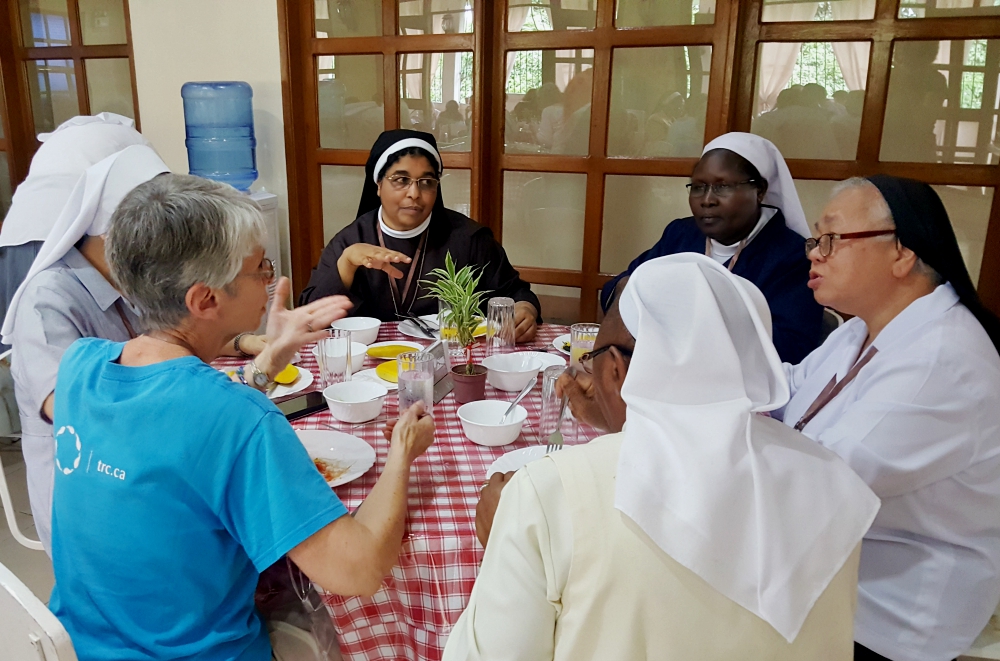 Sisters from around the world connect over a meal at the November 2017 delegates meeting of the International Union of Superiors General in Manila, the Philippines. (GSR photo / Gail DeGeorge)
Vatican City — April 30, 2019
In the three years since Pope Francis announced he would create a commission to study the history of women deacons in the Catholic Church, signaling a possible openness to ending the global institution's practice of an all-male clergy, there has been little news about the group's work.
Although two members said earlier this year that the commission has given a report to Francis, the pope himself has never spoken publicly about the matter, giving no hint of his own opinions.
Now, that looks set to change. Approximately 850 leaders of the world's congregations of Catholic women religious are preparing to come to Rome May 6-10 for their triennial weeklong meeting of the International Union of Superiors General (UISG), an umbrella organization that represents more than 450,000 sisters and nuns around the world.
It was during a question-and-answer session with this group in May 2016 that Francis first announced the creation of the commission. While the International Union of Superiors General has not said whether members will ask the pope questions again, they are set to meet with him this year on May 10.
"Obviously, that question was asked three years ago," Sr. Pat Murray, the group's executive director, said in a recent interview with GSR staff. "We don't know what the pope will say. ... We just have to wait and see."
The sisters' audience with the pope will come on the last day of their assembly, which has the theme "Sowers of Prophetic Hope." Those attending include leaders of congregations from 80 countries who speak at least 13 different languages.
Organizers and participants say the theme for the five-day gathering was chosen to help the women religious discern how they can act as healers and bridge-builders in a time of political and cultural divisions.