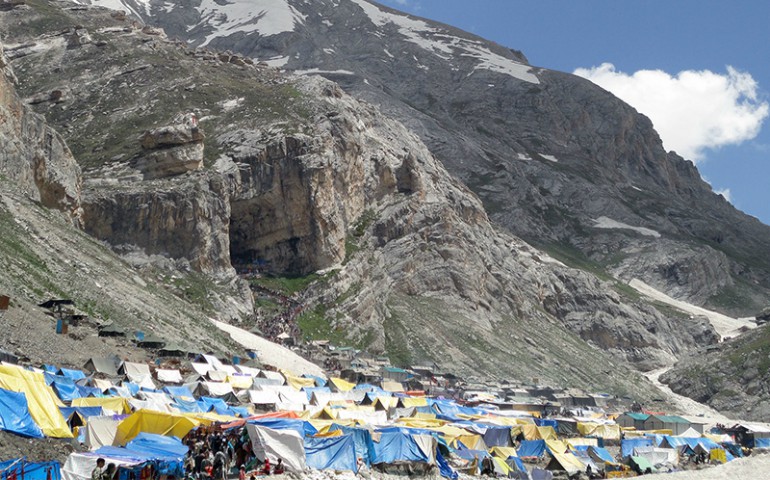 Tents are seen at the base of the imposing Amarnath Cave, which Hindu pilgrims walk to in the background. (Creative Commons/Hardik Buddhabhatti)
Srinagar, INDIA — July 11, 2017
Six Hindu pilgrims, most of them women, were killed in a gun battle that erupted in Indian Kashmir on July 10 following two militant attacks on police.
The pilgrims were in a bus on their way back from the Amarnath shrine deep in the Himalayas when their bus got caught up in the crossfire in Anantnag town, police said.
Twelve pilgrims were wounded in the fighting that was triggered after the militants attacked a police bunker and another police party at a checkpoint.
The attack is likely to raise the ire of hardline Hindu groups tied to Prime Minister Narendra Modi's ruling party who have long sought tough action against militants fighting Indian rule in Muslim majority Kashmir.
About 100,000 pilgrims have already completed the journey to the Amarnath shrine that began late last month and is due to end in late August under tight security.
"Pained beyond words on the dastardly attack on peaceful Amarnath Yatris in J&K. The attack deserves strongest condemnation from everyone," Modi tweeted, adding that he has spoken to the governor and chief minister of the state of Jammu and Kashmir and assured "all possible help."
The Amarnath cave, located 12,000 feet above sea level in Lidder Valley in Indian Kashmir, is visited by hundreds of thousands of pilgrims every year in the months of July and August.
India has been struggling to restore normality in Muslim-majority Kashmir, which both India and Pakistan claim in full but rule in part.
India accuses Pakistan of pushing in militants from its part of Kashmir to carry out attacks, a charge denied by Islamabad.