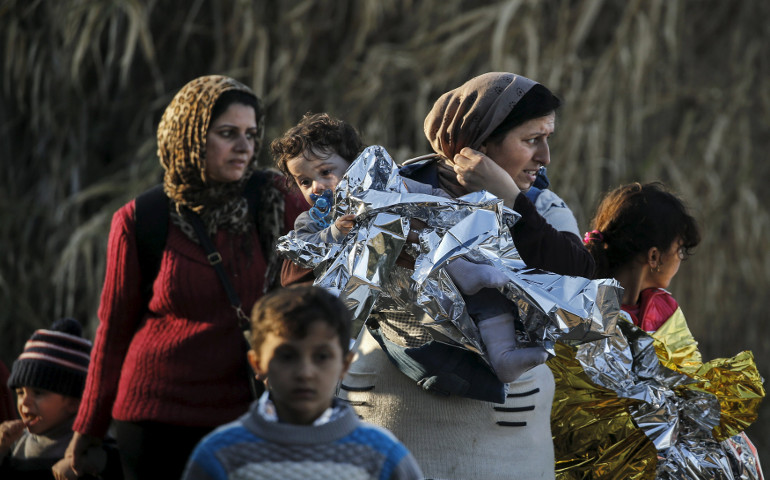 A Syrian refugee carries her child in a thermal blanket as refugees and migrants arrive Nov. 10 on an overcrowded boat on the Greek island of Lesbos. (CNS/Reuters/Alkis Konstantinidis)
Washington — November 25, 2015
The extensive vetting process that all refugees undergo before arriving in the United States "screens out any possible threat of terrorism," said the executive director of the U.S. bishops' Migration and Refugee Services.
"We believe the risk is nil and certainly when we look at this (process) under a microscope, these are the most vetted people that come into our country," William Canny told Catholic News Service.
The director said the State Department screening procedure -- which the White House posted on its website Nov. 20 -- is comprehensive and makes security its highest priority.
"We're highly confident that it's well done, that it screens out any possible threat of terrorism. Based on that, we're very comfortable receiving these families, which by the way, are mostly women and children," Canny said.
Questions about the possible entry into the U.S. by extremists tied to Islamic State militants who control large swaths of Syria and Iraq have been raised since a string of violent attacks in Paris Nov. 13 and the downing of a Russian jetliner over Egypt's Sinai desert Oct. 31, all claimed by the organization.
Members of Congress, presidential candidates, state legislators and at least 31 governors have called for the federal government to stop the resettlement of Syrians, saying they feared for Americans' security.
Republicans in the House of Representatives Nov. 19 secured a veto-proof majority, 289-137, on the American Security Against Foreign Enemies Act that would block Syrian and Iraqi refugees from entering the U.S. unless they undergo strict background checks. The Senate was expected to vote on the bill the week of Nov. 30.
MRS helped resettle 376 Syrians nationwide between Aug. 15, 2012, and Nov. 24. The agency reported that it also has resettled 13,110 Iraqis since 2008.
The agency is under contract with the State Department to resettle about 30 percent of the 70,000 refugees the country accepts annually. In 2014, MRS resettled 20,875 refugees from around the world in the U.S. It is the largest nongovernmental resettlement agency in the world.
Simon Henshaw, principal deputy assistant secretary in the State Department's Bureau of Population, Refugees and Migration, said at a Nov. 19 media briefing that the U.S. resettled 1,682 Syrian refuges in year ending Sept. 30.
Overall, more than 4 million Syrian refugees have fled their homeland since the Syrian civil war began in March 2011.
President Barack Obama has directed the State Department to prepare to admit at least 10,000 Syrian refugees during fiscal year 2016, which ends Sept. 30.
Henshaw called the effort a "modest but important contribution to the global effort to address the Syrian refugee crisis."
Streams of Syrians have fled to Europe this year as their country's civil war showed no signs of ending. Hundreds of thousands of people have made their way to Germany while other European nations have opened their borders, but to lesser numbers. Other countries, however, have denied entry to the refugees.
Religious and civil rights leaders in the U.S. have prevailed on federal officials to realize that providing humanitarian assistance to the refugees, including their resettlement, is a moral obligation.
The concerns raised by some U.S. elected officials focus almost exclusively on security. They point to the possibility that an extremist could get through the vetting process and eventually team up with other like-minded people to attack innocent civilians.
Henshaw said the refugee resettlement program prioritizes admitting the most vulnerable Syrians, including female-headed households, children, survivors of torture and people with severe medical conditions.
"We have, for years, safely admitted refugees from all over the world, including Syrian refugees, and we have a great deal of experience screening and admitting large numbers of refugees from chaotic environments, including where intelligence holdings are limited," Henshaw said.
Jane E. Bloom, head of the U.S. office of the International Catholic Migration Commission, told CNS that many of the refugees her agency is resettling are severely injured and have been devastated by the war.
"We're seeing a high number of cases that are burn victims, lost limbs, shrapnel injuries needing operations," she said. "Most of the Syrians are traumatized by an act of war. They've lost family and friends.
Refugees initially are selected for resettlement by the staff of U.N. High Commissioner for Refugees. The ICMC -- based in Geneva and with its U.S. office at the U.S. Conference of Catholic Bishops -- is one of the worldwide agencies working with UNHCR in processing people chosen for resettlement.
ICMC has worked in two refugee support centers in Istanbul and Beirut during the Syrian crisis. Another agency, the International Office of Migration, works with refugees at support centers in Jordan and Egypt.
Before the ICMC gets involved with any Syrians, the U.S. Department of Homeland Security conducts its own screening, Bloom said. After that step ICMC staff members begin vetting under State Department rules, collecting biographical and family information, and learning why a family fled their home in the first place, she explained.
"When it comes to vetting, refugees -- and in particular Syrian refugees -- are the most vetted I have come to work with in the last 30 years," Bloom told CNS.
"Resettlement is the most powerful protection tool that we've got in our toolbox. So ICMC uses that very wisely and very preciously for those that are very vulnerable, those who are not officially protected within Lebanon and Turkey," Bloom added.
In 2014 ICMC helped resettle 7,365 refugees to the U.S. from the support center for Turkey and Middle East, according to the agency's annual report. The agency did not provide data on how many of those refugees were Syrians.
The screening process for any refugee can take 18 to 24 months or more to complete, according to the State Department. It involves gathering identifying documents, personal information and an explanation why a person or family fled in addition to a series of interviews. Iris scans and biometric data are gathered for Syrians and other Middle East people, the White House graphic showed.
Refugee families are fingerprinted and undergo a security screening that involves four U.S. agencies including the National Counterterrorism Center, Federal Bureau of Investigation, Department of Homeland Security and State Department. Any one agency can deny entry for any reason.
Medical checks also are completed.
Once cleared, applicants are required to complete cultural orientation classes. They then are assigned to a U.S.-based nongovernment organization for resettlement. One such NGO is the bishops' Migration and Refugee Services, which works in turn with local diocesan resettlement agencies, commonly run by Catholic Charities.
Locations selected for permanent resettlement are based on family reunification needs or the presence of an existing community of people from a given country, Canny said.
In total, the Syrian-born U.S. population stood at about 86,000 people in 2014, representing about 0.2 percent of the nation's 42.4 million immigrants, according to a fact sheet released Nov. 24 by the Migration Policy Institute.
Using U.S. Census data, the institute found that the Syrian population grew by about 43 percent between 2010 and 2014. It attributed the increase primarily to the country's civil war.