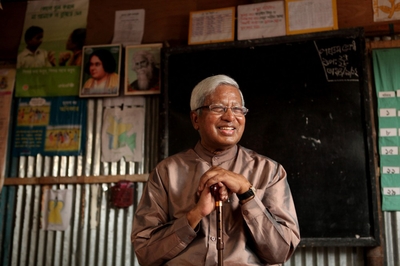 Sir Fazle Hasan Abed
Ames, Iowa — October 13, 2015
Sir Fazle Hasan Abed of Bangladesh is this year's recipient of the 2015 World Food Prize. He delivered his first address of World Food Prize week to a packed room Monday at Iowa State University as part of the annual Norman Borlaug lecture series.
Abed is being honored with the award for his work as founder and chairperson of BRAC (formerly called Bangladesh Rural Advancement Committee), the largest non-governmental organization around the globe that has fought hunger and poverty since 1972, impacting over 150 million people.
The annual World Food Prize "recognizes contributions in any field involved in the world food supply -- food and agriculture science and technology, manufacturing, marketing, nutrition, economics, poverty alleviation, political leadership and the social sciences."
The World Food Prize committee said that Abed "pioneered a new approach to development that has effectively and sustainably addressed the interconnectedness between hunger and poverty. In this regard, Sir Fazle has broken new ground by melding scalable development models, scientific innovation, and local participation to confront the complex causes of poverty, hunger, and powerlessness among the poor."
Born in 1936 into a prestigious and wealthy family, Abed was expected to contribute honorably to a family steeped in distinguished civil service. First educated in naval architecture, he realized such a degree could not give a fulfilling life experience and switched his career to accounting. Graduating from the Chartered Institute of Management Accountants in London in 1962, he finally returned home to Bangladesh in 1969, where he accepted a job with the Shell Oil Company as an accountant. He quickly rose up the corporate ladder to the senior accountant position and with it enjoyed a comfortable life.
But his life of comfortable stability was shattered in 1971 alongside millions of other people throughout Bangladesh. In a two-year period, his country endured the damage and social upheaval dealt first by a tropical cyclone that swept away entire towns and villages in its path and then by a successive war of independence from Pakistan lasting almost a year. It is estimated that between the cyclone and war, three million lives were lost with another estimated 10 million others displaced and homeless. The experience of hunger and poverty was immediate for millions.
Abed resigned his position from Shell Oil, sold his apartment in London and formed BRAC in 1972 with the purpose of addressing the crisis within his country.
"People need to develop self-worth," he said in his speech at Iowa State University, "and be aware of their situation. Powerlessness among the very poor, even over the smallest aspects of their lives, brings fatalistic thinking that things will never change."
He knew that once the foreign aid stopped, people would have to rebuild their lives and so he began with education and a vocabulary.
With many differing dialects in Bangladesh, a common vocabulary was necessary across the region. Everyone he met understood the word "hunger" and animated discussions over that reality provided both he and his staff new perspectives and insights.
"People who suffer from chronic hunger," he said, "say it is like being in prison or locked in a cage. They are away from others. They cannot participate in daily life as others do. Local power structures were exploitative as well. They were cruel and corrupt, taking advantage. People would work hard but their work gained them little."
For over 40 years, Abed has committed his life to working with the poor. Using a holistic approach to its agriculture, economy, and social cohesiveness, he eventually began to emphasize women's development with microfinancing in addition to healthcare and education.
When asked by an Iowa State student how he knows his money is being used effectively, he answered, "I have employed over 280 accountants. If donors do not see results, they stop giving."
BRAC and its model for rural development targeting hunger and poverty is now being deployed throughout the world in the countries of Uganda, Tanzania, Sierra Leone, South Sudan, Liberia, Haiti, Afghanistan, Pakistan, Sri Lanka and in the Philippines.
[Sue Stanton is an author and freelance journalist in Ames, Iowa.]