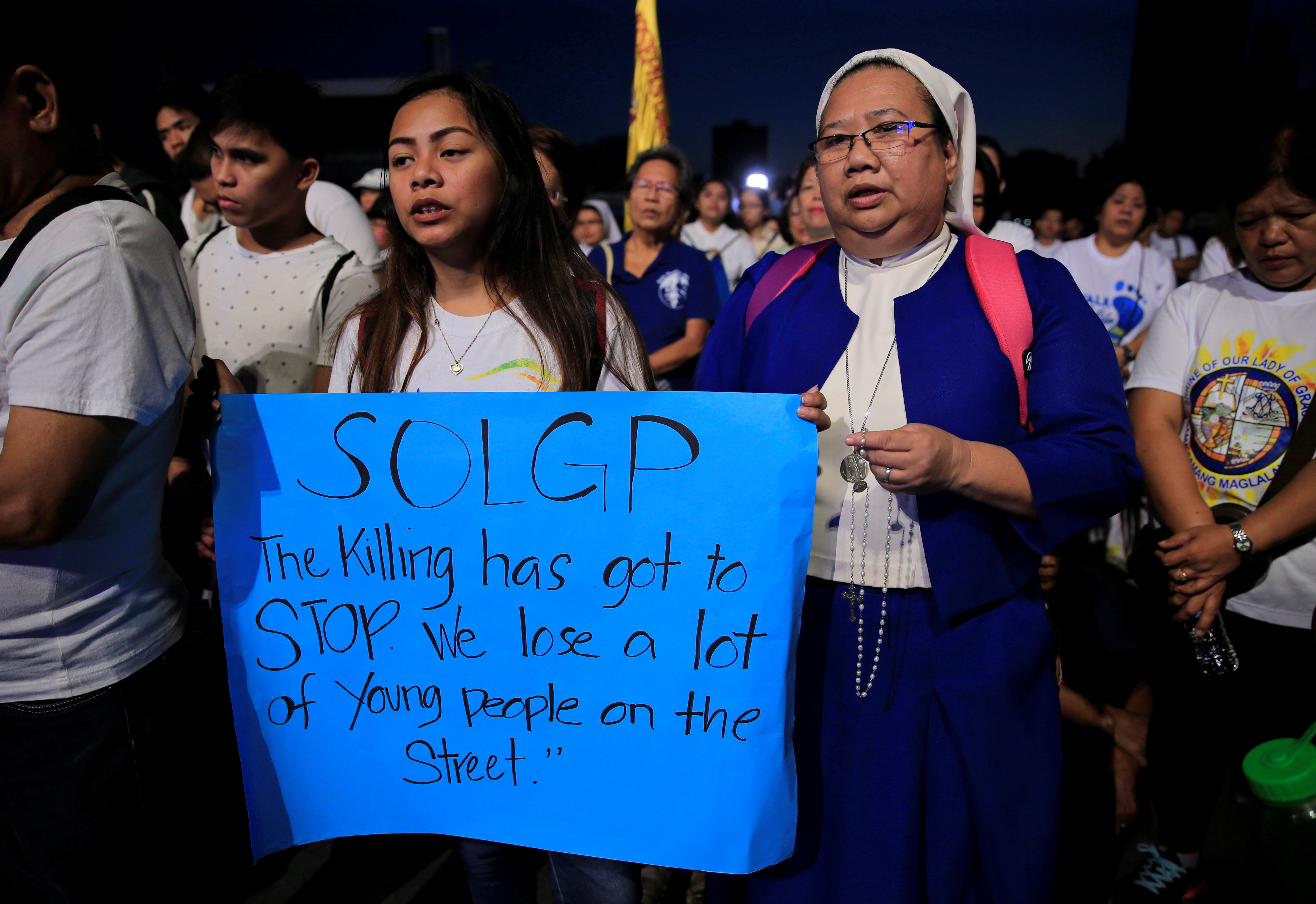 A young woman displays a placard as a nun prays the rosary Feb. 24 during a protest against plans to reimpose the death penalty and intensify the drug war during a "Walk for Life" rally at a park in Manila, Philippines. (CNS/Romeo Ranoco, Reuters)
Catholics came out strongly against what they described as "threats to life" in rallies held in major cities across the Philippines Feb. 24.
Cardinal Luis Antonio Tagle of Manila led priests, nuns, and laypeople in an early morning "Walk for Life" around the capital's main park, reported ucanews.com.
The cardinal appealed to Catholics to value all lives, even those of their enemies and society's so-called outcasts.
Ucanews.com reported that among the issues raised during the march were drug-related killings, a proposal in Congress to legalize divorce and changes to the constitution.
"Let us bring back the belief that the lives of other people, even of our enemies, are a gift from God," Tagle said.
Relatives of those who died in the government's "war against drugs" joined the candlelit procession in which an estimated 2,000 people took part.
"Life is a gift from God. But when we start thinking of other people's lives in terms of their usefulness to us, it becomes so easy for us to just do away and discard life," Tagle said.
He said it is "easy to walk for one's loved ones, but quite difficult to do the same for one's enemies."
In the central Philippines, an estimated 5,000 Catholics joined a "Walk for Life With Mary" led by Archbishop Jose Palma of Cebu.
The archbishop said Catholics support the government's war against drugs but "question the manner it is done because of questionable motives and circumstances."
"No man has the right to (end) another's life. God is the beginning and end of life. Let us protect life from womb to tomb," he said.
Rights groups say that close to 12,000 suspected drug users and peddlers have been killed in the government's campaign against narcotics.
"I hope all threats to life and the series of killings will stop because we are all brothers and sisters in Jesus and Mary," said Palma.
In Cagayan de Oro City, in the southern Philippine region of Mindanao, Archbishop Antonio Ledesma warned that the drug-related killings "will create more problems."
"While we are trying to solve one problem, we are creating another," he said, adding that it is the hope of the church "for the government to promote due process" in the campaign against illegal drugs.