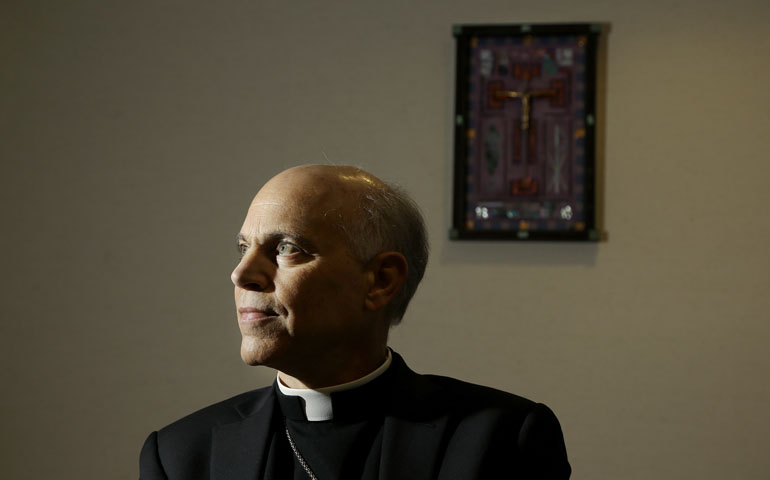 Archbishop Salvatore Cordileone in his office in San Francisco April 24 (AP Photo/Jeff Chiu)
San Francisco — May 22, 2015
"Bold," "brazen," "courageous," "combative," "timely" and "bombshell" were among descriptions that greeted the 2012 appointment of Salvatore Cordileone, then bishop of Oakland, Calif., to the high-profile San Francisco archdiocese.
In the nearly three years since Cordileone succeeded Archbishop George Niederauer, the new archbishop seems to have done little to change the minds of those who made those initial assessments.
Critics say Cordileone has aligned himself ever more deeply with hard-line conservatives in the church and estranged himself from Catholics who claim closer affinity with the Second Vatican Council. He arrived with a narrow agenda, they charge.
Supporters laud the archbishop for proclaiming undiluted doctrine, particularly on marriage, Catholic religious practice, and human reproduction.
Both camps argue that they have been caricatured by the other, treated like theological piñatas.
---
Related: Different visions of church collide in San Francisco archdiocese by Dan Morris-Young
---
The polarity strikingly surfaced April 16 when a full-page ad appeared in the San Francisco Chronicle, calling on Pope Francis to remove Cordileone. The ad was signed by more than 100 influential Bay Area Catholics.
The text charged that Cordileone has "fostered an atmosphere of division and intolerance," coerced teachers with a "morality code which violates individual consciences as well as California labor laws," and isolated "himself from our community" as he "relies ... on a tiny group of advisors recruited from outside of our diocese."
The archdiocese called the ad "a misrepresentation of Catholic teaching, a misrepresentation of the nature of the teacher contract, and a misrepresentation of the spirit of the Archbishop."
"The greatest misrepresentation of all is that the signers presume to speak for 'the Catholic Community of San Francisco.' They do not," a media release stated. "The Archdiocese has met with a broad range of stakeholders. Together, we have engaged in a constructive dialogue on all of the issues raised in this ad. We welcome the chance to continue that discussion."
The ad's signers bristled at the implication that they were a fringe group, pointing out they include members of school and university boards, a former director of Catholic Charities CYO, high-profile attorneys, physicians and businesspeople, and officials of trusts, foundations and charitable organizations.
An online arm of the Chronicle, SFGate, ran a poll after the ad, asking: "Should Pope Francis remove Archbishop Cordileone from the San Francisco archdiocese?" Seventy-nine percent chose "No, the archbishop is upholding the values of the Catholic Church."
In contrast, four out of five faculty and staff of the four archdiocesan-owned high schools signed a petition in early March asking Cordileone to forgo his announced addition to those schools' faculty handbooks and to leave the current text in place.
Hundreds of students, parents and teachers packed a University of San Francisco conference room March 16 to proclaim opposition to the proposed changes to the faculty handbook. The group that organized the event, #TeachAcceptance, has also coordinated protest vigils at St. Mary of the Assumption Cathedral and a labor rally supporting teachers in front of the chancery.
Meanwhile, a picnic at San Francisco's Sue Bierman Park demonstrated appreciation for Cordileone, and a website supporting the archbishop has been established. Picnic organizers include Eva Muntean, a primary mover behind the annual Walk for Life in San Francisco.
Conservative pedigree
Cordileone's pedigree as a conservative churchman was already well-established before his arrival in San Francisco, as was his intense opposition to same-sex marriage.
It was widely asked if Cordileone would be able to effectively lead the archdiocese, where San Francisco city and county voted 75 percent against Proposition 8, the state law passed in 2008 that defined marriage as between one man and one woman. Cordileone was a chief architect of the proposition, which a federal court ruled unconstitutional in 2010. Same-sex marriage remains legal in California.
Chair of the U.S. bishops' Subcommittee for the Promotion and Defense of Marriage, Cordileone took part as a featured speaker at the June 2014 March for Marriage in Washington, D.C., despite requests from several Bay Area religious leaders and politicians not to do so. Critics charged the gathering was anti-same-sex marriage and defamatory of the LGBT community. Cordileone strongly denied this.
Originally scheduled to speak again at the 2015 March for Marriage in April, Cordileone announced he would instead remain in the archdiocese to "attend to the pastoral needs of the Church here."
On his arrival in San Francisco in 2012, Cordileone soon signaled things would not be business as usual. For one thing, he would have a personal security person.
From Oakland, Cordileone brought with him Derek Gaskin, who is listed as director of Security Disaster and Emergency Preparedness in the archdiocesan directory. Gaskin was customarily known in Oakland and now in San Francisco as the archbishop's bodyguard, and is often seen overseeing security details at events and staying close to the prelate.
Cordileone began using personal security shortly after an article in the East Bay Express delineated his involvement with Proposition 8. Rumors circulated at the time that he had received death threats.
A former San Francisco chancery employee lauded Gaskin as "a nice guy" and "really good at what he does."
Another noted, "He has the best technology at his fingertips -- high-end computers linked to newly installed cameras through every inch of the chancery, and he carries several cellphones. ... The archbishop will not step out into public without this individual. There is an air of paranoia."
Cordileone, who is known for his affection for the Latin Mass, announced in 2013 that he would promote establishment of the Benedict XVI Institute for Sacred Music and Divine Worship, to be housed at the Menlo Park campus of St. Patrick's Seminary and University. He named Benedictine Fr. Samuel Weber director. Weber, a chant expert, helped set up the Institute of Sacred Music in 2008 in St. Louis under then-Archbishop Raymond Burke.
Cordileone raised eyebrows across the archdiocese during his first year when he abruptly fired his executive assistant, who had served both of his predecessors and who had worked in the chancery for 23 years. She transitioned to a position at Serra Clergy House in San Mateo, a priests' retirement facility. She recently moved to Texas and declined comment.
Cordileone just as abruptly forced the resignation of the president-rector of St. Patrick's, Sulpician Fr. James McKearney. The seminary primarily serves dioceses on the West Coast. The move stunned McKearney, his faculty, the students and others.
Reasons for McKearney's removal remained open to conjecture, and its suddenness generated curiosity and rumors. School and archdiocesan officials sought to quash speculation that McKearney had done something illegal or immoral.
At the time, the seminary enrolled 93 students, down from 114 in the 2012-13 school year. Today's enrollment is 86, according to a school official.
Some see enrollment as a sleeper referendum on Cordileone's supervision of the seminary by those who make decisions to send students there. The archbishop is chancellor and chair of the trustees, and the seminary itself is owned by the archdiocese.
Cordileone had commended McKearney for his leadership during the school's annual fundraising gala on Sept. 14, 2013. Two days later, Cordileone, accompanied by vicar for administration Msgr. James Tarantino and San Jose Auxiliary Bishop Thomas Daly, compelled McKearney to resign, according to McKearney, who had been president-rector since 2009 and at the seminary since 1999.
Neither U.S. Sulpician Provincial Fr. Thomas Ulshafer nor the school's board of trustees had been consulted.
That same afternoon, both the archdiocese and the San Jose diocese issued releases announcing that Daly had been named interim president and rector, the first non-Sulpician to head the seminary since its founding in 1898.
It was announced that Jesuit Fr. John Piderit, former Loyola University Chicago president, would become St. Patrick's new vice president for administration, in addition to continuing as vicar for finance, and that Basilian Fr. Anthony Giampietro would be executive vice president for advancement and academic dean.
Sulpician Fr. Gladstone Stevens, then vice rector and dean of men, declined comment at the time. He said faculty had been told to funnel media requests to Melanie Morey, seminary provost. Stevens succeeded Daly as president-rector last June.
Morey and Piderit are longtime collaborators on Catholic identity issues. Piderit helped found the Catholic Education Institute, headquartered in New York, in 2001 and remains its president. Morey is the institute's senior research director. The two co-authored Catholic Higher Education: A Culture in Crisis and other materials that focus on Catholic identity at Catholic colleges and universities.
In 2010, Daly instituted annual Catholic identity summer conferences for educators, called "Substantially Catholic." At the time, he was president of Marin Catholic High School, one of the four archdiocesan-owned schools and located in Kentfield. Piderit and Morey were main presenters at the first of those conferences.
Daly was named bishop of Spokane, Wash., in April.
Morey was a key contact for the recruitment of Giampetro from the University of St. Thomas in Houston to St. Patrick's.
In May of last year, Piderit was moved from the seminary to become the archdiocese's vicar for administration and moderator of the curia. In October, Giampietro was named archdiocesan director of development.
Assessing Catholicity
In December, it was announced that Morey would direct the archdiocese's new Office of Catholic Identity Assessment. Cordileone created the office independently of the Department of Catholic Schools and the archdiocesan Board of Education. The office's mandate is to evaluate and enhance the Catholicity of high schools within the archdiocese.
On Feb. 3, a month after the Catholic identity office opened its doors, the texts of Cordileone's 2,000-word narrative for faculty handbooks of the four archdiocesan-owned high schools, as well as proposed clauses for those schools' teacher contracts, were shared during meetings with administrators of the four schools and their faculties and staffs. The insert for the handbook distilled church teaching, largely on sexual issues, and required faculty to "arrange and conduct their lives so as not to visibly contradict, undermine or deny" church teaching.
Morey emailed copies of the documents as well as a cover letter by Cordileone to administrators of the 10 independent Catholic high schools in the archdiocese. "The documents lay out some of the beliefs a Catholic school claims when it chooses to operate as Catholic," she wrote.
Reaction was rapid and widespread. Critics skewered the handbook document, calling it conscience-crushing, inflammatory, an intrusion into private lives, and oblivious to its potential impact on the gay community.
Teacher union officials and legal experts argued that classifying teachers and staff as "ministers" -- part of the archdiocese's proposed contract language -- was a maneuver to distance them from legal protections.
Meanwhile, conservative Catholics rallied behind the document, titled "Statement of the High Schools of the Archdiocese of San Francisco Regarding the Teachings and Practice of the Catholic Church." They praised Cordileone for championing forthright guidelines, explicit expectations and doctrinal clarity.
Cordileone has since expressed flexibility on use of the word "minister" if twin objectives are met -- clarity that archdiocesan high schools as institutions embrace the entirety of church teaching and that all employees are integral to the mission of Catholic education.
Also, on Feb. 24, the archbishop announced he would form a committee of theology teachers to revise, expand and clarify the statement before insertion into the 2015-16 school year faculty handbook.
In addition to the #TeachAcceptance vigils and the Chronicle ad, the handbook and contract language stimulated:
A front-page Chronicle analysis charging that the statement flew in the face of Francis' call for embracing the marginalized, and an editorial ("Wrong city, wrong century") against the move;
A joint letter from eight San Francisco Bay Area state lawmakers accusing Cordileone of sending "an alarming message of intolerance" to students;
A news release by the California Federation of Teachers, objecting to contractual use of the designation "minister" and to the warning that Catholic school employees avoid off-campus activities that might contradict church stances.
Meanwhile, on March 18, a local CBS affiliate reported that St. Mary of the Assumption Cathedral had been employing a specially installed sprinkler system in some of its covered doorways to discourage the homeless from sleeping there. The tactic might have even violated some city water-use regulations. The archdiocese apologized, but the story went viral.
Parish uproar
Controversy at Star of the Sea Parish in San Francisco has also plagued Cordileone. It was announced that Fr. Joseph Illo from the Stockton, Calif., diocese would become the parish's new administrator and Fr. Patrick Driscoll from the St. Louis archdiocese would be its associate, effective August 2014. The two priests would begin the process of turning the parish into an oratory.
Catholic San Francisco reported that an oratory's "members are secular priests and brothers who live in community without formal vows and carry out pastoral ministry, usually in an urban parish."
Media coverage was sparked when Illo announced discontinuation of altar girls and when it was learned that Driscoll had distributed age-inappropriate confession guides to students at the parish school.
Illo and Driscoll said distribution of the pamphlet was a mistake and apologized. Illo has since revised parish policy to now allow already-trained altar girls to continue to serve at the school, but girls will no longer be recruited for altar service.
Tensions led to a March 25 meeting attended by some 200 parents, as well as Driscoll, Illo, Auxiliary Bishop William Justice, and archdiocesan vicar for clergy Fr. Raymund Reyes. Sixteen parents made presentations and asked for Illo's and Driscoll's removal.
Parental ire flared again April 23 when the San Francisco Examiner reported that a civil case settled in 2005 ruled that Illo had inflicted "intentional emotional distress" on an 11-year-old girl when he was pastor of St. Joseph Parish in Modesto. A 2003 canonical investigation had said Illo's handling of the incident indicated "a need for improvement of his pastoral management skills."
Illo supporters claim the suit was frivolous and point out the plaintiff was required to pay Illo's attorney fees.
Cordileone has been criticized for not reversing Illo's ban on altar girls, and Illo's public relations challenges have been used to question the archbishop's administrative judgment.
However, a petition supporting the two priests signed by "hundreds of parishioners" was delivered to the chancery, the Examiner reported. The parish logged enough gifts and pledges on the first weekend of the Archbishops' Annual Appeal to exceed its assessed goal by 27 percent, according to the archdiocesan development office.
Prior to taking the reins of the parish, Illo had raised more than $300,000 via his blog to support the oratory project. In his blog, the priest had portrayed his move to San Francisco as a mission to combat the Bay Area's "savagely distorted" moral climate. He later apologized for his choice of words.
While the Star of the Sea School parents' organization has not received an official response, the archdiocese recently announced the appointment of Fr. Vito Perrone as chaplain of the school. The priest has reportedly starting meeting with individual parents and families.
[West Coast correspondent Monica Clark and Bay Area freelance journalist Mandy Erickson contributed to this story.]
More: Different visions of church collide in San Francisco archdiocese by Dan Morris-Young
A version of this story appeared in the May 22-June 4, 2015 print issue under the headline: Archbishop takes divisive action.