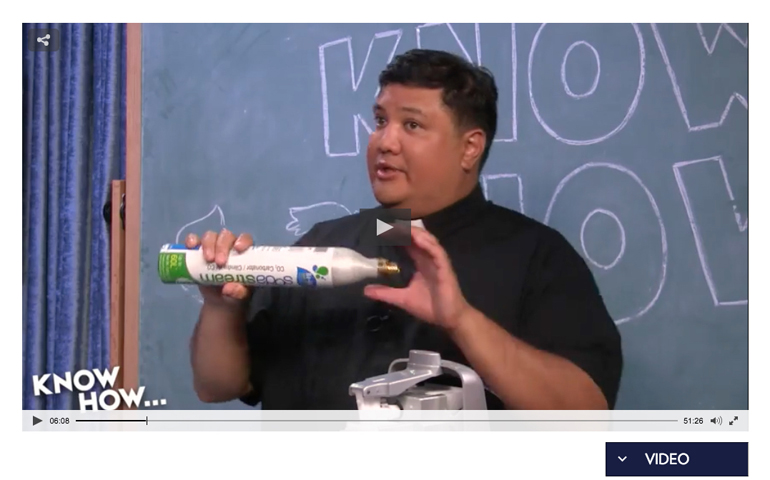 Screenshot of Jesuit Fr. Robert Ballecer
Fr. Robert Ballecer, a 42-year-old Jesuit who works as a host at a tech-focused podcasting network, is required to read ads, mostly for tech companies. A viewer who saw one of Ballecer's shows on YouTube, posted a comment on the web page: "A priest is doing ads? This is the end times."
Maybe. But another way of looking at it is that Ballecer, who calls himself the Digital Jesuit, is just doing his job at TWiT, one of the most profitable podcasting networks operating today.
"Fr. Robert is extremely well-informed. His networking and enterprise expertise is second to none," said Leo Laporte, founder and chief TWiT at the podcast network in Petaluma, Calif. "He's a true geek and his enthusiasm and expertise have become a vital part of our technology programming."
Laporte found Ballecer in 2010 in TWiT's chat room, a kind of global braintrust that TWiT hosts consult while doing their shows. At times there can be as many as a thousand hard-core nerds in the chat room and some of them have major IT cred. Ballecer's chatroom handle is PadreSJ.
"I thought the SJ stood for San Jose," said Tom Merritt, who served as one of the hosts of TWiT's "Tech News Today" podcast but now has his own podcast called "Daily Tech News Show." Once a year Merritt would bring three listeners on to the show and he chose Ballecer one year. "How could we pass up a guy who very obviously knew a lot about technology but also was a Jesuit priest?" said Merritt.
Ballecer's tech knowledge and on-air polish impressed Merritt. When Laporte told chat room denizens he was looking to start a podcast to cover enterprise technology, which is focused on software used by organizations and businesses, the chat room responded that PadreSJ was the man for the job. Ballecer met with Laporte and was hired to host the new show "This Week In Enterprise Tech."
Ballecer appears on camera wearing a Roman collar. Today, his hosting duties include anchoring coverage of live events, which has him traveling around the U.S. and abroad for such events as the consumer electronics show in Las Vegas and the cellphone industry's big confab in Madrid. He also hosts a DIY show called "Know How" where "we build, bend, break and upgrade" stuff. A recent episode explained how to hack a home soda maker to avoid buying the costly carbon dioxide canister the manufacturer, SodaStream, sells as refills. The process involved an adapter that enabled use of a much cheaper canister sold for paintball. Another episode ran through the process of building a gaming computer.
Ballecer built his first computer when he was growing up in Fremont, Calif., just north of San Jose. He went dumpster diving at Silicon Valley companies and found discarded computer parts to build it.
"There was a lot of blue smoke when I was a kid," Ballecer recalled. "A lot of things that I burned out. But every time I burned something out, I learned something new."
That kind of DIY spirit was encouraged in the traditional Philippine household he grew up in. He said his parents, who emigrated to America in 1970, are his heroes and credits them with instilling a serious work ethic in their children.
"In my family, my father was the guy who always wanted to know how everything worked," Ballecer said. "He's the one who gave me the desire to take everything apart, which he very much regretted later on because I would take everything apart."
To this day Ballecer tinkers with electronics in his workroom down the hall from the 10' X 7' room he lives in at St. Ignatius College Prep, a Jesuit high school in San Francisco. He called his workroom a "geek wonderland" but Ballecer doesn't own any of his computer gear. It's all owned by the Jesuit order. He's been known to spend eight hours a day in his workshop and occasionally records material for his TWiT podcasts there.
As a college student Ballecer was "extraordinarily bright and capable," according to Fr. Leo Humbach, who served as Ballecer's spiritual director at Santa Clara University, a Jesuit school in the heart of Silicon Valley. Humbach is now 86 and lives at the Sacred Heart Jesuit Center retirement home in Los Gatos where he reads this newspaper on a Kindle.
It was in Los Gatos that Ballecer started running a tiny computer server for the Jesuits' California Province. He put the province online soon after joining the Jesuits in 1994, arranging for the 11,000 men in the order to adopt consistent user names with a Jesuit email address instead of Yahoo or Hotmail. Ballecer also started websites for the first of the Jesuit high schools.
In 2009 Ballecer was hired by the Jesuit Conference to serve as national director of vocation promotion in Washington, D.C. One of his first tasks was countering an ugly phenomenon: when web surfers searched for the word Jesuit, the first results spit out by search engines were slanderous conspiracy web sites denouncing the order. Ballecer said he once confronted actress Roseanne Barr, who has mentioned the Jesuits in her tweets, and he said she blocked him from her Twitter feed.
During the four years he spent working in D.C., Ballecer logged 150,000 to 200,000 miles a year, much of them during the course of producing a series of short videos titled "Jesuits Revealed." The tag line for the series was "Everyone has a great calling. What's yours?"
"Robert helped us move our communication efforts from the 20th to the 21st century," said Fr. Tom Smolich, who hired Ballecer for the vocation promotion job after getting to know him in the California Province. Smolich now serves as international director of the Jesuit Refugee Service.
Smolich said the Jesuits came to realize that "if we're going to reach guys who are possible candidates, we're got to be doing it digitally. We've got to be doing it in the medium where they are."
Pressed on whether Ballecer's time spent as a podcast host is truly in service to the Jesuit mission, Smolich replied: "I have come to believe that there's a cumulative effect in anything a Jesuit is sent to do, that whatever a guy's following assignment is, somehow it will use what he's been doing in a way that no one thought."
Ballecer refers to his work as "a ministry of presence. That's all it is. It's the ability to be with people and let them know that they can talk about anything with you. I don't ever talk about God or faith unless someone specifically asks me about God or faith. That's a conscious decision I have made about my ministry. My way of telling the Gospel is letting people come to the Gospel, not be forcing it down someone's throat.'"
When Ballecer is in the TWiT chat room he gets requests to engage in private chat. These chats are rarely about technology.
"It's almost always someone who wants to talk about a personal issue, who wants to talk about something that's really bothering them," said Ballecer. "I treasure those moments."
"He's meeting people where they are," said Smolich. "If they recognize somebody they trust -- and I think Robert is ultimately a very trustable guy -- people will respond to that."
Asked if he encounters negative reactions to his faith from TWiT audience members, Ballecer replied, "That's continuous."
"Some of our listeners have expressed concern over a priest hosting secular content," Laporte said. "I think inclusivity is very important in what we do. All that's required is an enthusiasm for technology and an interest in how it is changing the world."
Added Ballecer: "I firmly believe in the ability of technology to change and improve the human condition."
Editor's note: Listen to Ballecer in the audio clips above as he discusses the Jesuits, the need for the church to be in the digital age, and more.
[Manhattan-based radio journalist Jon Kalish has reported for NPR since 1980. His newspaper articles, radio docs, podcasts and NPR stories are at kalish.nyc.]