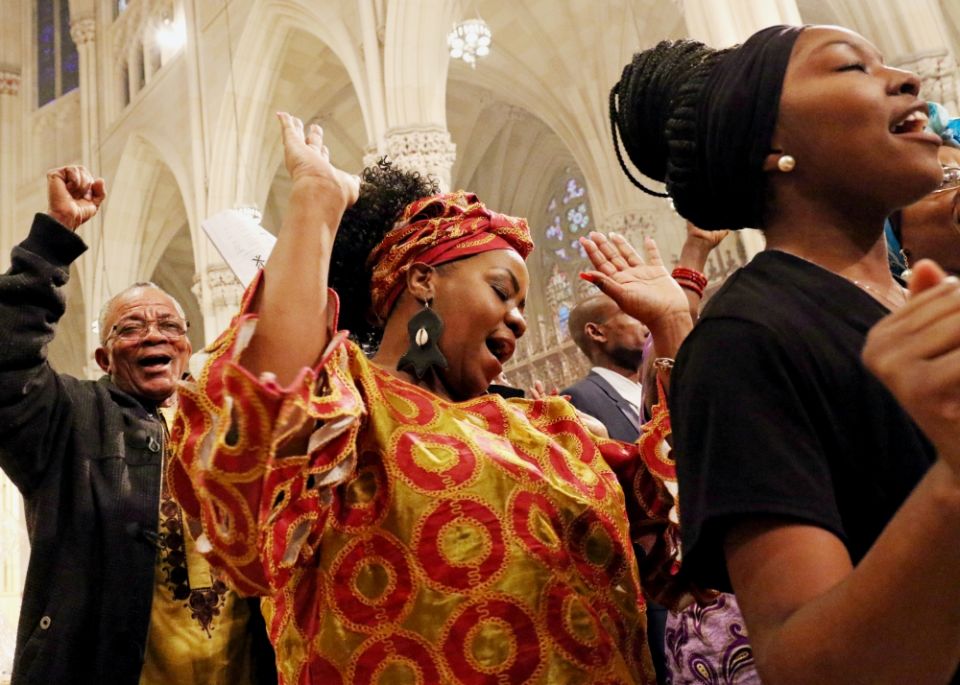 Members of the Mixed African Choir of St. Augustine-Our Lady of Victory Parish in the Bronx, New York, sing during the annual Black History Month Mass at St. Patrick's Cathedral in New York Feb. 5. (CNS/Gregory A. Shemitz)
Orlando, Fla. — I am at the Leadership Conference of Women Religious meeting this week (Aug. 8-11). On Wednesday morning, Christopher Pramuk gave a keynote. He's a professor and an author, a student of spirituality, Thomas Merton and music. For his talk, he had a piano on stage.
Chris told us the story of his own spiritual development, linked to the way, beginning at age 8, music opened his mind and heart, inviting him to lose himself in the resonance, the chords and later the keys, the harmony and dissonance. 
From music being his personal contemplative moment, he was taught the power of the chorus to build community — and he was led on a particular choral path, the Negro spiritual.
That's when he started singing. He led us through songs of pain and hope and, in between, he read the words of Frederick Douglass and W.E.B. Du Bois on the strength of black music. Chris led us to the tomb of the risen Christ, standing with Mary Magdalene, being asked, "Why do you seek the living among the dead?"
It was an intimate hour, 800 of us listening and singing with this man as he told his personal spiritual journey and how he has made meaning of his life. 
Often, I find descriptions of contemplation abstract and esoteric, unaccessible to me. But Chris' open sharing of himself reminded me that each of us has our own story of our development and one of our tasks as members of a community is to draw that story out of one another, listening to our sisters, to family and friends, to the stranger on the airplane.
Donald Trump and Kim Jong Un have stories too. They have life paths that have taken them to a High Noon face-off, pulling the rest of us out of contemplation and into a frenzy of angry petitions and marches. And we don't have access to them; we don't have the opportunity to sit with either of them and ask them how they came to this point.
But they each have their story and a part of our task, along with the petitions and protests, is to love them for who they have become, the same way we love our friends. I wish one of them would say: I've thought about this and I am declaring unilaterally that my nation will not, while I am in charge, use nuclear weapons.
It's the declaration of a strong man, a declaration I've been hoping for my whole life. As I write, music runs through my mind. Perhaps we can sing our way to safety, joined together in a community of contemplation. Singing together, we may find love and respect for Donald Trump and Kim Jong Un. They might join the chorus. That's the only path out.