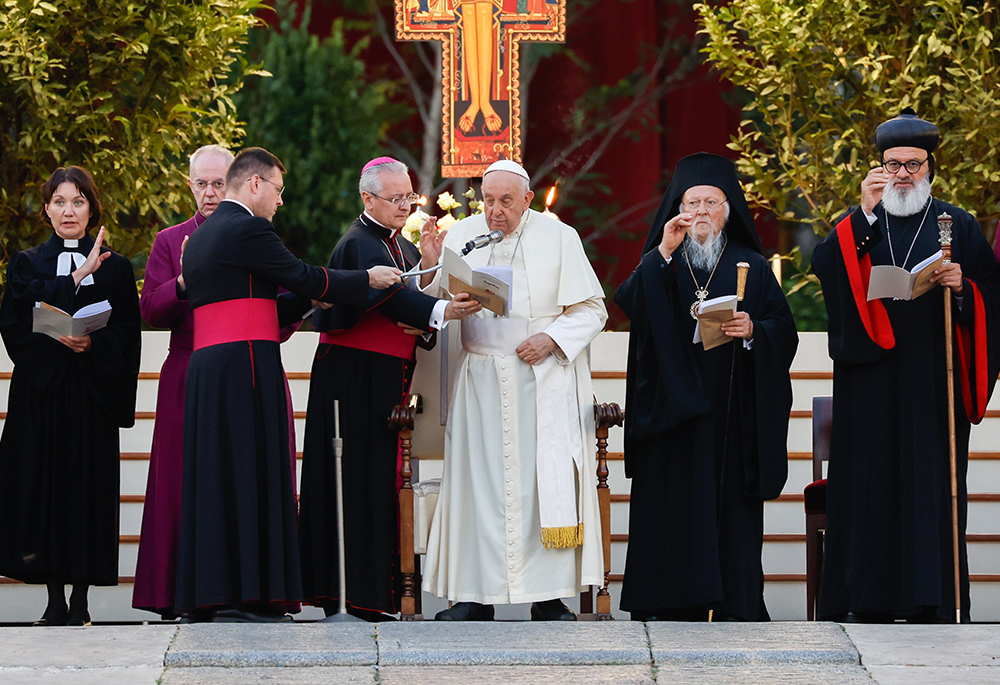 Pope Francis and other Christian leaders give their blessing at the end of an ecumenical prayer vigil in St. Peter's Square Sept. 30, ahead of the Synod of Bishops assembly: from left, are the Rev. Ann Burghardt, general secretary of the Lutheran World Federation; Anglican Archbishop Justin Welby of Canterbury; Francis; Orthodox Ecumenical Patriarch Bartholomew of Constantinople and Syriac Orthodox Patriarch Ignatius Aphrem II. (CNS/Lola Gomez)
"The Vatican Briefing" is a new podcast from the National Catholic Reporter, featuring two respected Vatican journalists and experts: Joshua J. McElwee and Christopher White. As Pope Francis is opening the hotly anticipated 2023 Synod of Bishops, they offer analysis and news updates, and interview some of the assembly's key decision-makers.
In their first episode, McElwee and White discuss the pope's creation of 21 new cardinals of the Catholic Church, the Sept. 30 ecumenical prayer vigil for the synod in St. Peter's Square, and some of the hot-button issues, such as women's ordination and LGBTQ ministry, that the synod is expected to discuss.
They also interview Catherine Clifford, a renowned church historian and theologian, who is part of the first group of laypeople ever appointed as full members of the synod. Clifford called the synod a "huge" and "remarkable" experiment.
Each week during the synod, The Vatican Briefing will release an episode featuring both the latest updates from the gathering and an exclusive interview with one of the assembly's members. Be sure to subscribe on Apple Podcasts, Spotify, or however you listen to podcasts.
How do I listen?
From your computer:
Click the "play" button above to start the show. Make sure to keep the window open on your browser if you're doing other things, or the audio will stop.
From your mobile device:
You can listen and subscribe to "The Vatican Briefing" from any podcast app. If you're reading this from an iPhone or other Apple mobile device, tap this link to listen in Apple Podcasts. The podcast is also available on Spotify, at this link.
If you prefer another podcast app, you can find "The Vatican Briefing" there. (Here's the RSS feed.)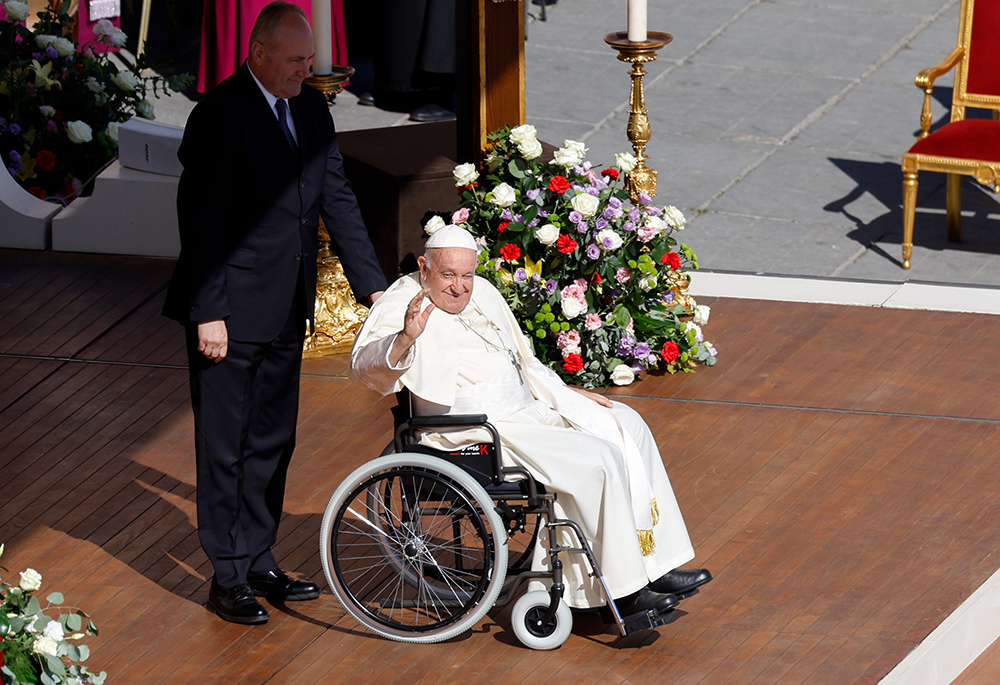 Pope Francis waves to the crowd at the end of a consistory for the creation of 21 new cardinals in St. Peter's Square at the Vatican Sept. 30. (CNS/Lola Gomez)
Relevant links for this week's episode: