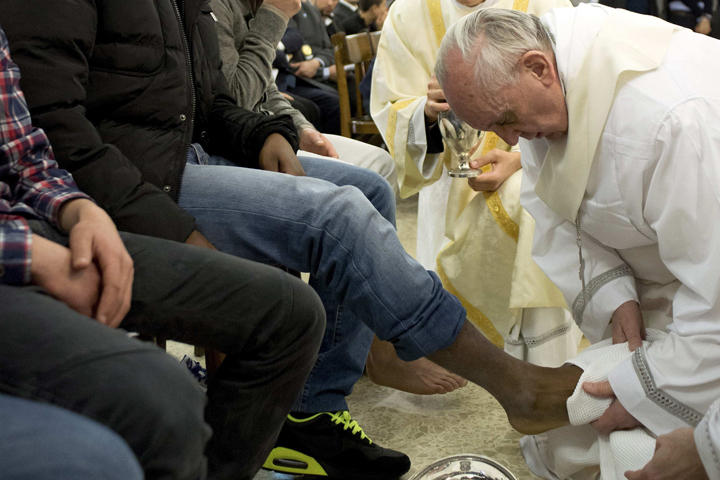 Pope Francis washes the foot of a prison inmate March 28, 2013, during the Holy Thursday Mass at Rome's Casal del Marmo prison for minors. (CNS/Reuters/L'Osservatore Romano)
Vatican City — March 11, 2015
Pope Francis will celebrate the Holy Thursday Mass of the Lord's Supper at a Rome prison and wash the feet of male and female inmates.
The Vatican announced Wednesday that the pope will visit the Rebibbia detention facility on the outskirts of the capital April 2, then celebrate Mass in Our Father Church on the grounds of the complex. During the Mass, the pope will wash the feet of male inmates from Rebibbia and female inmates from a nearby women's prison.
Last year, Pope Francis presided over the Mass and foot-washing ritual at a rehabilitation facility for the elderly and people with disabilities on the outskirts of Rome. The year before, the first of his pontificate, he went to Rome's Casal del Marmo juvenile detention center, where he washed the feet of young male and female offenders.
Pope Francis changed papal tradition by moving the annual Holy Thursday evening ceremony out of either St. Peter's Basilica or the Basilica of St. John Lateran. However, the new practice reflected the traditional way then-Cardinal Jorge Mario Bergoglio of Buenos Aires, Argentina, marked the holy day: celebrating the Mass of the Lord's Supper -- which reflects on the call to imitate Christ by serving one another -- in prisons, hospitals or shelters for the poor and marginalized.
The pope will celebrate the Holy Thursday morning chrism Mass in St. Peter's Basilica as is customary and bless the oils used for sacraments in the diocese of Rome.