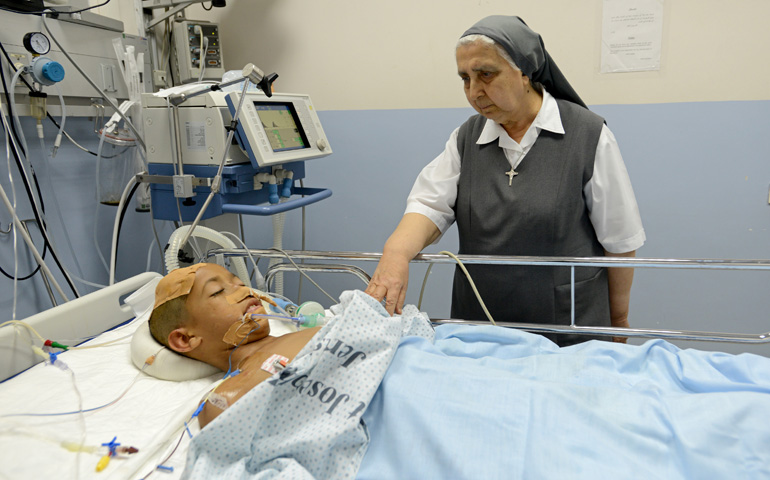 Sr. Gilbert Saliba, a member of the Sisters of St. Joseph of the Apparition, visits Nidal Alawi, 11, of Gaza in the intensive care unit of St. Joseph Hospital on Wednesday in Jerusalem. (CNS/Debbie Hill)
Jerusalem — July 31, 2014
Since the death of his wife in an Israeli missile attack on their house in the Gaza Strip in late July, George Ayyad, 75, has been keeping vigil over his son Jeries, 31.
Jeries Ayyad lay in the intensive care unit of St. Joseph Hospital. Second- and third-degree burns covered 90 percent of his body. Both legs were amputated, and he had serious brain trauma.
St. Joseph Hospital specializes in head- and chest-trauma wounds. Jeries Ayyad, who was transferred from Gaza with the help of Caritas Jerusalem in cooperation with Israeli military, was one of 23 Gaza residents being treated at the hospital, run by the Sisters of St. Joseph of the Apparition. Three more patients were expected to arrive later Wednesday.
Most of the wounded were under age 15; five were in the intensive care unit. Two of the children, ages 11 and 15, were pronounced brain dead on arrival and were expected to die within a short time, said Jamil Koussa, hospital general director. Two other children had improved remarkably since their arrival, Koussa said Wednesday, adding that they began receiving Gaza wounded almost a week earlier.
Since Israel began airstrikes on Gaza on July 8, more than 1,300 Palestinians have been killed. Three civilians in Israeli and 56 Israeli soldiers have been killed in the violence.
Although the hospital also treated wounded during the first and second intifadas, the first days of receiving the wounded from Gaza were emotionally difficult, said Sr. Gilbert Saliba, 79, hospital president.
Four of the nuns work as nurses alongside the rest of the medical staff. Saliba said all patients are treated equally because in each one, they see the face of Jesus.
"There is a moment when we see all the suffering that we ask, 'Where is God,' " Saliba said. "But then we look at the cross and see Jesus Christ on that cross, and how he suffered a lot of pain and he is still living all this pain. And we know he wants to use our hearts, our eyes and our hands to be merciful to human beings."
The sisters support each other's faith in the face of such tragedy, she said. She said she prayers for the patients, so they can accept what has happened to them and so she can be close to the patients to help and support them.
Sr. Muna Totah, who assists Saliba, said the nuns' presence helps the patients and their families face their challenges, regardless of their religion.
"They know we are here to keep them and care for them," she said. "They call us angels and feel our love."
Dr. Maher Deeb, St. Joseph medical director, said his staff can help with the traumas; the emotional impact will have to be dealt with at the end of the conflict.
George Ayyad, who still has a bruise under his right eye, said his wife and son had been in the kitchen preparing a meal when a "warning missile" from Israel was dropped on their roof. Water began to leak into the house, and George Ayyad went to inspect the roof. He said he never thought the noise on the roof was a missile because he never suspected their single-family house would be a target of Israeli airstrikes.
As he went up on the roof, a missile hit the house, fell through the roof and killed his wife. Jeries Ayyad was critically wounded. George Ayyad also suffered chest wounds.
"When I climbed down from the roof, I saw my wife and son under the rubble. It was just a one-floor house. There were not any armed people there," said George Ayyad, a retiree who worked for the Greek Orthodox Church. After the attack, he and his other son Anton, 28, found shelter at Holy Family Catholic Parish in Gaza until Jeries could be transferred.
"We know God will never forget us and will take care of us," said George Ayyad. "I am thankful [Anton] was safe and Jeries is on the way to recovery."
He also expressed thanks for Koussa, who gave him a room at the hospital and made sure he was cared for.
"If I search around the world, I will not find a better man than him," George Ayyad said.
Koussa said Jeries Ayyad had not shown much improvement since he was admitted. However, he said, the hospital has used its own funds to send patients who no longer need intensive care to a hotel or other Palestinian institution. He said the financial burden has become almost overwhelming, and he has begun an appeal to help with the costs.
Outside the hospital, young people gather and trail inside with chocolates, flowers and toys for the patients. A young man approaches George Ayyad and greets him, pressing an envelope of money into his hand. People have been supporting the hospital with gifts, food, and donations since the Gaza patients began to arrive, Koussa said.