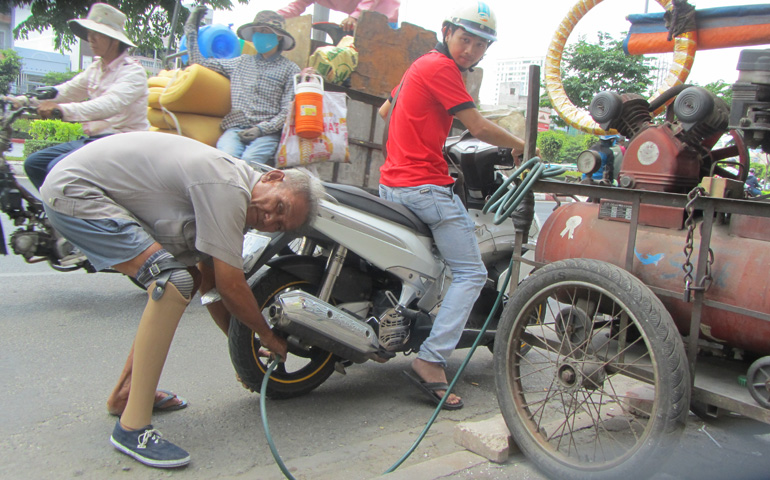 South Vietnamese veteran Dinh Van Hoang lives on the sidewalk and has made a living filling motorbike tires for years. (Photos by Mary Nguyen)
Ho Chi Minh City, Vietnam — April 28, 2015
Dinh Van Hoang, a South Vietnamese veteran whose shirt is soaked in sweat under the burning sun, sits on a collapsible chair on the sidewalk, watching people traveling along the street in Ho Chi Minh City.
When motorbike riders stop, Hoang walks a little unsteadily on his prosthetic leg and fills or patches their tires. He used to crawl on the ground until recently, when one of his fellow veterans gave him the prosthesis.
It is a trade he has plied for years in the glaring heat or the pouring rain.
"I earn only 30,000 dong [$1.40] a day and haven't had a square meal for years because I have to buy medicine for a blood disorder," said the 64-year-old, who lost his right leg below the knee in battle with communist guerrillas in Quang Tri province in 1972.
---
Related: Since the fall of Saigon, church reclaims its foundation at Global Sisters Report
---
After North Vietnamese forces seized control of Saigon, the capital of U.S.-backed South Vietnam, on April 30, 1975, Hoang was forced into a reeducation program and had all personal papers confiscated.
"The war deprived me of all things. My wife left me; my parents were forced to live in a remote area and died there. My property was confiscated, and I have been living alone on sidewalks for the past decades," Hoang said. His belongings include a tent, a chair and tools to ply his trade.
The old electric pump, he said, he rents to work.
"Sometimes, I have no money and food, I pray with God and he sends people to help me. I am Buddhist, but I've known God since I began attending [veterans] gatherings held by the Redemptorists since 2013," he said.
About a quarter of a million South Vietnamese soldiers died during the war, according to U.S. estimates. After the fall of Saigon, upwards of a million people fled the country for fear the victorious communists would exact revenge.
Some veterans said those who stayed were persecuted, imprisoned, put in reeducation camps or forced to live in remote areas. Their children were barred from studying at universities or working for the state.
They are still treated with suspicion even today. If they gather or hold a meeting, they are questioned by the police. They also remain studiously silent about politics, for fear they will be interrogated.
Hoang said they scrap out a living or beg, and "some lived in dire poverty and committed suicide."
Redemptorist Fr. Vincent Pham Trung Thanh, who is in charge of veteran ministry for his order, said the Redemptorists began serving South Vietnamese veterans in 2014, after a group of Buddhist monks asked for assistance. Those monks had been helping and feeding 140 veterans, but were having problems with the police.
"We provide monthly medical checkups for 730 veterans at our monastery, help them get treatment and operations at hospitals, and have given them 270 wheelchairs and 90 pairs of crutches so that they can travel to work for a living," Thanh said. Redemptorists have listed 1,700 elderly veterans who were made invalids by injuries sustained during the war. Most of them live in Ho Chi Minh City and the rest in remote areas.
Many have never had medical checkups as they had no money. They have diseases related to the eyes, heart, liver, lungs, stomach, intestines and kidneys.
"We want to heal their state of mental and physical health, so we ask volunteer doctors to spend at least 10 minutes listening their stories and concerns," Thanh noted.
Thanh said he and volunteers also visit veterans who live at garbage dumps and on small boats in remote areas. They build and repair houses for some veterans and bury the dead. Benefactors quietly donate to their work.
"Many veterans said in tears that they are happy our unexpected visits bring them real love, comfort and respect, because few people visited them for the past decades," he said. Volunteers have secretly visited veterans to avoid the police interference.
"This is a careful choice of the ministry and faith, not politics. We work with veterans not for charity but in deep gratitude for their sacrifices for southern people. We are happy to bring them justice and ready to accept problems from the government," the priest said.
The communist government generously supports its own veterans, while South Vietnamese veterans are abandoned and treated badly, he added.
Pham Van Quoi, an 80-year-old veteran from Ba Ria-Vung Tau province, said, "We want to be treated with kindness and fairness like others because we are victims of the war. We seek justice for ourselves."
Although his children joined the communist army and work for public security, police regularly question him after he meets with fellow veterans and the Redemptorists.
Quoi, who lost his left leg in 1966, is one of 50 veterans who were given wheelchairs and crutches at the monastery March 25.
Peter Nguyen Van Quan, who lost his legs during the war and sells lottery tickets to support his family, said, "We are grateful to the Redemptorists, who gather us and support us materially and spiritually."
A version of this story appeared in the April 24-May 7, 2015 print issue under the headline: Redemptorists reach out to neglected Vietnam War veterans.