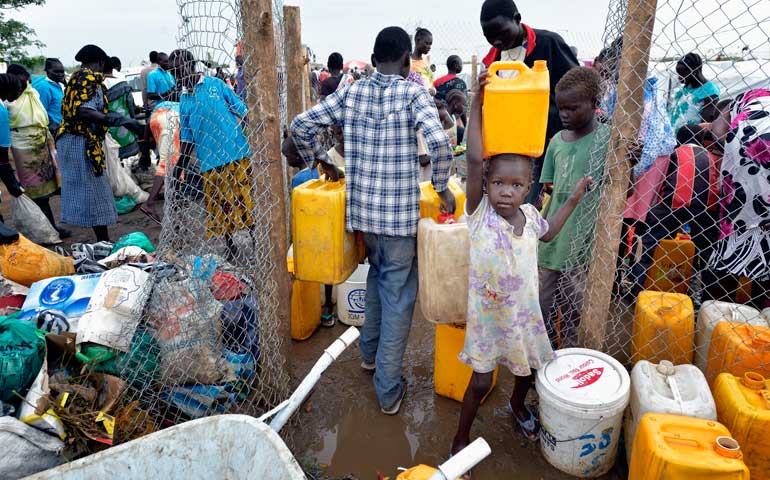 A girl carries water inside a United Nations camp for internally displaced families in Juba, South Sudan, April 1, 2014. (CNS/Paul Jeffrey)
It happened in South Sudan. From almost the first moment I landed there in late March, I heard about Malakal, a city in the northeast part of the country. Malakal had experienced some of the worst bits of fighting in a civil conflict that began a year ago and has never really been settled.
It was a story of killings and rapes in hospitals and desecrations of churches; of bodies not buried for days and then weeks; of town squares and village centers laid waste. It was also a story of acts of courage, kindness and resilience; and, for many, the new challenges and difficulties now posed by trauma and guilt.
It was a collective story because it was a collective experience -- the shared flight of women and men religious who had worked in the Malakal diocese. Because of threats and a deteriorating situation all around them -- something they knew given the horrible things they had witnessed, touched, felt and even smelled -- they had to flee for their lives.
As a humanitarian journalist, I had heard stories of flight before. I had listened to refugees and the displaced in many places in the world, most often in refugee and displacement camps. They are among the very poorest and most vulnerable in their societies.
Some in such situations have been reticent, at least at first, to speak of their experiences with a stranger.
But I had not, as far as I could recall, heard such stories from religious themselves. And I had never heard so many stories over such a short span -- more than a half dozen in a few days' time. All were framed through the lens of those who see and experience the world with Christian understandings of redemption and hope amid evil.
"When you see someone shot, you don't forget that," said Fr. Angelo Mojwok of the Malakal diocese.
Evil is a word I kept hearing repeatedly as I spoke to those who tried to make sense of the events. The first was Sr. Cathy Arata, who herself had not been in Malakal during the violence, but who helped organize a trauma workshop in early April for the religious who had fled to Juba.
One morning, in the sitting room of the house she shares with others working with the humanitarian coalition Solidarity With South Sudan, Arata, a School Sister of Notre Dame, expressed pessimism about the situation in the country.
"I've been struck since then about how much evil there is in the world," Arata said. Speaking of the factionalism that pitted government forces loyal to President Salva Kiir against rebel forces loyal to former Vice President Riek Machar, Arata said, "It's certainly a political war, but it's deeper than politics." How? "It's the forces of good and the forces of evil at work against each other."
Arata was not taking sides in a political dispute grown violent. She was expressing frustration about those resorting to violence and those trying, against steep odds, to prevent violence from overtaking the world's youngest country -- a country not even 3 years old and trying to emerge from the shadows of a decades-long war of independence from Sudan.
Arata's 11-year experience in war-torn El Salvador, from 1988 through 1999, proved instructive. "What I saw there, as far as a country leaving a war, was how pervasive evil can be. But also how strong good is." She paused, gathering her thoughts. "Not that God needs us, but our prayer prepares us for God's action."
In other words, the hope for peace, the need for reconciliation.
Yet evil remains, Arata said, paraphrasing Archbishop Oscar Romero. "Evil is lurking out there," she said. "Raping and shooting patients in hospital beds, that's pure evil," she said of events in Malakal, shaking her head quietly. "We're all made in the image of God, and evil is when we harm that image, when we take that image of God and break it."
The metaphor seemed apt in talking to two Sacred Heart sisters who had fled Malakal, attended Arata's workshop and still seemed shaken by the trauma they had experienced. Srs. Agnes Nyalet Oderiko and Mary Achwanyo George recalled the weeklong siege and fighting between different armed factions, resulting in looting, raping and killing.
George recalled threats against her and her family -- though that was not the worst of it. Vultures preyed on bodies on the street; the corpses couldn't be buried because of the continued shooting and killing. Mayhem reigned.
"Parents were screaming, 'Sister, Sister, help us, help us,' " recalled George, but there was little that could be done.
"I was really desperate -- seeing bodies eaten by vultures and dogs," Oderiko said. "This was the first time I had seen this and it was terrifying."
Both of the sisters still looked shell-shocked in describing the experiences, by turns frightened, numb and traumatized by what they saw. One striking thing about the experience: The rebels told the sisters they were bent on revenge for past wrongs, and that their clear aim was to kill, loot, rape and destroy. Once those deeds were accomplished, the rebels left.
When I spoke to the two sisters, Easter was approaching, and with it, the hope of something better. "We are waiting to break the Passover," said George. "It can bring hope and renewal."
Weeks later, after I had returned home to New York, I began hearing from Arata and others about the peace agreement that was signed in May between the warring factions in South Sudan, following negotiations in Addis Ababa, the capital of Ethiopia.
"Reaction to the peace agreement is not too positive," she said. A key reason: From the start, the agreement never really took root.
A report in late November by the Comboni Missionaries confirmed this. "Despite progress in the peace talks, some people remain skeptical that any peace agreement will be respected and implemented," the report said. "It is true that the ten months of peace talks in Ethiopia have been unable to stop the fighting. In fact, there are reports of recent fighting in different places of the war zone."
Another staying in touch was Fr. Raimundo Rocha, a Brazilian Comboni missionary who spoke to me about his experiences in the Malakal diocese. Rocha, who had participated in the trauma workshop, was cautious about the peace agreement, saying there was widespread feeling in Juba that the warring factions weren't really committed to it.
Rocha had every reason to be cautious. In a remarkable first-person account of his own experiences, published in the South Africa Comboni Missionaries' Worldwide magazine, he told how in late January, he and others had fled from the mission in Leer, located in the oil-rich area of Unity State. Threats from rebel groups and armed civilians wanting the mission's vehicles became increasingly dire, as did worries that Darfur mercenaries working alongside government troops might not "respect any church personnel. They would attack, destroy and even kill," he wrote. "We felt insecure, vulnerable and unprotected. This situation obliged us to leave the mission. It was a hard decision. We left."
But after arriving at a new locale, the mercenaries "came through the bush and attacked our group. They came shooting at us. We could hear the sound of bullets flying above our heads as we ran into the bush. The group was scattered and we had lost contact with one another. Each one thought everyone else would have died. Thanks be to God nobody was injured," he wrote.
"We regrouped in complete exhaustion and fear as night fell. There is no doubt, if we were alive it is because God worked a miracle that day. There was fear, but no despair. We strongly felt God's presence."
When I spoke to Rocha, he repeated that theme. "I never felt as protected by God as I did in those moments," he said, and recounted the events calmly. But he became understandably emotional a few times, reflecting about the work that had gone into building the diocese's resources -- schools and church buildings -- and then to have them looted and destroyed.
"The town is practically destroyed, burned to the ground."
Of greater concern was that the Catholic community of Nuer people, including catechists, were dispersed "in the bush," seemingly safe, according to recent reports, but still facing a very basic dilemma: They were hungry, and entire war-affected areas are facing "an enormous lack of food security." Those in displacement camps at least had food and water. For those wandering, they were at risk. "In general, there's no food for these people: Markets are looted and people are still in the bush," Rocha said.
A missionary in Leer since 2010, Rocha was not afraid to speak of his own anger -- of helping "plant a seed" of Christian practice and then to see it dispersed. "We were trying to serve, and then it was looted."
He paused. "It's difficult, it's difficult. It's one of the toughest experiences of my life."
"We are looking for strength in God's grace. Only God's grace can help us overcome these ill feelings," Rocha said, about the difficulty in forgiving those who tried to kill him and his colleagues. "Our human strength is not enough."
"We are human beings, we feel weak, we feel traumatized," Rocha said. "The feeling for revenge -- it's real. It takes time. I don't know how long, but it takes time. It's a process and it requires a lot of prayer."
In the weeks following the trauma workshop, some working in the Malakal diocese tried to return, but the situation, Rocha said, "remained unsettled." Before the peace accord was signed, new violence flared up again during Holy Week, scuttling changes for a quick return back to Malakal.
A few got back, but most remained in the capital city: Rocha, for example, celebrated Easter at one of the United Nation's displacement camps in Juba. It was not yet "safe for a return to the diocese very soon," he said, and complicating things is the onset of the rainy season. "I just do not know when it will be possible," he added.
This did not surprise Mojwok, who did return briefly to Malakal but then returned to Juba. He said the peace accord remained fragile and that the two sides were still far, far apart. "The international communities have to make more efforts to help us," he said.
In the last days of 2014, Rocha wrote to me again. The year was ending on a decidedly mixed note. "Some people think that war may be resumed. Peace talks have made some progress but not stricken a deal. Some are hopeful that there will be peace if warring parties compromise," he wrote.
"Others, however, remain skeptical. They have reasons for this. There are reports that both warring parties would be arming themselves and getting ready for a full-scale war at this dry season." (The rainy season in South Sudan doesn't begin until about March or April.)
As for himself, after visiting family in Brazil, Rocha returned to South Sudan and is now the justice and peace ministry coordinator for the Combonis. In that capacity, he returned to Leer in October.
"It was very good to be able to re-visit Leer after the ordeal we went through. I was very happy to meet our people again and sad to learn that some of our parishioners lost their lives," he wrote. "Some died of hunger."
My heart sunk. People dying of starvation -- that's a particularly pernicious kind of evil. Inexcusable. But not surprising. In wars of these kinds, as access to food is cut off, civilians often die of hunger.
Rocha ended on a cautiously optimistic note: The Comboni missionaries have resumed their work in Leer, he told me. "Of course," he wrote, "we want to believe and hope for peace and the end of this conflict and people's suffering."
I want to believe and hope, too. That's a wish for 2015.
[Chris Herlinger is a frequent contributor to NCR on humanitarian and international issues and is a contributing writer to the Global Sisters Report. He is also senior writer for the humanitarian agency Church World Service.]
A version of this story appeared in the Jan 16-29, 2015 print issue under the headline: South Sudan: As they hope for peace to hold, displaced cope with trauma.