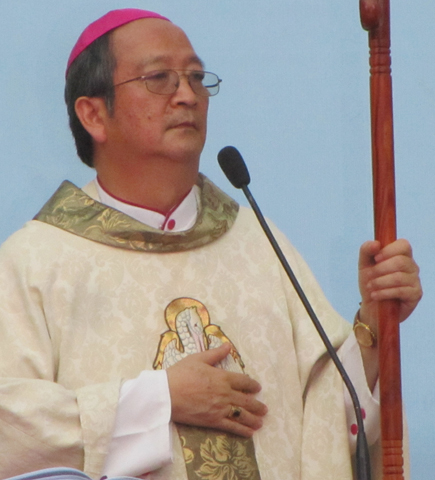 Archbishop Paul Bui Van Doc, president of Catholic Bishops' Conference of Vietnam. (Teresa Hoang Yen)
Tiptoeing into the political arena, the Catholic Bishops' Conference of Vietnam this week condemned China's recent deployment of a massive deep sea oil rig off the Vietnam's coast while calling upon Catholics to take actions to defend Vietnamese sovereignty.
China deployed the rig and supporting vessels two weeks ago into waters long claimed by Vietnam.
In the days that followed, Vietnamese and Chinese vessels have reportedly collided a number of times near the rig, with Vietnam claiming at least six people injured.
The incidents are the latest provocations resulting from competing claims in Vietnam's coastal waters, where China has become increasingly assertive in making territorial claims.
Anger and protests within Vietnam have risen to new post-Vietnam War highs. Thousands of Vietnamese have taken to the streets, and in several locations in southern Vietnam, protesters have set fires to factories believed to be Chinese-owned.
Such protests have been unheard of in the past four decades in the tightly ruled communist nation.
The Hanoi government, which has close political ties to neighboring communist China, finds itself torn between harshly condemning the actions of its patron to the north and failing to be forceful in protecting Vietnamese sovereignty.
Both nationalism and anti-Chinese sentiment run high in Vietnam. Many Vietnamese have boycotted Chinese goods for years. This has provided Catholics and their bishops an opportunity to show their own strong patriotism, seemingly implying a love of country greater than what is being currently found in their own country's leaders.
Hanoi has been slow to speak out forcefully against the Chinese actions but has begun to allow protests to them.
"This situation can pose a high risk for a military conflict," Archbishop Paul Bui Van Doc, president of the Catholic Bishops' Conference of Vietnam, said in a May 10 letter on behalf of the Vietnamese bishops. "The Chinese government has to stop all its actions of invasion."
Citing church documents, the letter stated the conflict must be settled peacefully. It went on to say -- in what appeared as a dig at the Hanoi government -- that while it has been "persistent in diplomatic efforts" aimed at resolving the conflict, it must now "take a firm stance based on the principle of our traditional values of prioritizing the interest of our people and our country."
The letter said treaties and agreements that were to have shown respect for "the mutual friendship between the two neighboring Communist countries in reality have never served our national interest and instead have only led our country to imperilment."
Throughout the first (French) Indochina War and the later (American) Vietnam War, Catholics in Vietnam were often portrayed as being less than patriotic because of their French and American ties.
However, in the decades that followed the end of U.S. involvement, Vietnam has reverted to its more traditional strained relationship with China. Vietnam, meanwhile, has tried to maintain its own national integrity, politically and financially, balancing the world's last super powers, China and the United States.
As relations between the Chinese and Vietnamese have soured, pro-Western forces inside Vietnam's one-party state have strengthened, and they are looking to America, which has little leverage to offer.
Close Vietnam observers say the pro-Western faction in Hanoi remains a minority. At the same time, the larger, pro-Chinese faction appears weakened by China's assertive actions.
The Vietnamese bishops' letter, signed by Doc, the recently appointed archbishop of Ho Chi Minh City, called on Catholics to express their patriotism by "fervently praying for the nation and actively taking part in activities defending the fatherland."
The letter called on Catholics in the nation's 26 dioceses to hold a day of prayer and to reduce their expenses to support sailors injured by Chinese vessels as well as fishermen who have suffered material losses in Chinese attacks.
Acquiescing to increased pressures last week, the Vietnamese government for the first time allowed demonstrators to stage mass rallies in Hanoi and Ho Chi Minh City against Beijing's actions.
Fr. Jean Baptiste Huynh Cong Minh, vicar general of the Ho Chi Minh City archdiocese, attended a rally in Ho Chi Minh City, marching from the center of the city to the Chinese consulate. Security officials cleared the streets for protesters.