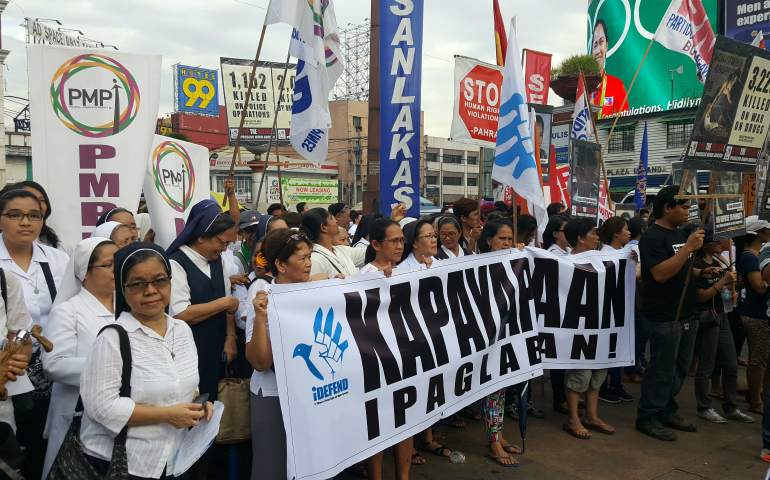 Led by sisters, brothers, seminarians and priests, and joined by human rights and labor organizations, the march wound its way through a historic section of the city to the Plaza Miranda. (GSR photo/Gail DeGeorge)
Manila, Philippines — September 21, 2016
Thousands of Filipinos observed the International Day of Peace Sept. 21 with a march across more than a mile of this sprawling city, which also commemorated the declaration of martial law in 1972 under the regime of Ferdinand Marcos and protested against a rash of killings under the current administration's war on drugs.
Holding signs saying "Uphold the Sanctity of Life – Stop the Killings" and "Pursue and Punish the Drug Lords – Stop the Killings" and photos of those who went missing during martial law years, the marchers bore witness to the more than 3,200 people who have been killed by police and vigilante groups since July 1, the day after President Rodrigo Duterte's inauguration.
During his campaign, Duterte vowed to stamp out the illegal drug trade in the country in six months and authorized police to use whatever force is necessary, promising them protection. Vigilante groups have killed more people than police have, but there have been no prosecutions. More than 700,000 people have turned themselves in as drug users, overwhelming existing treatment facilities.
Led by sisters, brothers, seminarians and priests, and joined by human rights and labor organizations, the march wound its way through a historic section of the city to the Plaza Miranda, near the presidential palace, where a Mass was celebrated.
"The killings are really alarming," said Franciscan Br. Angelito Cortez, who helped organize the event. "From the day that the new President Duterte assumed office and started a campaign against drugs, killings are rampant everywhere. We support him for his anti-drug campaign," he said, "but if killings are inevitable, there is something wrong with the system."
More have been killed in the first three months of Duterte's administration than in the 14 years of martial law, Cortez said.
"The war against drugs is a war against your fellow Filipinos," said Fr. Florentino Atilano Fajardo during the homily of the Mass. Referring to how suspected drug users can reformed, he said, "This feast of St. Matthew reminds us how a disciple who was sinful was given the opportunity of the Lord. Because of the love Jesus, Matthew became a disciple, an apostle, and an evangelist."
Dramatizations and speeches by labor leaders and family members of martial law victims rounded out the rest of the program, which ended with a candle lighting in honor of those killed.
The current situation is sobering for human rights advocates. "For 30 years, our human rights education has not been effective," Rose Trajano, secretary-general of the Philippine Alliance of Human Rights Advocates, said in an interview. "The people did not understand the relationship between rights and drugs, rights and criminality. This is our challenge."
Religious leaders have been sharply critical of the anti-drug campaign because it lacks due process and appears to target mostly poor people and users as well as drug dealers. The Association of Major Religious Superiors of the Philippines issued a statement Aug. 17 saying that while supportive of the government's "determined crusade against the very serious problem of illegal drugs … we are alarmed at the continued extrajudicial killings, which seem to go unchecked, without trial or investigation."
The organization representing more than 350 religious congregations demanded that government agencies continue "apprehending those involved in drug trafficking but avoiding extrajudicial killings, and pursue and apprehend vigilantes who carry out such illegal actions."
The Catholic Bishops Conference of the Philippines Bishops issued a statement Sept. 15 against the killings as have numerous religious orders and other religious denominations.
Human Rights Watch has said the Philippines should invite an independent United Nations investigation into allegations of direct involvement by Duterte in extrajudicial killings. The European Parliament, United Nations High Commissioner for Human Rights and U.S. State Department officials have all expressed concern about the killings and Duterte's remarks expressing little concern for human rights.
Duterte's crude language created an international flap and prompted U.S. President Barack Obama to cancel a meeting with Duterte that was scheduled for earlier this month during the meeting of the Association of Southeast Asian Nations. The two did exchange pleasantries later before a gala dinner.
Durterte has promised police they wouldn't be prosecuted for carrying out the anti-drug campaign. The Philippines Center for Investigative Journalism said in an article there is no executive order from Duterte about a war on drugs, so there is no accountability, and the number killed, which is only provided by the Philippine National Police, is constantly changing without any independent verification.
Duterte served as mayor of Davao City in the southern Philippines from 1988 to 1998 and then a term in Congress from 1998 to 2001. He returned as mayor of Davao City for another three terms and then became vice mayor in the administration of his daughter. Wiping out the drug trade was his key campaign platform for the election in May.
At the rally Sept. 21, there were also protests against a plan to bury former president Ferdinand Marcos at the Libingan ng Bayani, or Heroes' Cemetery. His body is currently on display in his home province of Ilocos Norte. "Marcos did not only steal our money but he stole our dignity," Fajardo said during the homily. "We remember the heroes who died for our freedom," he said. If Marcos is buried in the Heroes' Cemetery, Fajardo said, he "will be buried in a place where [our] martyrs of freedom are buried."
The Association of Major Religious Superiors in the Philippines has objected to burying Marcos in the Heroes' Cemetery, calling the plan "morally untenable" a statement issued Aug. 17.
The statement said that while Marcos served the country as a president and soldier, his dictatorial regime denied the Philippines democracy for 14 years, violated human rights, plundered of the country's wealth and impoverished its people.
For these reasons, for "other atrocities committed during Martial Law," and for a lack of remorse for his actions, he "can in no way be extolled for the inspiration and emulation of any generation," the statement said.
[Gail DeGeorge is editor of Global Sisters Report. Her email address is gdegeorge@ncronline.org. Charity Durano is a correspondent for GSR based in the Philippines.]