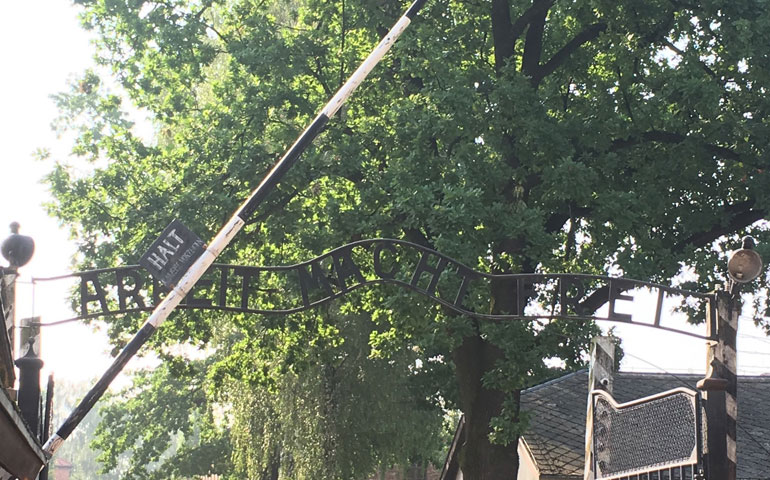 A replica of the infamous sign in German, translating to "Work sets you free," that greeted the prisoners of Auschwitz I as they entered the camp. At Auschwitz, 1.1 million people, mostly Jews, were murdered. The site now serves as a museum, memorial and a reminder. (NCR photos/Kristen Whitney Daniels)
In Poland, it is impossible to not reflect on its horrific past. The country has a long, storied history with occupation and war, including many attempts to wipe out Polish borders and culture entirely. At times, it feels impossible to separate tragedy from Poland itself.
It can be easy to forget that underneath it all is a story of resilience. Even though many historic buildings were destroyed during World War II, Poland has painstakingly refurbished and rebuilt many of them. The country continues to embrace art, literature and cinema as a way of healing.
Then there are the many saints who have risen from the ashes of the destruction of the 20th century, including St. Maximilian Kolbe, St. Edith Stein and St. Maria Faustina Kowalska.
Part of the allure of going to World Youth Day is immersing oneself into the host country's culture. It is estimated that 3 million pilgrims converged in Krakow, Poland, this summer for the chance to see and hear Pope Francis in person. These photos reflect Poland through the eyes of a pilgrim and not merely a tourist. They document the rise and fall of a nation and a country that continues to march on.
[Kristen Whitney Daniels is an NCR Bertelsen intern.]
A version of this story appeared in the Nov 18-Dec 1, 2016 print issue under the headline: Poland: Culture through a pilgrim's eyes.