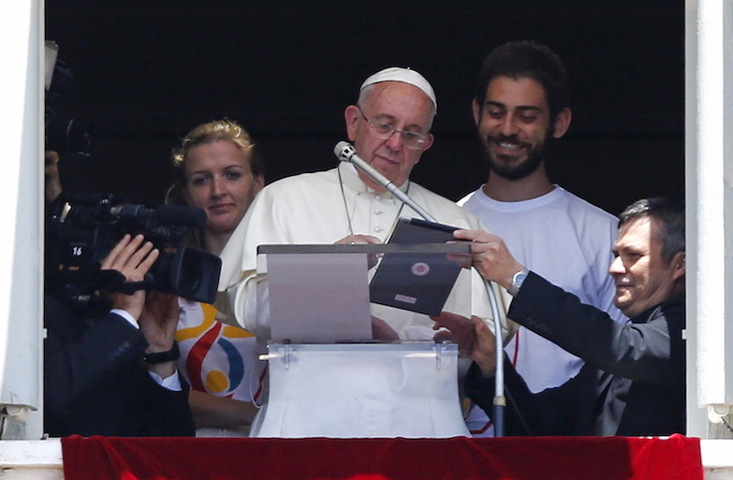 Pope Francis is flanked by two Polish youths as he uses an iPad to make the first online registration for the next 2016 World Youth Day in Poland, as he leads the Angelus prayer from the window of the Apostolic Palace in St. Peter's Square at the Vatican on July 26, 2015. Photo courtesy of Reuters/Max Rossi
Vatican City — March 17, 2016
The pope of the digital age is set to attract even more followers with the posting of his first Instagram photo.
Having already claimed the title of the world's most influential leader on Twitter -- with over 27 million followers across his nine accounts -- Pope Francis has a new social media platform in his sights.
The Argentine pontiff will take to Instagram over the weekend, with images set to portray the main messages of his papacy. "Being close to anyone who's suffering, for example. Tenderness, mercy and lots of joy," said Greg Burke, a Vatican spokesman.
Francis' move to the popular photo and video sharing site comes less than a month after he met the company's CEO, Kevin Systrom, at the Vatican. Alongside a photo published on Instagram, Systrom described the meeting as one of the most memorable experiences of his life.
"Today I had the honor of meeting Pope Francis. We spoke about the power of images to unite people across different cultures and languages," he said.
Francis will join a platform that already boasts more than 300 million users, including RNS and Beyonce. The papal account will appear under the name "Franciscus," the Latin name for Francis.
The decision to expand the pope's online presence follows meetings with two other leading tech executives. Both Eric Schmidt, executive chairman of Google's parent company, Alphabet Inc., and Tim Cook, CEO of Apple, held separate meetings with Francis in January.
Although the pope has previously confessed to being a tech "dinosaur," he has spoken positively of the Internet's ability to connect people. Francis last year used a tablet computer to sign up to World Youth Day, which he will attend in Poland this July.