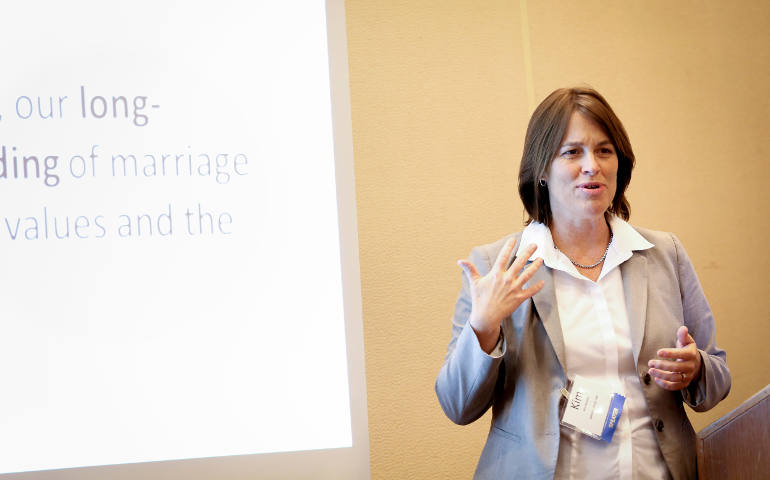 Kim Daniels gives a presentation on communications during the Catholic Media Conference in Denver in this June 19, 2013, file photo. Daniels, a former spokesperson for the president of the United States Conference of Catholic Bishops, was among 16 new members appointed by Pope Francis to the Vatican's Secretariat for Communications. (CNS photo/Nancy Phelan Wiechec)
Vatican City — July 13, 2016
More than a year after he established the Secretariat for Communications, Pope Francis named 16 new members to the body whose aim is to coordinate and streamline the Holy See's multiple communications outlets.
While the majority of the six cardinals, seven bishops and three laypeople he appointed are from Europe, the new members include U.S. communications consultant Kim Daniels and Mexican-born psychologist Leticia Soberon. Irish Archbishop Diarmuid Martin of Dublin was also named a member.
Daniels is an attorney specializing in religious liberty and pro-life issues. She is a former spokeswoman for the president of the U.S. Conference of Catholic Bishops and consultant on the bishops' ad hoc Committee for Religious Liberty. She was a founder and director of Catholic Voices USA.
---
More: "USCCB president's spokesperson leaves less than a year after her hiring" (March 14, 2014)
---
Soberon is a licensed psychologist and professor in communication and religion in the digital era based in Spain. She was one of the founders and the chief content officer of dontknow.net, a website devoted to exploring ethical, moral and religious questions. She also helped coordinate the network RIIAL, a website to inform and platform to help bishops in Latin America communicate.
Markus Schachter, a German professor of media ethics at the Jesuit-run Munich School of Philosophy and former director general of the German public television channel ZDF, also was appointed.
The Vatican made the announcement Wednesday. The new members include cardinals from Lebanon, Kenya, Haiti, Myanmar and two curial cardinals. U.S.-born Archbishop Gintaras Grusas of Vilnius, Lithuania, is also a member.
Francis established the secretariat in June 2015, after a period of study by an ad hoc commission and recommendations from the global management-consulting firm McKinsey & Co.
The "reorganization," the pope wrote, "must proceed decisively toward integration and a unified management" so that "the communication system of the Holy See will respond in an ever more efficacious manner to the needs of the mission of the church," especially in today's digital world.
The secretariat's responsibility includes coordinating the work of the Vatican website, Vatican Television Center, Vatican Radio, the Vatican newspaper and the Vatican press office.