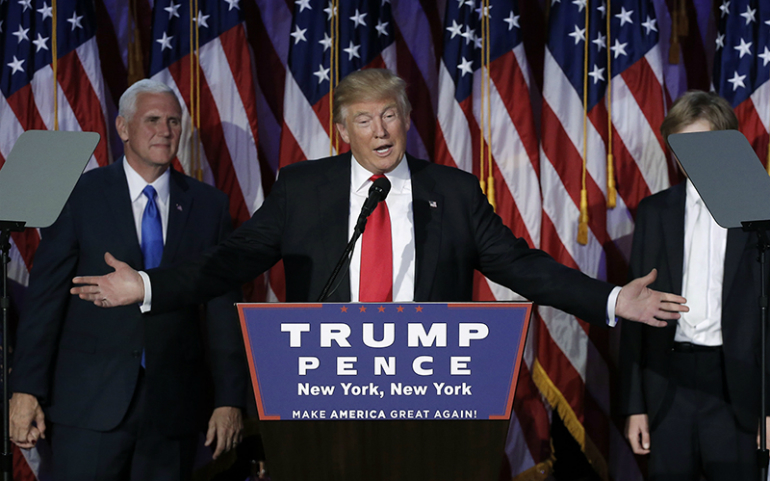 Republican U.S. presidential nominee Donald Trump speaks at his election night rally in Manhattan, New York, on November 9, 2016. (Reuters/Mike Segar)
If President Obama's appearance at the Notre Dame commencement in 2009 sparked an unprecedented uproar among American Catholics, imagine what inviting President Trump to graduation might provoke.
That concern is making Notre Dame's president, Fr. John Jenkins, think twice about making a pitch for the incoming U.S. president to receive an honorary degree, an appearance that almost any school would normally covet — and one that the iconic Catholic university has been more successful than others in securing.
"I do think the elected leader of the nation should be listened to. And it would be good to have that person on the campus — whoever they are, whatever their views," Jenkins told the student newspaper in an interview published Dec. 2.
"At the same time, the 2009 commencement was a bit of a political circus, and I think I'm conscious that that day is for graduates and their parents — and I don't want to make the focus something else," Jenkins told The Observer, the paper serving the South Bend, Ind., campus.
"My concern a little bit is that, should the new president come, it may be even more of a circus," he added.
"Circus" may even be an understatement, is describing the controversy over Jenkins' decision to invite Obama to give the main commencement address in May 2009 and receive an honorary degree.
The country had largely welcomed the election of the nation's first African-American president a few months earlier.
But many in the U.S. hierarchy, which was dominated by conservatives more than it is today, had forcefully opposed Obama, focusing on his support for abortion rights as the chief reason for their stance.
When Jenkins decided to honor Obama at graduation that May, conservatives were livid. Many cardinals and bishop denounced Notre Dame and Jenkins, and some alumni organized lobbying efforts to reverse the invitation.
Many other Catholics couldn't understand the opposition; Jenkins explained that he was honoring Obama not for his position on abortion rights but because he was the first African-American president and because the university had a tradition of inviting presidents to commencement.
Indeed, Notre Dame has had six presidents as commencement speakers, twice as many as any other non-military colleges. Dwight Eisenhower (1960), Jimmy Carter (1977), Ronald Reagan (1981), George H.W. Bush (1992), and George W. Bush (2001) spoke before Obama — five of them while in office.
Notably absent from that list is Bill Clinton (president from 1992-2000), whose position on abortion rights put him at odds with the hierarchy.
But Jenkins, who became Notre Dame president in 2005, has shown himself willing to take a broader approach to such invitations.
Besides Obama in 2009, earlier this year Jenkins presented former GOP House Speaker John Boehner and Vice President Joe Biden with a prestigious award aimed at honoring the two Catholics and political foes as a pointed rebuke to the polarization and ugliness of American politics.
Yet Biden's support for abortion rights also sparked protests, though they were far more muted than in 2009 when Obama was honored.