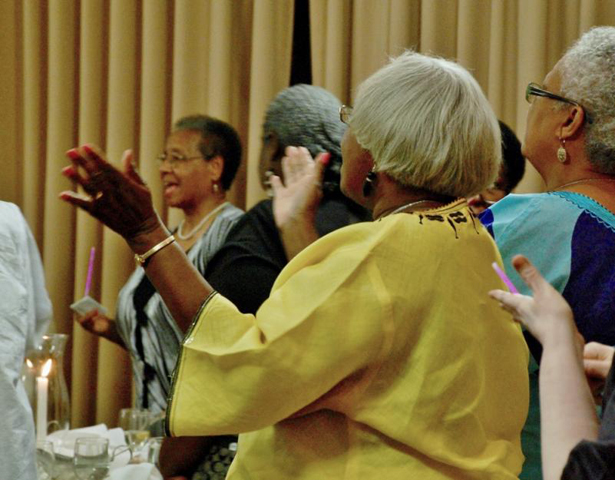 Participants clap and sing at the close of the joint meeting between the National Black Sisters Conference and three black clergy groups Wednesday in Charleston, S.C. (GSR photo/Dan Stockman)
Charleston, S.C. — July 31, 2015
The conference location was chosen a year ago, but those attending this week's events say God clearly had a hand in it.
On June 17, nine people were killed at Emanuel African Methodist Episcopal Church here when a young white man entered the historic black church and joined a Bible study for about an hour before he began firing a handgun. Dylann Roof, 21, was arrested and confessed to the hate crime, saying he had hoped to incite a race war.
Just over a month later, the attendees at the joint conference of the National Black Sisters Conference, the National Association of Black Catholic Deacons, the National Black Catholic Seminarians Association and the National Black Catholic Clergy Caucus found themselves in Charleston for their annual meeting, just a few miles from where the unthinkable had happened.
So Tuesday morning, they went to Emanuel AME, not knowing what they would find.
The visit turned into a sort of pilgrimage.