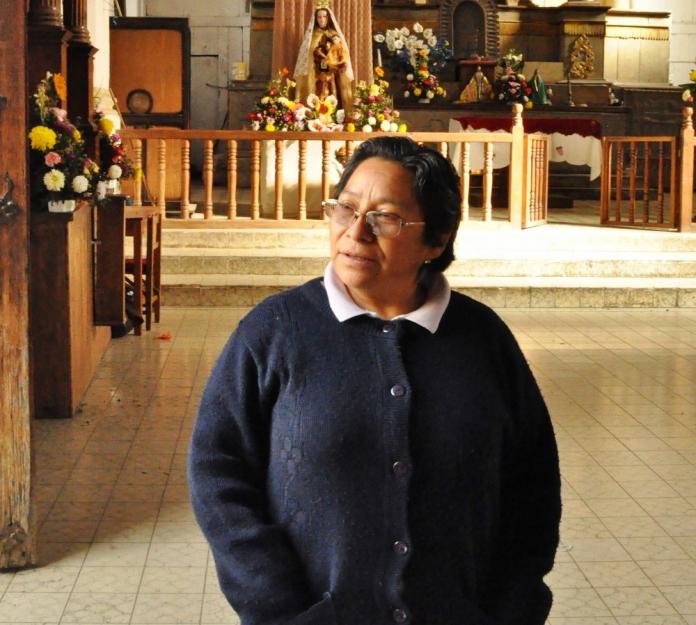 Sr. Nora Gonzalez, 46, a Tzotzil and a member of the order Hermanas de la Caridad de la Presentacion de la Santisima Virgen, said she hopes the pope inspires women to join the church and think beyond domestic life. (GSR/J. Malcolm Garcia)
San Cristobal De Las Casas, Chiapas, Mexico — February 12, 2016
Manuela Hernández Núñez says she recalls the night God appeared to her in a dream and called her to serve the church in detail. She saw herself working in the farm field of her family about 11 or 12 in the morning. The sun was high, no wind. Glancing at the sky, she saw the wings of an angel and then a bright light she interpreted as the presence of God. She stopped working and told her family she wanted to lead a religious life. She has now been a nun with Misioneros Crecares Diocesanas since 2009.
Without that vision, she might still be at work in her family's field in San Andrés Larráinzar. Now seven years later, Núñez will experience another life changing event -- the visit of Pope Francis. It is her hope that with his visit this weekend to Mexico and to Chiapas on Monday, Feb. 15., the efforts of nuns like herself to bring more indigenous people into the church will be enhanced.
When he comes to San Cristobal de las Casas, Pope Francis will celebrate a Mass for indigenous people. Planners said he will read from Scripture and pray in the languages of the Tzotzil and Tzeltal, two ethnic Mayan groups. The program also will include readings from the Gospel of Matthew in Tzeltal. Francis is expected to address issues of inequality, indigenous rights and migration by those fleeing violence in Central America, and to bring inspiration to indigenous people struggling to survive in Mexico's poorest state.
He will have to confront many challenges, said Núñez, 43, and a Tzotzil.