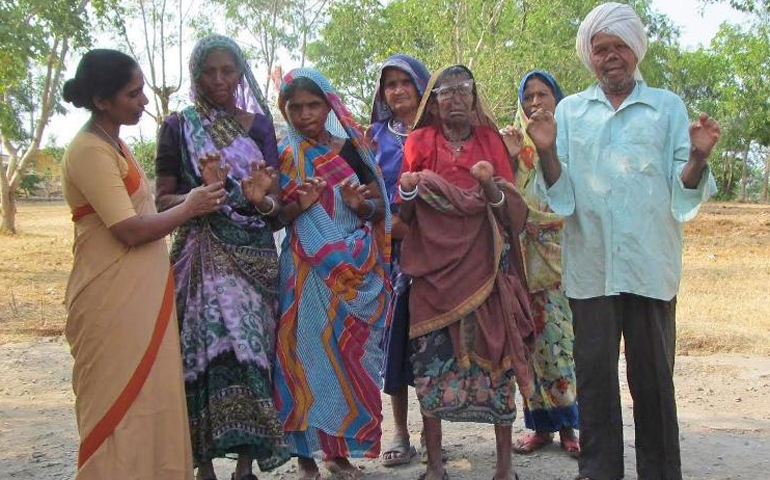 Sr. Julia Thundathil interacts with people living with Hansen's disease at Harsha Nagar, an enclave for leprosy patients in central India. (GSR/Saji Thomas)
"This is my new life and I am indebted to my Ma [mother]," says Gundeli Bai, who has lost fingers on both hands due to leprosy. "I would have died, and my body could have been eaten by dogs long ago," says Bai, who has been living for more than two decades in an enclave for leprosy patients started by her "Ma," Sr. Julia Thundathil.
Leprosy, or Hansen's disease, is a skin disease considered to be a curse in India. Those infected with it are ostracized from family and society.
Thundathil, an Augustinian nun, set up the enclave for leprosy patients at Sendhwa, a village in Barwani district in the central Indian state of Madhya Pradesh.
Bai is among six leprosy patients who had a chance meeting with the Catholic nun in 1994. The septuagenarian woman says her parents had died early, and after she was detected with leprosy, her only sister left her on the road. At the enclave, she earned the nickname "Sundari Bai" (beautiful woman) because of her cheerful disposition.
Thundathil met Bai and others during a visit to Sendhwa. "I found them on the roadside with worms coming out of their wounds," Thundathil told Global Sister Report. The encounter motivated her to dedicate her life to restoring dignity to lepers.
"All of them" she said, "were in their 60s and they were begging for food, as they had not eaten for days." Their wounds were attracting flies, and people often chased them away, she added.
"I approached them and inquired how they reached there, and their stories were really heartbreaking," Thundathil recalls.