A version of this story appeared in the Sept. 25-Oct. 8, 2015 print issue under the headline: Program brings faith into medical training.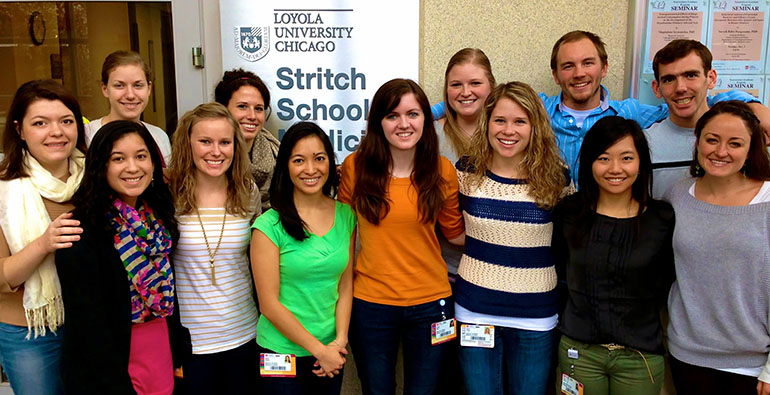 Students who are part of the first class of the Physician's Vocation Program pose in front of Loyola University Chicago's Stritch School of Medicine. (Jenna Janiga)
Helping medical students incorporate their desire for conversation on faith with their calling to medicine is the aim of the Physician's Vocation Program of Loyola University Chicago.
"We want them to realize, as Ignatius of Loyola did, that God desires our company and cherishes us as his creatures regardless of profession, talent or capacity," said John Hardt, vice president and associate provost of mission integration at Loyola University Health System and Health Science Division.
"The question becomes: Once a person knows herself as called by God into a relationship of sustaining love, how does that knowledge shape one's vocation — in this instance, medicine?" Hardt said.
The program was launched through a grant from the University of Chicago's Program on Medicine and Religion. Hardt was selected as one of four faculty scholars working in the intersection of faith and medicine.
There is no shortage of reflection opportunities at a Jesuit university. Hardt and Michael McCarthy, co-director of the Physician's Vocation Program, and an assistant professor in Loyola's Neiswanger Institute for Bioethics, noticed the medical students seeking a "deeper and more intellectually rigorous conversation about faith and their sense of calling to medicine."