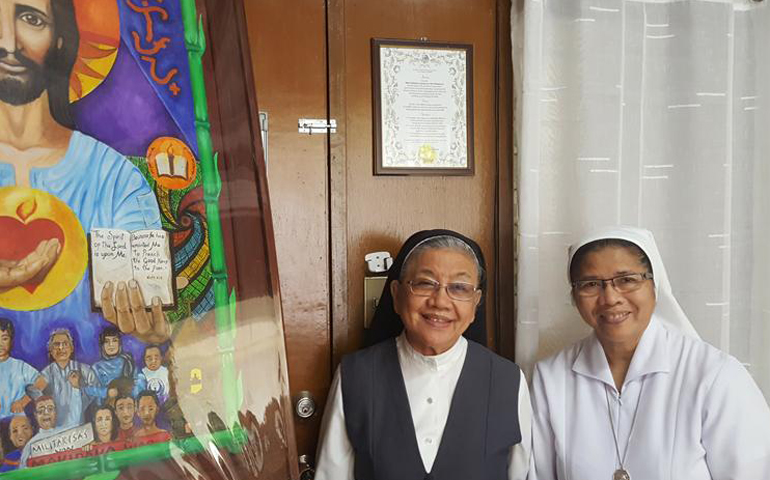 Sr. Crescencia Lucero, left, and Sr. Michaela Gotangco (GSR/Gail DeGeorge)
Quezon City, Philippines — September 20, 2016
Since Rodrigo Duterte was inaugurated as president of the Philippines on June 30 and declared a war on drugs, more than 3,100 people have been killed either by police or vigilante groups.
Religious congregations, individual bishops and the Catholic Bishops' Conference of the Philippines have condemned the lack of due process and violation of human rights. The European Parliament has issued a resolution, and the United Nations High Commissioner for Human Rights cited the situation in a Sept. 13 speech to open the 33rd session of the Human Rights Council.
On Sept. 21 -- the International Day of Peace and the anniversary of the declaration of martial law in the Philippines in 1972 -- a Mass, program and candlelight vigil are being planned in Manila. The event will protest what's being called a "culture of fear" that the extrajudicial killings have created and will promote the dignity of human life.
Sr. Michaela Gotangco, a Canossian sister and executive secretary of the Association of Major Religious Superiors in the Philippines (AMRSP), and Sr. Crescencia Lucero of the Franciscan Sisters of the Immaculate Conception of the Holy Mother of God, head of AMRSP's Justice, Peace and Integrity of Creation Commission (JPICC), talked to Global Sisters Report about the work of the organization, their stance on the killings and coordinating this event.