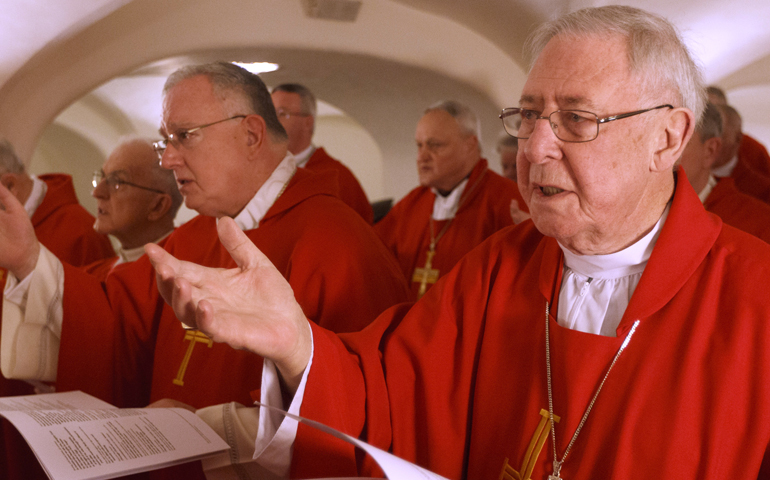 Bishop Joseph Imesch in front of the tomb of St. Peter in the crypt of St. Peter's Basilica at the Vatican, Feb. 9, 2012. (CNS photo/Paul Haring)
Joliet, Ill. — December 23, 2015
Retired Bishop Joseph Imesch of Joliet died Tuesday at Our Lady of the Angels retirement home in Joliet. He was 84.
The diocese said in a Wednesday statement the cause of death was heart related.
Bishop Imesch's body was to be placed at the Cathedral of St. Raymond Nonnatus in Joliet for viewing Dec. 28 and 29. A funeral Mass was schedule to be celebrated Dec. 29, followed by burial at Resurrection Cemetery in Romeoville.
The bishop retired in 2006 after serving the Joliet Diocese for more than 26 years.
"Bishop Imesch led with conviction and compassion and used his many talents generously," said Joliet Bishop Daniel Conlon in a statement. He said the bishop's years of service to the diocese were "marked by great change and population growth which he managed well."
On a national level, Imesch may be best known for leading the U.S. bishops' nine-year effort to approve a pastoral letter on women's concerns. He headed a writing committee for the pastoral from 1983 until 1992, when it failed to gain the required two-thirds majority from the bishops.
The document treated numerous topics, from the need for affordable day care to no-fault divorce, and included a vigorous defense of church teaching prohibiting women's ordination. The bishops voted to turn the document over to committees that could pursue some of the letter's objectives at a less authoritative level.
In an interview with his diocesan newspaper after the pastoral letter failed to gain approval, Imesch said he would advise Catholic women to "hang in there! Hang in there!" He told Catholic News Service at the time the bishops' rejection of the pastoral was not unexpected. "The more I thought about it," he said, "I realized our purpose was not to publish a pastoral letter but to raise the thoughts and concerns of women before the church. And we did that."
Imesch was born in Grosse Pointe Farms, Michigan, and studied at Sacred Heart Seminary in Detroit and the Pontifical North American College in Rome. He was ordained Dec. 16, 1956, in Rome as a priest of the Detroit Archdiocese. He then studied theology at the Pontifical Gregorian University in Rome.
On his return to Detroit, then-Father Imesch held several parish posts and was secretary to Detroit Cardinal John Dearden from 1959 to 1971. He was pastor of Our Lady of Sorrows Parish in Farmington, Michigan, from 1971 until his appointment as an auxiliary bishop in Detroit Feb. 20, 1973. He was ordained a bishop April 3, 1973.
He was appointed bishop of Joliet June 30, 1979, and installed Aug. 28, 1979.
After retiring in 2006, Imesch continued to administer the sacrament of confirmation and serve wherever he was needed. A parish secretary told him that he was "the last resort," because whenever a parish or a religious community could not find anyone else for Mass or confessions, the bishop was contacted.
A statement from the Joliet communications' office said the bishop will be "fondly remembered as a good shepherd; as someone who loved being a priest; who had an open door policy regarding his priests; who cared about people; who always said 'yes' to the requests he received; and who put his love for God's people, especially the poor and disadvantaged, into concrete action."