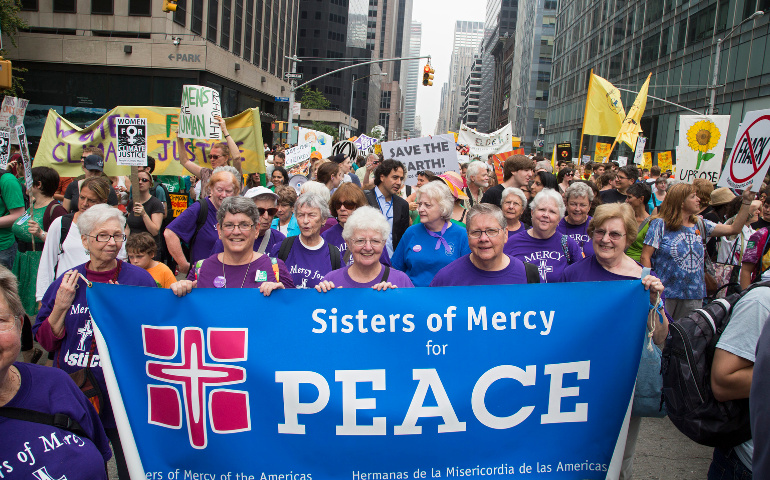 Mercy Sisters joined an estimated 310,000 demonstrators in the People's Climate March in New York Sept. 21, 2014. CNS photo/Jim West)
When you think about women religious, the word "science" may not be the first to spring to mind. After all, faith and science are often portrayed as opposites, allegiance to one suggesting a betrayal of the other.
But for many if not most Catholic sisters, the calculations, experiments and observations that have shaped climate study and other scientific disciplines are facts that bolster their conviction that all life on Earth is interdependent, and that the time to intervene on behalf of a struggling planet is now.
That explains why, in part, women religious, volunteers and other community associates are traveling to Washington, D.C., for the People's Climate March on April 29 or already took part in the March for Science there a week earlier. Many are participating in local marches, too.
"Science helps us understand the world around us," says Sr. Barbara Battista, a member of the Sisters of Providence of Saint Mary-of-the-Woods, Indiana. "Faith in general can help us understand that there is so much we'll never understand about this journey in life. Science helps us get little glimpses of … the immensity and therefore the potential for life. We are all connected. … What happens to one happens to all of us."
Long before Pope Francis embraced the science behind climate change in his 2015 encyclical "Laudato Si': On care for Our Common Home," Catholic sisters were blazing trails in the hard sciences. Four nuns in the late 19th century worked with astronomers to help map the stars. In 1965, the late Sr. Mary Kenneth Keller, a Sister of Charity of the Blessed Virgin Mary of Dubuque, Iowa, is recognized as the first American woman to earn a doctorate in computer science. Sr. Mary Celine Fasenmyer, a Sister of Mercy, was a mathematician famed for her work on hypergeometric functions.
Before a diagnosis of multiple sclerosis mandated a change of calling in 1971, Sr. Margaret Knoeber, a member of the Adorers of the Blood of Christ in Wichita, Kansas, had earned a doctorate in organic chemistry at Notre Dame University, and founded the chemistry department at Sacred Heart College (now Newman University).
"I believe in science and the study of science, the teaching of science, because science is a significant aspect of our lives," says Knoeber, who went on to have a long and fruitful career with the university and as a leader in her own order. "I'm not aware that Catholics I know have any difficulty with science."