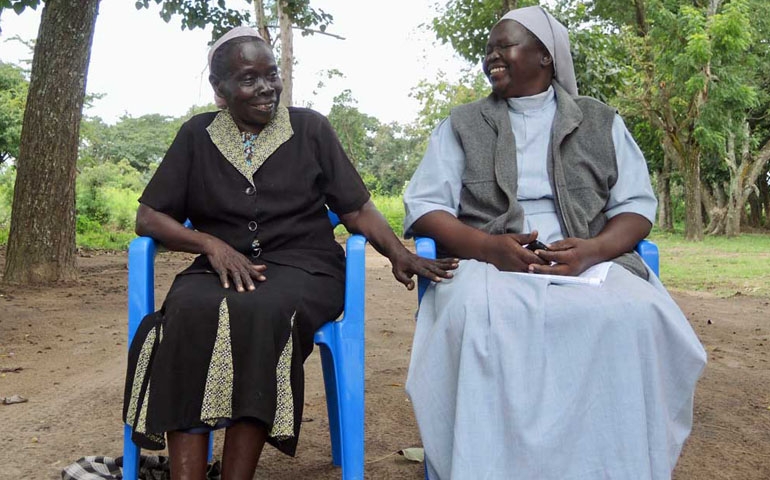 Angelika Ouma, left, the director of the Bishop Caesar Asili Memorial Nursery and Primary School, and head teacher Sr. Laura Kaneyo sit outside the school, overseeing an expansion that will enable them to open an additional classroom. (GSR photo / Melanie Lidman)
Some days, Angelika Ouma isn't even sure what side of the border she's on. "I was born in Sudan, then I came here [to Uganda] when the situation was bad, then I went back to Sudan when it was bad in Uganda, and now I'm back here," said the nursery school teacher, 73.
Over 60 years, Ouma's career has crisscrossed the border in pursuit of a peaceful place to teach children: She completed primary school in Uganda but returned to Sudan for higher education. Fleeing violence in Sudan, she first worked as a nursery school teacher in Uganda, where she met her husband. Together, they fled to South Sudan when northern Uganda was unsafe. Ouma finished her career and retired, expecting to relax in South Sudan. But, suddenly, after fighting broke out in her village, she found herself, now widowed, once again fleeing across the border.
Now, along with the Missionary Sisters of Mary Mother of the Church, she helps coordinate emergency nursery school classes for more than 70 South Sudanese refugees from her community in Kocoa village in northern Uganda. Refugees make up about a quarter of the students at the Bishop Caesar Asili Memorial Nursery and Primary School.
In addition, a small percentage of South Sudanese refugees who were able to secure scholarships at schools outside the settlements have been absorbed into regular classes with Ugandans. Read about the Missionary Sisters' work at a girls secondary school in Adjumani.
As countries around the world grapple with the wave of refugees flooding their borders, Uganda has quietly accepted a million South Sudanese refugees, almost half of the more than 2.5 million people who have fled South Sudan since 2014, according to the United Nations High Commission on Refugees. Today, the country absorbs an average of 500 refugees from South Sudan per week, which is considered a quiet period. At some points, 1,000 children were fleeing South Sudan every day.