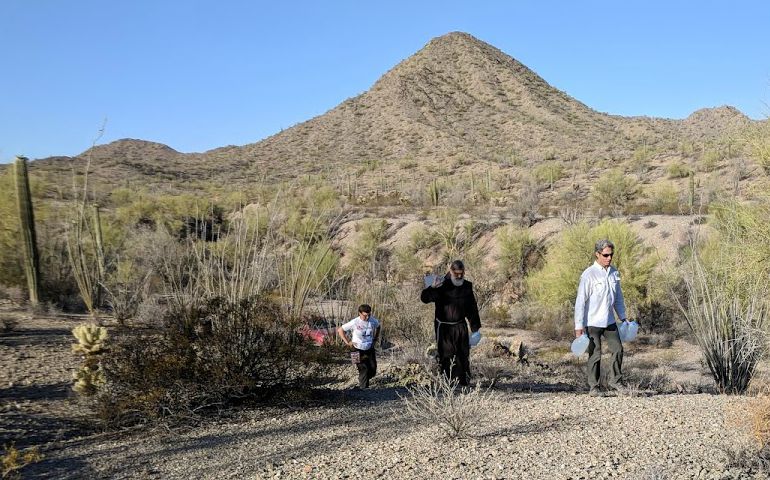 Members of the Tucson Samaritans leave gallon-jugs of water out in the desert for migrants to use. (Peter Tran)
Ajo, Arizona — July 2, 2018
In the Sonoran Desert northeast of Ajo, Arizona, temperatures can soar to mid-90s in late spring and above 100 degrees Fahrenheit in the summer. This vast, arid landscape of mountain ranges, arroyos and valleys, typical throughout southern Arizona, is where undocumented migrants make a path to find better life in the United States. This is also where hundreds of unfortunate ones have taken their last breath.
Sr. Judy Bourg, a regular volunteer with Tucson Samaritans, a humanitarian aid organization founded in 2002 as a mission of Southside Presbyterian Church to prevent death and suffering along the U.S.-Mexico border, recalled a jarring experience in late 2017 when she and other volunteers encountered a human skull under a mesquite tree in the desert near Ajo. "Silence fell over our group as we realized what we had discovered," said Bourg, a School Sister of Notre Dame. They contacted the sheriff's office in Ajo, which sent out two deputies to collect the remains. Bourg said the deputies "respectfully removed the skull" and sent it to the medical examiner's office in Tucson.
The Tucson Samaritans are made up of volunteers who drop off food and water in various locations in the Sonoran Desert. They come from various faith traditions or none at all. Using two donated four-wheel-drive vehicles, they carry water, food, emergency medical supplies, communication equipment and maps out to the desert daily to help people who are crossing the landscape.