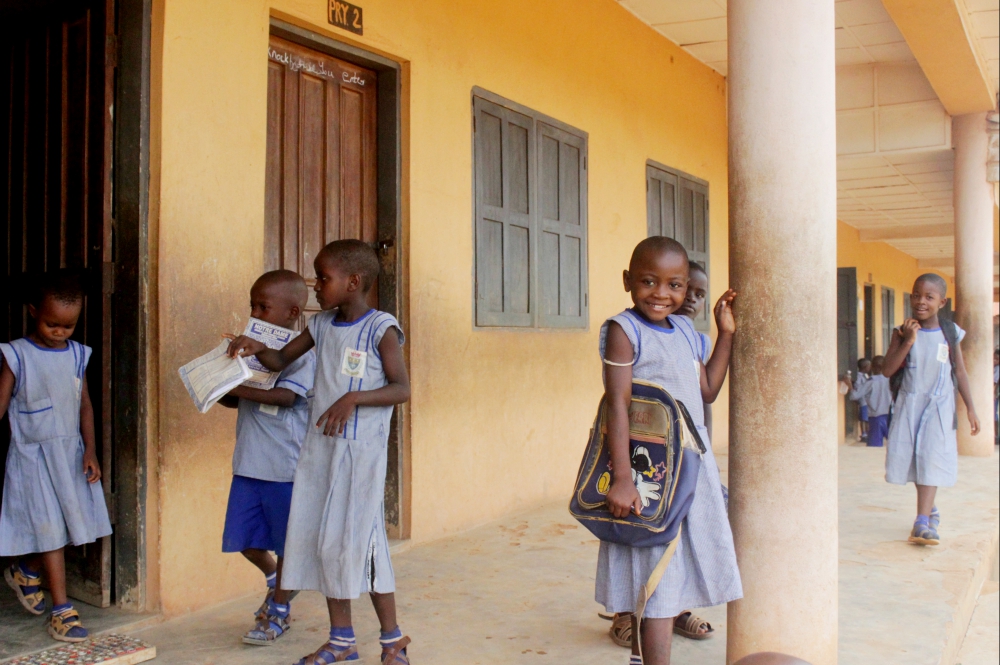 Children are seen after the bell rings for dismissal at the Notre Dame Nursery and Primary School, run by the Sisters of Notre Dame de Namur in Ugwuomu Nike, an isolated community in Nigeria's Enugu state. (Patrick Egwu)
Enugu, Nigeria — July 15, 2019
On a sweltering Monday afternoon in Ugwuomu Nike, an isolated community in Enugu state, South East Nigeria, Sr. Ifeoma Ubah is in the midst of eight schoolchildren ages 7-12 in an open field, directing them during a parade rehearsal for a Children's Day celebration in Nigeria.
It's break time, and the students of Notre Dame Nursery and Primary School are out in the field having a free, fun 30 minutes with bouts of chatter and laughter before going back to their classes. In the background, a group of girls form a circle, clapping their hands and singing old nursery-school rhymes.
"This place is just a quiet community," said Ubah, the school's headmistress. "We don't normally have visitors because the road leading to the community is very bad. So we only have members of this community living around us here, and they are mainly small-scale farmers who produce only what they eat."
Since 2017, Ubah of the Sisters of Notre Dame de Namur has been "living happily" and working in Ugwuomu Nike alongside four other sisters and 10 auxiliary staff to teach science, arts, arithmetic, technology and computer appreciation to children from poor homes and disadvantaged communities.