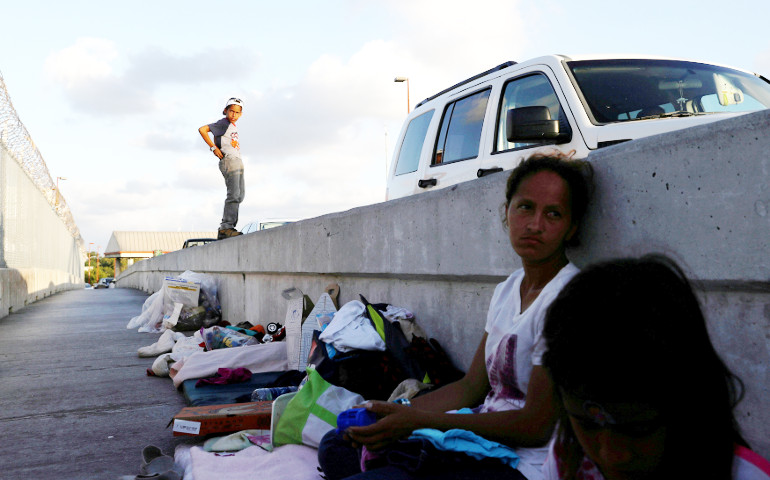 A Honduran family near Brownsville, Texas, rests in the shade June 26 while waiting on the Mexican side of the Brownsville-Matamoros International Bridge after being denied entry by U.S. Customs and Border Protection officers. (CNS / Reuters / Loren Elliott)
These past weeks, a number of things have happened in the United States that signal to me we are entering a critical soul-searching time as a nation.
We experienced the administration's hardened position regarding those who are entering our country, even for those seeking asylum. For a time it included separating children from their parents and placing them in detention centers without any plan for reuniting them with their families.
We heard President Donald Trump insult our closest neighbors and strong allies — Canada and Mexico —even speaking of Mexicans as "infesting" our country. We watched as the Trump separated himself from our Western allies and sought closer relationships with the dictators of Russia and North Korea.
Who the United States has been, both nationally and internationally, is being turned upside down. Although some of us may not totally agree with how things have been and desire change, the actions of Trump are focused on appealing to his political base, a minority of the people in the U.S. The good of the whole is being ignored.
There is a heartbreaking silence from members of Congress — both Democrats and Republicans. Party politics and the next election are paramount, regardless if in the process the basic values for which America has stood are violated.
We don't all agree about our future. The divisions we experience, the cultural war waging in our country, did not happen overnight. The cultural, social, economic and political shifts over these past 50-60 years have been experienced by us in very different ways.