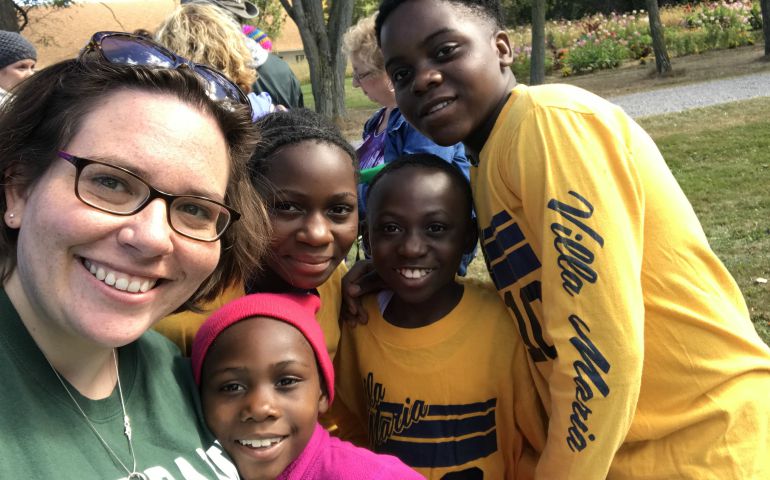 Sr. Eilis McCullough, left, poses with four siblings from the Democratic Republic of Congo who were enjoying Harvest Day at Villa Maria, the Sisters of the Humility of Mary motherhouse in Cleveland, Ohio. (Provided photo)
Being "neighbor." Preaching truth. Accompanying. Practicing radical hospitality. Proclaiming the Word. Engaging in ministries of leadership or education.
This month, the panelists consider the unique charisms of their particular congregations and discuss how their individual ministries reflect that charism. They addressed this question:
How does your personal ministry reflect your congregation's charism?
_____
Eilis McCulloh professed first vows with the Sisters of the Humility of Mary in June 2017. She is a program assistant with Migration and Refugee Services — part of Catholic Charities, Diocese of Cleveland — after volunteer experiences in Immokalee, Florida, and Haiti.
As Sisters of the Humility of Mary, we are called to respond to the needs of the times by "bringing more abundant life to God's people, especially the poor."
One way in which I understand our charism is through radical hospitality. This requires us to open our hearts to give and receive God's light and love. I have learned that I can only do my part in bringing about more abundant life if I am open to encountering Christ in the people I meet on a daily basis.
In my work with a refugee resettlement agency, I am privileged to accompany many of Cleveland's newest residents.
In the midst of practical tasks like teaching them how to pay bills, find jobs and speak English, I get to share in the tiny miracles of new life — this is the "bringing about of more abundant life."
I am welcomed into families and get to share laughter and joy over heaping plates of fufu and sardines or momo.
From these women and families, I learn the true meaning of radical hospitality: how to welcome others, expand my understanding of family to include more people, share love and witness the beauty of abundant life for all.