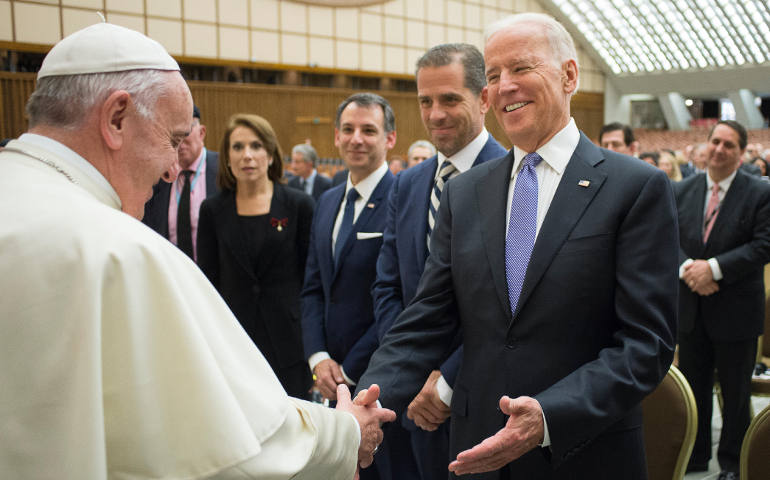 Pope Francis greets U.S. Vice President Joe Biden after both spoke at a conference on adult stem cell research at the Vatican April 29, 2016. (CNS/L'Osservatore Romano, handout)
Vatican City — April 29, 2016
U.S. Vice President Joe Biden and Pope Francis made separate but similar calls for better global coordination, research and care in treatment of cancer at a Vatican event Friday in an evocative and unprecedented collaboration of political and religious efforts to mitigate the disease.
Speaking one after another in front of a massive bronze depiction of Christ's resurrection in the Vatican's Paul VI Hall, both Biden and Francis used spiritual imagery to push the world to action during a regenerative medicine conference.
The vice president, whose speech was the first for such a high-ranking U.S. official at the Vatican, also spoke personally and movingly about the death of his oldest son Beau last year from incurable brain cancer.
"There are immense possibilities, fully within our reach that did not exist even five years ago," said Biden. "Every day thousands of people are dying, millions of people are desperate and looking for hope -- for another day, another month, another year, one more hug, one more kiss."
"We're going to truly seize this moment," said the vice president. "We're here in this sacred place as a reminder that it's within us."
Francis spoke particularly about ensuring access to care for those who may not be able to afford it, saying doctors and physicians must oppose "an economy of exclusion and inequality" that "victimizes people when the mechanism of profit prevails over the value of human life."
The pope called for the change of the global "economic paradigm" so that "the centrality of the human person will be rediscovered."
The two leaders were speaking Friday at an event co-hosted by a U.S. nonprofit organization working on advancing cell therapies, Stem for Life, and by the Pontifical Council for Culture.
The event, being held Thursday-Saturday and titled "Cellular Horizons: How science, technology, information and communication will impact society," is seeing dozens of medical experts discuss scientific advancements in regenerative medicine.
Biden traveled to the Vatican Friday morning after first making an unannounced stop Thursday to visit U.S. troops in Iraq.
The vice president began his remarks by thanking the pope for offering special consolation to his family after his son's death during Francis' visit to the U.S. in September. Biden said the pope met with members of his extended family before leaving from Philadelphia back to Rome.
"I wish every grieving parent, brother or sister, mother or father would have had the benefit of his words, his prayers, his presence," said the vice president. "He provided us with more comfort than even he I think will ever understand."
"We experienced in my family … how faith can turn loss into hope, and hope into action," said Biden. "The Holy Father has given hope to so many people, of all faiths, in many parts of the world, with his strong words and humble ways."
The vice president also said that when he was in Iraq he mentioned to several of the religious and political leaders he met there that he would be going to the Vatican next.
"They each wanted to talk about the Holy Father," said Biden. "I think that's a pretty incredible thing."
"He reminds us that as we stand on the cusp of unprecedented scientific and technological change, of amazing discoveries ... we cannot forget that real lives and real people are at the heart and the reason for all that we do," said the vice president.
Francis told the people taking part in the conference that their work carries "greater significance" during the ongoing Jubilee year of mercy
"Your work is a sign of hope, as it brings together people and institutions from diverse cultures, societies and religions, all united in their deep concern for the sick," said the pontiff, calling on them also to promote greater empathy for those suffering from diverse illnesses.
U.S. President Barack Obama has tasked Biden with leading a new federal "Moonshot" initiative to eliminate cancer.
That initiative came up several times in the conference's discussions earlier Friday, with a number of leading researchers and physicians speaking about recent advances in treatment that appear to have hope of substantial mitigation of the disease.
Yahoo News Global Anchor Katie Couric led several of the experts in discussing their work in a roundtable conversation that focused on new immunotherapies, epigenetic therapies, and even possible cancer "vaccines."
Patrick Soon-Shiong, a native South African who is now a professor at the University of California at Los Angeles, spoke about the last possibility making cancer a "normal biological event" which the human body's immune system can be engineered or taught to destroy.
Several other celebrities attended the event, including U2's lead guitarist The Edge, whose daughter has battled Leukemia.
Francis greeted the vice president after giving his own address, and the two leaders shook hands and smiled. Biden met privately afterwards with Vatican Secretary of State Cardinal Pietro Parolin and was to meet later Friday with Italian Prime Minister Matteo Renzi.
Biden ended his remarks at the Vatican by saying that he was taught early in his life that the "essence of religion" is faith, hope and love.
"Faith is an expression of confidence, that we can use our intelligence and capacity to make things a little better," said the vice president. "And in my view, hope is an expression that progress is possible. And love is an expression to comfort and heal those who are frightened and in need."
"It seems to me that's the essence of our collective task," said Biden. "Cancer is not a national problem; it's an international problem; it's a human problem. It affects the rich and the poor, all races, all religions, and those with no religion."
"I am truly confident that it is possible" to end cancer now, he said. "It's all about possibilities."
Quoting the 19th-century Danish philosopher and theologian Søren Kierkegaard, Biden said: "Faith sees best in the dark."
"I have faith," he concluded. "Thank you all so very much for what you do."
[Joshua J. McElwee is NCR Vatican correspondent. His email address is jmcelwee@ncronline.org. Follow him on Twitter: @joshjmac.]