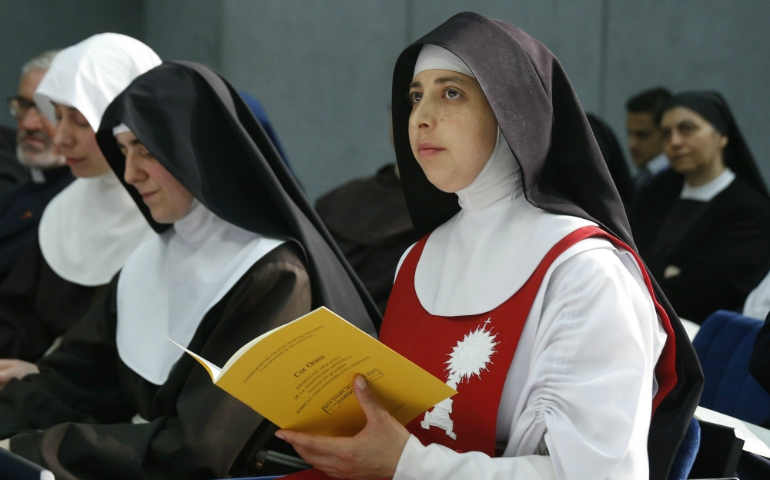 A nun holds a copy of "Cor Orans," a new instruction for contemplative women religious, during a news conference for its release at the Vatican May 15. (CNS / Paul Haring)
Vatican City — May 15, 2018
The Vatican released an instruction today with new norms for contemplative orders of nuns, encouraging cooperation among their monasteries and outlining procedures for communities left with only a few members.
The document, Cor Orans ("Praying Heart") is a follow-up instruction on implementing Pope Francis' 2016 document Vultum Dei Quaerere ("Seeking the Face of God"), which issued new rulings and mandates for monasteries of women around the world. The aim of both, the Vatican said, is to safeguard the identity and mission of contemplative women religious.
The pope charged the Vatican Congregation for Institutes of Consecrated Life and Societies of Apostolic Life with creating the new instruction, which seeks to fill the legislative gaps left since Pope Pius XII's apostolic constitution Sponsa Christi, from 1950, and facilitate carrying out the mandates in Vultum Dei Quaerere.
The instruction was released by the Vatican May 15 and went into effect immediately.