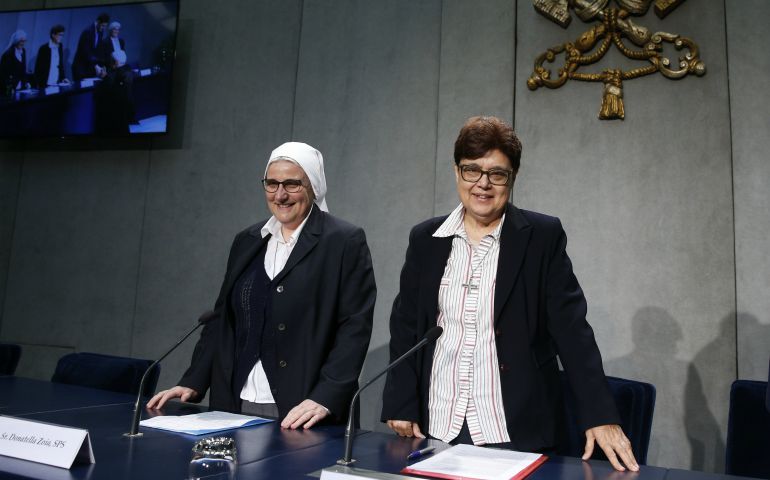 Sr. Donatella Zoia, superior of the Sisters of the Precious Blood, and Sr. Carmen Sammut, superior of the Missionary Sisters of Our Lady of Africa and president of the International Union of Superiors General, arrive for a news conference at the Vatican May 2. Pope Francis is scheduled to meet May 10 with the heads of more than 800 women's religious orders who are in Rome for plenary meetings. (CNS/Paul Haring)
Vatican City — May 2, 2019
Although Pope Francis will meet next week with the global organization of women religious who requested three years ago that he create a commission to study the history of women deacons in the Catholic Church, the group's leader said she does not know if he will address its work during their encounter.
"We might suppose that he would say something about it during the audience, but we are not sure," said Sr. Carmen Sammut, president of the International Union of Superiors General (UISG), which will meet with Francis at the end of its May 6-10 triennial assembly.
"He is free to say [something] or not," Sammut said to a group of journalists May 2 after a Vatican briefing on the assembly. "We have no big pretensions about what can happen. We will wait."
UISG is an umbrella organization that represents more than 450,000 Catholic women religious around the world. Approximately 850 of its members, who are leaders of the world's congregations of women religious, are expected in Rome for its weeklong meeting.
The group last met with Francis in May 2016, during its last plenary assembly. In that encounter, they took part in a question-and-answer session with the pope, during which they asked if he would consider creating a commission to study the church's earlier practice of having women serve as deacons.