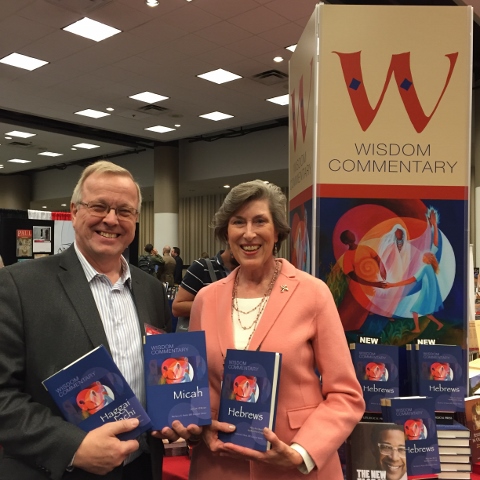 Hans Christoffersen, publisher of academic and trade markets at Liturgical Press, and Dominican Sr. Barbara Reid, coordinator of the project, pose with the first books in the Wisdom Commentary series. (Provided photo)
Eight years ago, before she was the academic dean at Catholic Theological Union, Dominican Sr. Barbara Reid had an idea. She wanted to create a work of feminist biblical interpretation that would delve into every book of the Bible — something that had never been done before.
Reid pitched her idea to editors at Liturgical Press, who were excited and gave her the green light. Reid assembled an eight-woman board of feminist scholars to help her coordinate the project, and in November, the first three of what will ultimately be a 58-volume series of feminist biblical commentary were published: Hebrews, Haggai and Malachi, and Micah.
Titled the Wisdom Commentary — a nod to both the figure of Woman Wisdom as portrayed in the Bible and to the oft-ignored wisdom of female biblical interpreters — the series features authors from a diverse array of religious, racial and cultural backgrounds, including Korean United Church minister HyeRan Kim-Cragg and International Council of Christians and Jews past-president Deborah Weissman.