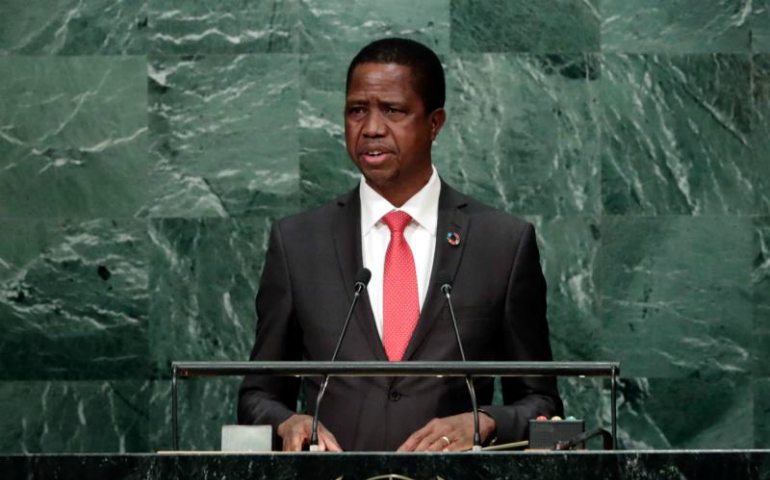 Zambian President Edgar Chagwa Lungu speaks in 2016 at the United Nations General Assembly headquarters in New York. (CNS/Jason Szenes, EPA)
Oxford, England — June 22, 2017
The president of the Zambian Catholic bishops' conference joined other religious leaders in deploring worsening tensions in the east African country, accusing its president of intimidating opponents and silencing the media.
Archbishop Telesphore Mpundu of Lusaka and leaders of the Council of Churches of Zambia and the Evangelical Fellowship of Zambia said in a statement that the country is at a crossroads as it faces "many challenges related to governance, the muzzling of people's freedoms and human rights violations."
The leaders said June 16 they were saddened by the "blatant lack of political will" to tackle Zambia's crisis, and wished to "see the government do better and succeed" by raising their "prophetic voice."
They said they had tried for weeks to explain their concerns to President Edgar Lungu. They also said they feared he was "creating a new dictatorship."
"Only leadership that does not have the will of the people on its side, or thinks it does not have the will of the people on its side, uses state institutions to suppress that same will," the statement said.
Political tensions increased after the violent night time arrest of Hakainde Hichilema, head of the opposition United Party for National Development, after his supporters were involved in an April 10 clash with Lungu's motorcade.
The Lusaka Times reported June 22 that Hichilema, who could face the death penalty, had been transferred with five others charged in connection with the incident from a maximum security jail back to Lusaka's central prison.
The faith leaders said continued mistreatment of Hichilema, who ran in five presidential elections and finished a close second to Lungu in voting in August, was causing "growing amazement and alarm."
Hichilema unsuccessfully challenged the election result in Zambia's Constitutional Court. Lungu has threatened a state of emergency if his legitimacy remains contested.
Recent pressure on newspapers and television and radio stations was exacerbating an atmosphere of "fear, intimidation and threats," the leaders said.
"There cannot be national reconciliation and healing through manipulation of truth — the kind of leadership we have now allows law-breaking as long as it benefits the powers that be. If this isn't dictatorship, then what is it?" the statement said.
In their statement, the faith leaders said their previous warnings had been ignored, raising anxieties for the future of Zambia, which has been long viewed as a bastion of democracy in Africa.
They added that Hichilema should be "treated with respect as a political prisoner" and released into house arrest, while Lungu should act as "guardian for all Zambians," rather than aiming "only to protect the good of members of his party."
The Lusaka Times reported June 19 that Auxiliary Bishop Benjamin Phiri of Chipata had contested the statement and accused Mpundu of failing to consult other Catholic leaders before its release.