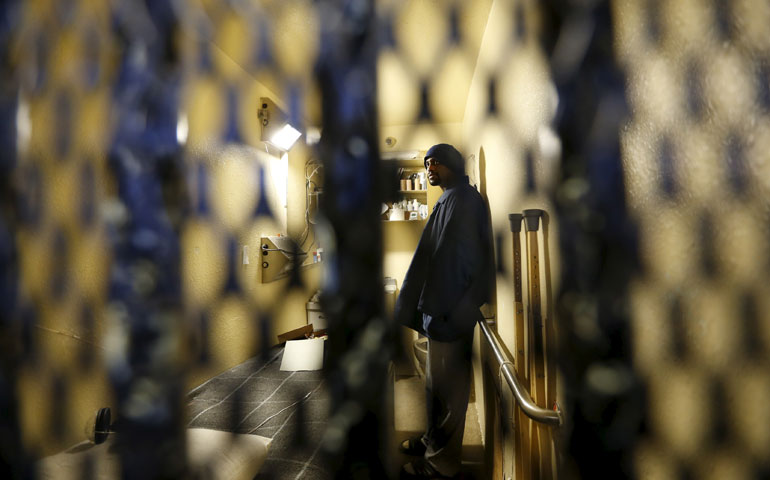 Condemned inmate Sean Vines is seen inside his cell during a media tour of California's Death Row at San Quentin State Prison Dec. 29, 2015. (Newscom/Reuters/Stephen Lam)
A California organization is hoping to get an anti-death penalty initiative on the state ballot in November. Death Penalty Focus is sponsoring the Justice That Works Act of 2016.
"Under current law, California inmates sentenced to life without the possibility of parole are required to work while in prison and pay 50 percent of the wages they earn to the families of the victims of their crimes," said Paula Mitchell, board member of Death Penalty Focus. "But inmates on death row do not work or pay any wages or 'restitution' to their victims' family members."
The anti-death penalty initiative proposes a change to that aspect.
"The Justice That Works Act is a ballot initiative to replace California's broken death penalty system with life in prison without parole," said Matt Cherry, executive director of Taxpayers for Sentencing Reform. "It requires convicted killers to work and pay most of their wages to their victims' families."
Cherry said the act had needed 365,880 valid signatures by mid-May to qualify for the ballot in November.
"We collected and submitted more than 600,000 signatures ahead of schedule. It will take until mid- to late June for all the counties to certify them, but we are very confident of qualifying," Cherry told NCR.
This is not the first time California has taken up an initiative to end the death penalty.
A similar initiative in 2012 "came within 250,000 votes of passing," said Mitchell, also an adjunct law professor at Loyola Law School in Los Angeles. "It received 48 percent of the vote, so it failed to pass by only about 2 percent. More recent polling shows that support for the death penalty has decreased significantly since 2012, so it seems voters may be poised to finally end capital punishment in the state."
According to Elisabeth Semel, director of the Death Penalty Clinic at the University of California, Berkeley, School of Law, the California Legislative Analyst's Office estimates that the repeal of the death penalty in the state will save $150 million per year.
"This contrasts sharply to the 'speed up executions' initiatives that death penalty proponents are attempting to put on the November 2016 ballot," Semel added.
However, Semel said the fiscal effects of the speed up initiative are subject to considerable uncertainty.*
The Legislative Analyst's Office "pointed to significant increases in the workload of the state judicial system, an increase in number of attorneys needed to implement that new law, which could translate into tens of millions of dollars per year for several years," she told NCR.
Cherry said more and more Californians are realizing that it is time to replace the death penalty with a system that works. In January, the Field Poll, a nonpartisan public opinion poll, reported a 40 percent swing against the death penalty in California from 2011 to 2016.
Some of the influence in changing opinions is due to Pope Francis, according to Cherry.
"I think that the outspoken opposition to the death penalty expressed by Pope Francis has also moved public opinion in the U.S., and not just among practicing Catholics," he said. "Although the church has long opposed the use of the death penalty, I think it had a huge impact when Pope Francis stood before the U.S. Congress and called for the abolition of the death penalty."
The California Catholic Conference supported the 2012 Proposition 34, but have yet to issue a statement on the current initiative. "The bishops don't take positions on initiatives until after they qualify for the ballot," said Steve Pehanich, director of communications for the state conference.
According to the Death Penalty Information Center, there were 743 death row inmates as of May in California. There have been 13 executions since 1976.
The caseload in California includes 57 individuals who have no lawyers for their direct appeals, according to Semel. "Another 298 have no attorneys for habeas representation. The state does not have the funds for attorneys, nor, quite frankly, do we have enough qualified capital defense lawyers to handle the cases," she said.
"The California Supreme Court has about 350 direct appeals pending, and about 250 state habeas petitions pending," she said. "It simply cannot keep pace with the caseload."
Semel said switching the system to life without the possibility of parole is estimated to cost just over $11 million per year, as opposed to $150 million. "That is an enormous difference in a state that has profound needs in the area of education, housing and social services," she told NCR.
California is also considering a one-barbiturate execution, which would replace a series of three drugs used.
"Because of concerns about lethal injection protocols, it has been more than a decade since California executed anyone. The state is, yet again, trying to agree on new lethal injection procedures for executing prisoners," said Cherry. "However, in the decade since California last put a prisoner to death, we have seen a string of horrific botched executions around the country, with prisoners suffering for more than an hour before dying."
Cherry said the debate about California's execution methods "will just remind the public that the entire death penalty system is broken beyond repair."
*An earlier version of this story contained an inaccurate quote that has been corrected.
[Elizabeth Elliott is an NCR Bertelsen intern.]
A version of this story appeared in the June 3-15, 2016 print issue under the headline: Act aims to end death penalty in California.