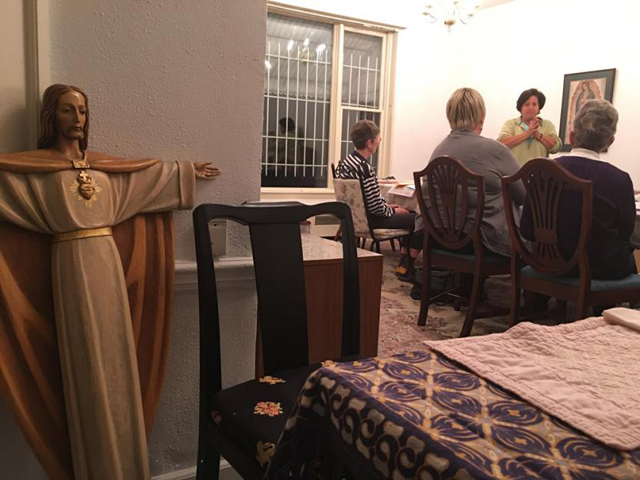 Kansas City Community Gardens' Sharon Goldstein leads a vegetable gardening seminar in the Journey House dining room in Kansas City, Missouri. Eventually Journey House, a re-entry home for women, will have a garden that can provide food for the house and for local charities. (GSR/Dawn Araujo-Hawkins)
Editor's note: This week, GSR is focusing on the U.S. prison system and sisters who work with current and former inmates and advocate for a change in policies. This is Part 3 of 4. Read Part 1 and Part 2.
Fifty-eight-year-old Loren May is proud of his apartment and everything in it. When he was released from prison in 2014 after nine years, he was given $43 and told to get a job and stay away from other convicted felons if he wanted to stay out of prison.
May was determined to find employment, but because of his criminal background, no one wanted to hire him, he says. He applied for jobs, but he was always turned down, if he got a response at all. He lived in a federal transitional house for six months, until Journey to New Life, a nonprofit in Kansas City, Missouri, helped him get an apartment and his first post-incarceration job. For that, he says, he is eternally grateful.
"Journey to New Life is the loveliest thing I have ever seen a day in my life," May told Global Sisters Report. "They helped me with everything I needed help with, and they're still helping me, even though I pay rent."
In theory, once someone has served a prison sentence, they are free to move forward with life. In reality, however, many find that being released is merely the start of a new form of imprisonment — one in which they are barred from practically every aspect of mainstream society.
Many ex-offenders find themselves funneled right back into prison, either because they violated their parole by not having a job or an apartment or because they returned to the crimes that put them in prison in the first place.