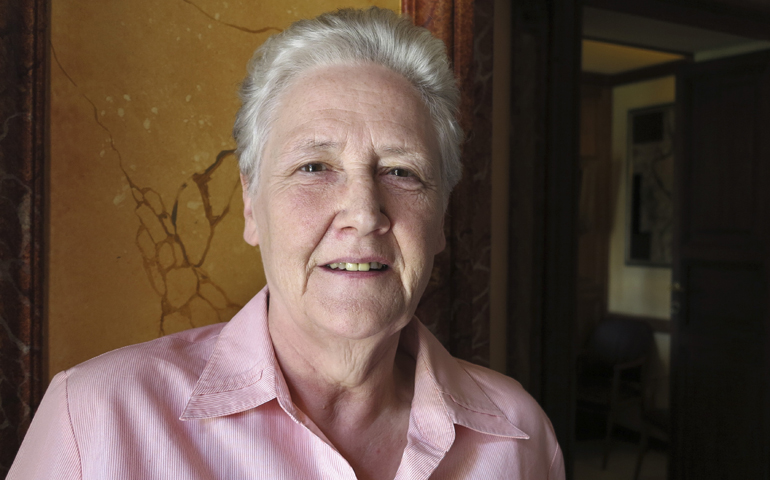 Marie Collins, in a 2014 file photo (CNS/Carol Glatz)
Vatican City — September 19, 2016
A member of Pope Francis' commission on clergy sexual abuse has revealed that one of her colleagues in the group has resigned his position. The resignation, previously not made public, means two of the pontiff's seventeen original appointees to the commission are no longer taking part in its work.
Marie Collins, an Irish laywoman and member of the Pontifical Council for the Protection of Minors, made the revelation in an NCR interview in response to a question about the status of fellow member Peter Saunders, who the commission put on a leave of absence from the group in February.
"There has been a resignation from the Commission," Collins responded. "But Peter has not resigned or been dismissed: he is still on leave of absence."
The Irishwoman, an abuse survivor, spoke to NCR following the commission's meeting in Rome last week.
Emer McCarthy, the commission's projects and media coordinator, said Monday that a member of the group resigned in May due to personal reasons.
McCarthy identified the resigned member as Claudio Papale, an Italian who teaches canon law at the Pontifical University Urbaniana. The Vatican's 2015 phonebook also lists him as an official at the Congregation for the Doctrine of the Faith.
"The Commission sees no need for further comment out of respect for his privacy," said McCarthy. Papale did not immediately respond to a request for comment.
Francis' original appointments to the abuse commission included 10 laypeople, two women religious, two priests, and one bishop. Boston Cardinal Sean O'Malley, the group's president, also serves as a member as does Msgr. Robert Oliver, the group's secretary.
Saunders is a British abuse survivor who founded the UK's National Association for People Abused in Childhood. In a brief statement following the commission's meeting in Rome in February, the Vatican said "it was decided" by the group then that he would be taking a leave.
The Briton has disputed the Vatican's account and said he did not accept such a leave of absence.
Collins said during the interview that Saunders' situation "hasn't changed."
"Peter is still on leave of absence," she said. "The situation hasn't changed in any way. He wasn't in attendance at this meeting."
"There's really not a lot more that I can say," said Collins. "The situation is still as it was. It's not a very satisfactory situation but it hasn't really changed."
On other matters of the commission's work, Collins expressed hope in the interview about new measures adopted by Francis to allow the Vatican to initiate removal of Catholic bishops negligent in handling sexual abuse.
The pontiff launched the new efforts in June with the promulgation of a motu proprio titled Come una madre amorevole ("As a loving mother.")
The measures specify that a bishop's negligence in response to clergy sexual abuse can lead to his removal from office and empower several Vatican dicasteries to investigate such bishops and initiate processes of removal.
The pontifical commission had previously recommended that Francis give power to the Vatican's doctrinal congregation to establish a tribunal to judge negligent bishops. That recommendation was not put into place.
"I was quite depressed about the accountability tribunal," said Collins. "After it was announced last year, I was really positive about that and then when it sort-of didn't go anywhere I was quite down-hearted."
"Although the tribunal is no longer on the cards, I think the new process is actually more wide-ranging," she continued. "I think that was very positive for everyone on the commission because it's one thing that we said at the very beginning we were going to deal with: bishops' accountability."
"I know there's been a lot of frustration," said Collins. "But in this case we have actually seen something coming out at the other end."
"We gave [Francis] our advice and we now have a process in place which should bring much better accountability," she said. "That for me is very positive ... that we can see movement forward."
Asked about concerns that the new accountability process relies on the Vatican offices to sincerely set about investigating negligent bishops, Collins responded: "That is my reservation."
"My reservation would always be: it's good, I welcome it, but I want to see it in action and I want to see it actually put into practice and to see leaders who are negligent actually held to account," said Collins.
"Giving more powers to the dicasteries and to the different congregations is obviously an excellent move but then we have to see them use them and see what the result is," she said. "I'll wait and see."
"It's obviously different than a tribunal but if the tribunal was not going to be put into force, if it was not going to be accepted, if it wasn't going to happen, it's good that we have something in its place and the whole idea of accountability has not disappeared," she continued.
"I feel the Holy Father has followed through and is very serious about accountability," said Collins. "I want to see the results."
The commissioner also expressed concern that her commission has not been given power to oversee the implementation of efforts against abuse, such as Francis' new measures on negligent bishops, to make sure they are being properly put in place.
"It's an area of the commission that is a concern for me in that we have no remit of any sort to review implementation," said Collins. "It's not what was given to us in our mission by the Holy Father. It's not there in our statutes."
"I would have the personal view that it should be; that when advice is taken and new methods [or] processes are put into place that we then would have the opportunity to review how they're being done," she continued.
"We're purely an advisory body," she said. "Personally, I would like to see us having more authority to actually review how things are implemented because we don't have it."
Collins also spoke about the news that she and other members of the commission are taking part this year in the annual course of formation held at the Vatican for new bishops appointed around the world.
"It's a breakthrough I think for the commission because we did make it known last year that we were willing to take part and we weren't invited," she said. "It's really a step forward this year that the commission is going to have some input."
"You have bishops from around the world," said Collins. "It's so important that they have clear training on child protection. The session will be short, it won't be that long, but just having the involvement of the commission members I think is very important."
Collins said she was planning to speak on the effect of abuse and "the importance of treating the perpetrator not just as a sinner but a criminal and somebody who is a danger to children."
The commissioner said she also wanted to tell the new bishops that sexually abusive clergy do not just harm their victims but the entire church around the world.
"People might say to me, 'Well why speak about the damage it does to the church? Why are you concerned about that?'" she said.
"But I'm speaking to men to whom that is of great concern and they need to realize that it's not an issue that can be minimized in any way because it is such, and has been such, a devastation to the church that they have given their lives to," said Collins.
[Joshua J. McElwee is NCR Vatican correspondent. His email address is jmcelwee@ncronline.org. Follow him on Twitter: @joshjmac.]