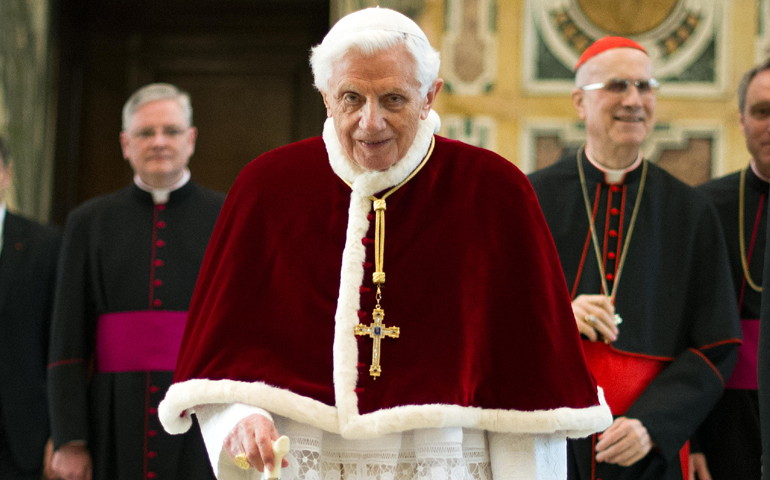 Pope Benedict XVI walks at the Vatican in this 2013 file photo. (CNS photo/L'Osservatore Romano)
Rome — September 12, 2016
Retired Pope Benedict XVI reveals in a new set of interviews that he was among those who were dissatisfied with Pope Paul VI's 1968 teaching prohibiting Catholics from using artificial birth control.
In a new book published in Italy Friday, the retired pontiff says that while he agreed with the conclusions Paul drew in the encyclical Humanae Vitae he had trouble with the argumentation.
"In the situation I was then in, and in the context of theological thinking in which I stood, Humanae Vitae was a difficult text for me," Benedict says in the book, to be published in the U.S. Nov. 3 by Bloomsbury under the title Last Testament: In His Own Words.
"It was certainly clear that what it said was essentially valid, but the reasoning, for us at that time, and for me too, was not satisfactory," Benedict states.
"I was looking for a comprehensive anthropological viewpoint," he continues. "In fact, it was [Pope] John Paul II who was to complement the natural-law viewpoint of the encyclical with a personalistic vision."
The new book is based on conversations Benedict had with German journalist Peter Seewald, with whom he also published a book-length interview during his papacy. In his introduction to the volume, Seewald says the interviews were conducted "shortly before and after" Benedict's 2013 resignation and that the retired pope was given final approval over the text.
---
Related: Pope Benedict speaks: 'I do not see myself as a failure' (Sept. 8, 2016)
Related: Benedict says he did not expect papacy, accepted it as duty to cardinals (Sept. 9, 2016)
---
Benedict's mention of his struggles with the 1968 encyclical letter is one of a number of revelations made in the new book, particularly regarding the retired pope's role in and later interpretation of the 1962-65 Second Vatican Council.
In 1968, Fr. Joseph Ratzinger -- later a bishop, cardinal and then Pope Benedict -- was serving as chair of dogmatic theology at Germany's University of Tubingen. He had earlier served at the Council as a peritus, or theological advisor, to Cologne Cardinal Joseph Frings.
At one point in the book, Benedict mentions writing a speech Frings was asked to give ahead of the Council in Genoa, Italy, in 1961, which was seen at the time as a progressive roadmap for church reform. Benedict describes recording audiotapes outlining theological arguments for Frings, then nearly blind, to listen to.
One mission since 1965
Seewald inquires about the 1961 speech and Ratzinger's point of view during the Council, asking: "Which camp did you belong to at that time, the progressives?"
"Indeed, I would say so," the former pope replies. "At that time progressive did not mean that you were breaking out of the faith, but that you wanted to understand it better, and more accurately, how it lives from its origins."
Benedict then says that perceptions of the Second Vatican Council changed over the decades.
"The bishops wanted to renew the faith, to deepen it," states the retired pontiff. "However, other forces were working with increasing strength, particularly journalists, who interpreted many things in a completely new way."
"Eventually people asked, 'Yes, if the bishops are able to change everything, why can't we all do that?'" says Benedict. "The liturgy began to crumble, and slip into personal preferences."
"In this respect one could soon see that what was originally desired was being driven in a different direction," he continues. "Since 1965 I have felt it to be a mission, to make clear what we genuinely wanted and what we did not want."
Seewald then asks if Benedict has had "pangs of conscience" for his part arguing for church reform at the Council.
"Cardinal Frings later had intense pangs of conscience," the retired pope replies. "But he always had an awareness, that what we actually said and put forward was right, and also had to happen."
"We handled things correctly, even if we certainly did not correctly assess the political consequences and the actual repercussions," he continues. "One thought too much of theological matters then, and did not reflect on how these things would come across."
"In itself it was a moment in the Church, when you were simply waiting on something new, on a renewal, a renewal of the whole," states Benedict. "This was not to be something coming only forth from Rome, but a new encounter with the worldwide Church. In that respect the time was simply nigh."
Proponent of 'forward thinking' theology
Earlier in the book, Benedict remembers his theological viewpoints as a young seminarian in the late 1940s and early 1950s.
"I wanted out of classical Thomism," the retired pope says, referring to schools of thought that stick strictly to the teachings of 13th century theologian St. Thomas Aquinas.
"We were forward thinking," Benedict states of himself and his classmates. "We wanted to renew theology from the ground-up, and thereby form the Church in newness and vitality."
"At that time we all had a certain contempt for the nineteenth century; it was fashionable then," he continues. "We wanted a new era of piety, which formed itself from the liturgy, its sobriety and its greatness, which drew on the original sources -- and was new and contemporary precisely because of this."
Benedict says that, initially at least, he preferred the fourth-century St. Augustine over St. Thomas.
"The personal struggle which Augustine expresses really spoke to me," says the retired pope. "Thomas' writings were textbooks, by and large, and impersonal somehow."
"Augustine battles with himself, and indeed continues to do so after his conversion," he continues. "And that is what makes the subject compelling and beautiful."
Seewald asks Benedict about a motto that appeared on the invitation to the first Mass celebrated by him after his priestly ordination: "We don't rule over your faith, we serve your joy."
Benedict's response reads like it might have come from his successor, Pope Francis.
"As part of a contemporary understanding of the priesthood, not only were we conscious that clericalism is wrong and the priest is always a servant, but we also made great inward efforts not to put ourselves up on a high pedestal," states the former pontiff.
"I would not even have dared to introduce myself as 'the reverend,'" says Benedict. "To be aware that we are not lords, but rather servants, was for me something not only reassuring, but also personally important as the basis on which I could receive ordination at all."
"The statement on the invitation expressed a central motivation for me," he continues. "This was a motive I found in various texts in the lessons and readings of Holy Scripture, and which expressed something very important to me."
Speaking about an important lecture in 1957, Benedict shows a very decisive side.
Describing his habilitation, an evaluated lecture made in European countries by academics seeking the ability to lecture publicly, the former pope says his failure "seemed inevitable" because one of his evaluators had a "less [than] amicable point of view" of him.
While he passed the lecture, Benedict says that evaluator made marks all over his prepared text.
Seewald asks if that text, with the markings, still exists.
"I burned it," Benedict replies, adding: "In the oven."
Break with Kung, 'Dominus Iesus'
Benedict also speaks of his relationships with the famed theologians of his era. He says the ones he appreciated most were French Jesuit Fr. Henri de Lubac and Swiss Jesuit Fr. Hans Urs von Balthasar.
Asked about his relationship with famous Swiss theologian Fr. Hans Kung, the former pope states: "His theological path just went someplace else, and he got increasingly radical."
"I could not join in with this, I wasn't permitted to," Benedict continues.
"Why I was then identified by him as an enemy, I do not know."
Seewald asks if Benedict at some point decided to "choose another side" from Kung on the theological debates of the time.
"I saw that theology was not the interpretation of the faith of the Catholic Church any more, but was devising how it could be and should be, on its own merits," Benedict replies. "For me that theology was incompatible with being a Catholic theologian."
Later in the book, Seewald asks Benedict about his time serving as head of the Vatican's Congregation for the Doctrine of the Faith under Pope John Paul II. He asks particularly about the congregation's year 2000 declaration Dominus Iesus, which attracted controversy by stating that Protestant churches were not "churches in the proper sense."
Seewald asks if Benedict wrote the document by himself.
"I deliberately never wrote any of the documents of the office myself, so that my opinion does not surface, otherwise I would be attempting to disseminate and enforce my own private theology," the former pope replies.
"Such a document should be grown organically, from the soil of the relevant offices responsible," he continues. "Of course I was a co-worker, and did some critical redrafting, etc. But I didn't write any documents myself, including Dominus Iesus."
Benedict also speaks about his work on the 1992 Catechism of the Catholic Church.
"More and more people asked themselves then: 'Does the Church still have a homogeneous set of doctrines?'" states the former pontiff. "They no longer knew what the Church actually believes."
"There were some very strong tendencies, with really good people onside too, saying: a catechism cannot be produced any more," says Benedict. "I said: 'Either we still have something to say, in which case one must be able to describe it -- or we have nothing left to say.'"
"In this way I made myself a champion of the idea, with the conviction that we must be in a position to say what the Church believes and teaches today," he continues.
Life under Hitler
Benedict also speaks of his early life in Germany, and gives new details of how he and his family dealt with the Nazi regime in the 1930s and '40s. He mentions an uncle, Alois, who was a priest and was reported to local officials in 1936 as against the regime.
"It was really clear to us that a clergyman must be against the Nazis," says the former pope. "Our father was so against them you cannot imagine that anyone in the family would have supported them."
"The atmosphere was oppressive overall," Benedict states. "We knew that in the long run the Church was supposed to disappear. There was no longer supposed to be any priesthood. That was clear to us: I have no future in this society."
"The Nazi perspective was particularly dire for me personally, as sport was made a compulsory subject to finish school, and if you were not sporty you'd fail," he continues.
Asked if he knew of the concentration camps, Benedict replies that his family knew of the Dachau camp in southern Germany. The former pope then explains that before the war his father would send fabrics that needed sewing to a firm in another town, which was owned by a Jew.
"When the Nazis confiscated it and the new owner advertised that everything would continue as before, [my father] said: 'No, I will not take up what one man has taken from another,'" says Benedict. "He never bought from this firm again."
Benedict describes being forced into Reich labor service during the war, where he was assigned to help create a wall on the German-Hungarian border.
"I was a bad shoveller, to be sure," he states. "There were some capable ones, farm lads, who could do it properly. The Führer certainly didn't benefit from me."
[Joshua J. McElwee is NCR Vatican correspondent. His email address is jmcelwee@ncronline.org. Follow him on Twitter: @joshjmac.]