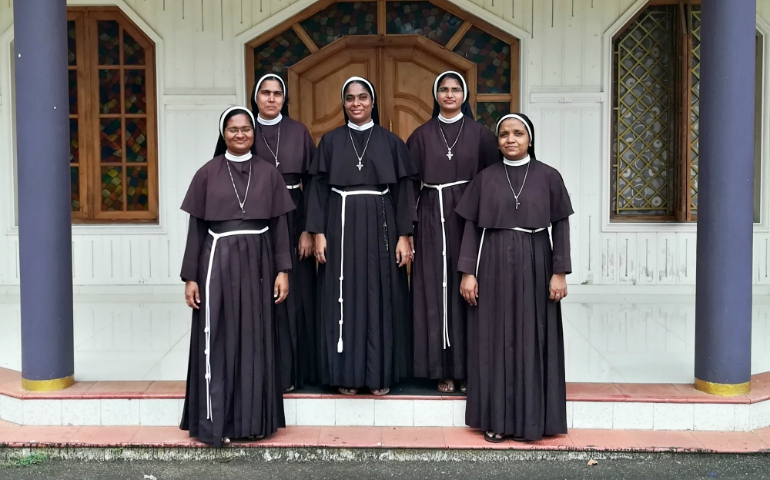 The five Members of the Missionaries of Jesus who in September staged a sit-in in Kochi, Kerala, India, to demand the arrest of a bishop accused of rape. From left are Sisters Anupama, Alphy, Ancitta, Neena Rose and Josephine, standing in front of their convent chapel at Kuravilangad. (Saji Thomas)
Kochi, India — October 25, 2018
Five Catholic nuns whose public protest in September led to the judicial custody of an Indian bishop accused of rape now fear for their lives after he recently was released on bail.
Their fear intensified after a priest who testified against the accused, Bishop Franco Mulakkal of Jalandhar, died Oct. 22 under mysterious circumstances.
"We do not know whether we will be on the face of the earth tomorrow. The bishop can do anything to us," says Sister Anupama, one of the Missionaries of Jesus nuns who staged a sit-in at a busy intersection in Kochi, the commercial hub of the southern Indian state of Kerala.
After 14 days, they ended their indefinite protest on Sept. 22, a day after the Kerala police arrested Mulakkal. The bishop was accused of repeatedly raping Anupama's former superior general between 2014 and 2016. The former superior general filed the police complaint in Kerala on June 28.
The bishop has denied the charges, calling them a vendetta by the nun for his disciplinary action against her. The Missionaries of Jesus is a diocesan congregation under the Jalandhar bishop.