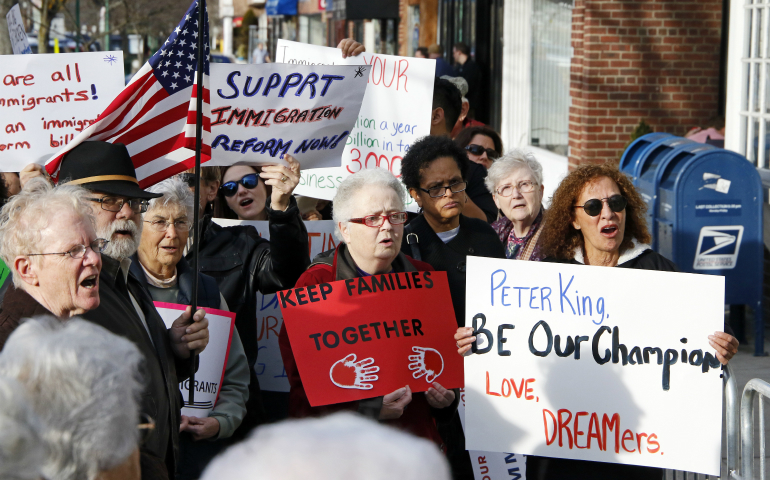 People gather at a rally in support of immigrants in Massapequa Park, N.Y., Feb. 24. The demonstration was held outside Republican Rep. Peter King's district office in an effort to urge the congressman to help protect unauthorized immigrants who currently have reprieve from deportation under the Deferred Action for Childhood Arrivals program, known as DACA. (CNS photo/Gregory A. Shemitz)
Austin, Texas — May 12, 2017
The Catholic bishops of Texas said the state's move to prohibit cities and other jurisdictions from providing sanctuary to immigrants facing deportation "does not help peace officers build trust with the migrant community."
On May 7, Texas Gov. Greg Abbott signed into law the "anti-sanctuary" measure passed by the Texas Legislature.
In a May 5 statement, the Texas Catholic Conference of Bishops had urged Abbott to veto the bill, known as S.B. 4, saying they were disappointed lawmakers had voted for the bill and said it went beyond the governor's goal "to ensure local sheriffs and police did not undermine the immigration laws enforced by the federal government."
"The bill exceeds this goal, because it also allows local peace officers to inquire into the legal status of people who are detained, rather than just those who are arrested," the bishops said. "With such a law, people who have done nothing to merit arrest or citation can be asked for their legal status. The bill will decrease trust from our immigrant community in our law enforcement officers."
The new law bans cities and other jurisdictions from providing sanctuary to immigrants in the country without legal permission if they are facing deportation. It says police chiefs and county sheriffs who refuse to cooperate with federal immigration authorities would face jail time.
It also allows police officers to ask people they detain, including for a routine traffic stop, about their immigration status.
"Enforcement measures should have the goal of targeting dangerous criminals for incarceration and deportation. S.B. 4 does not meet these standards," the Texas bishops said.
"Our clergy, religious brothers and sisters, and laity have a long history of involvement in serving migrants," they said. "Our ministry compels us to speak out on the issue of immigration reform, which is a moral issue that impacts human rights. We continue to advocate for more just and comprehensive immigration laws, which include reunification of families and creating more just pathways to citizenship."
The bishops asked all Texans to join them "in praying for our leaders, peace officers, migrants and citizens. May we give thanks for the good laws of our state, and tirelessly work to ensure that our laws always protect each of our God-given rights."
On May 8, the state of Texas filed a lawsuit in federal court as a preemptive move against local officials who oppose the new law and are expected to fight it in court.
State Attorney General Ken Paxton filed the suit in the U.S. District Court for the Western District of Texas.
The new law "is constitutional, lawful and a vital step in securing our borders," he said in a statement. "Unfortunately, some municipalities and law enforcement agencies are unwilling to cooperate with the federal government and claim that S.B. 4 is unconstitutional."
In January, President Donald Trump signed an executive order saying the federal government would withhold funds from cities and other entities if local officials do not cooperate with immigration enforcement. A federal judge in San Francisco temporarily blocked the order, ruling that only Congress could withhold funds.
According to news reports from around the country, several cities, towns and counties, have revised or reversed "sanctuary" declarations for their jurisdictions after the threat of losing federal money.