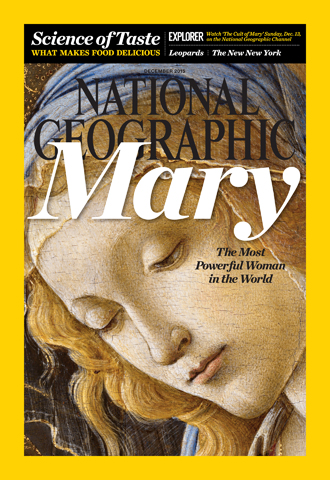 December cover of National Geographic (credit: National Geographic)
For the second time in five months, the cover story for the iconic National Geographic magazine highlights a foundational aspect of the Catholic faith. In August, for the first time ever, a pope graced the cover of the magazine. In September, I wrote "The story behind National Geographic's Pope Francis story."
This month's cover story is on Mary, the mother of Jesus, titled, "How the Virgin Mary Became the World's Most Powerful Woman: Mary barely speaks in the New Testament, but her image and legacy are found and celebrated around the world."
National Geographic paired the accomplished and award-winning writer Maureen Orth with photographer Diana Markosian. Orth, a Catholic and a former Peace Corps volunteer, is a Special Correspondent for Vanity Fair magazine, and founder of the Marina Orth Foundation, which promotes advanced learning in technology, English and leadership for over 3,200 students in Colombia. She traveled over several months to Bosnia and Herzegovina, Egypt, France, Mexico, Portugal and Rwanda.
NCR spoke to Orth by telephone about her experience writing this story, which has been edited for length.*
---
NCR: Prior to receiving this assignment, did you have a sense of the depth and breadth of the devotion to Mary around the world?
Orth: I travel a great deal and I grew up as a Catholic of course. So I am familiar with Mary around the world. I was certainly not familiar with her in the Muslim religion. I had no idea about Mary in Rwanda. I certainly knew about Fatima, Lourdes and Guadalupe. I went to the Marian Library at the University of Dayton and spoke to the people there. I went to a conference on Mary at Catholic University. I ordered dozens of books. I got to know Michael O'Neill, the MiracleHunter.com. In order to familiarize myself, I had to do a tremendous amount of research. After I was given the assignment, I had heard about Arthur Boyle and Medjugorje [a town on the border of Bosnia and Herzegovina] and what happened to him [he was cured from Stage 4 cancer]. I got his book, read it, interviewed him and he happened to be taking a group to Medjugorje. I joined his group for that trip.
You noted that when Pope Francis was asked what Mary meant to him, he answered, "She is my mamá." Your story reflects again and again the intimate and personal relationship people have with Mary, as a mother.
That's right. There are two different processes: First, there is the period of time when you're preparing to go to these places -- and I didn't go to these places all at once. Then you interview people and begin to realize that this is a mother-child relationship -- no matter how old you are, no matter whether you're a man or a woman no matter what country you are from. In the first millennium, according to Miri Rubin [medieval historian of Queen Mary University of London], Mary was much more of an imperial figure and then in the second millennium she morphed into a figure of maternal love.
Professor Amy-Jill Levine, a professor of New Testament and Jewish studies at Vanderbilt University, points out that the lack of information about Mary allows people to project the image of grieving mother, the young virgin, the goddess figure, that "just as Jesus is the ideal man, Mary is the ideal woman." She seems correct in describing an avenue for people to connect with Mary.
Yes, because the yearning for meaning, for spirituality is universal, I believe. No matter your religion, it's a path towards spirituality. Mary herself became a path and a way. I believe she is one of the major paths towards Jesus, towards God. She, as the intercessor, leads the way. While most Protestants do not believe this, Catholics do and certainly for Muslims she is the most revered female, even though they don't believe Jesus was God. I agree with Professor Levine.
Mary appeared to three Rwandan schoolgirls, which the Vatican subsequently confirmed. Your interview with one of the girls, Anathalie Mukamazimpaka, now in her fifties, seemed quite stunning. What was that experience like?
Rwanda was unique and fascinating and I had no idea what to expect. It was very complicated to even get the story. I had to fly from Cairo at 2:15 a.m., fly through the night, and then into the capital of Rwanda, and then take a jeep driving on both a paved and unpaved road until you get to the hillside town of Kibeho. When I got to Kibeho, I was fortunate to find a priest who was right there and brought me to Anathalie. I had a young English teacher translate for me. To be there and to hear her speak was almost a surreal experience, to listen to someone who the Vatican confirmed had apparitions over a long period of time. There were many witnesses as well. I spoke to the 89-year-old doctor who was charged with monitoring the girls. Anathalie went on a 14-day Eucharistic fast and the doctor said he could have been put in jail had she died. He had to watch out for her. He described in detail what that was like. There were times when [the girls] claimed they went on mystical journeys and were shown heaven and hell and purgatory. They were unconscious for over a day. Nobody could lift them up; the girls had told the people, "Don't bury us if you think we are dead because we are not." I had never encountered that kind of experience in reporting before.
When it comes to miracles, Mary seems to stand at the intersection of science and faith. The Arthur Boyle story -- who experienced a healing at Medjugorje -- bears that out. So often these miracles are inexplicable. Boyle's doctors at Massachusetts General Hospital couldn't explain Boyle's healing.
Doctor McGovern [Frank McGovern, the Boston urologic surgeon who worked on Boyle] said it's statistically possible that Boyle could have healed the way he did. By Vatican criteria, it's not a miracle. What I thought more interesting was what Boyle told me, echoed by a woman on the trip who was Stage 4 and now shows no sign of the disease, that their spiritual conversion was more important because it gave them a sense of peace and that whatever happened to them -- life or death -- they were prepared. They considered this a win-win situation and their faith had allowed their immune system to kick-in; and that's what they say saved them.
Here in North America, Mexican Treno Garay told you that "Mexico belongs to the Virgin, and the Virgin belongs to Mexico." The annual Our Lady of Guadalupe in Mexico celebration brings thousands of people to the cathedral dedicated to her. A California truck driver said, "Everyone has to visit their mother." What was that celebration like?
Prior to Mary appearing to the Indian, Juan Diego, there was a hierarchy of the Spaniards being superior to the Aztecs. The fact that Mary appeared to an indigenous became important to the national identity of the country, which is largely Mestizo. Even though Mexico has had periods of anti-clerical behavior, the overwhelming sentiment has been that Mary is the protector and mother of all the Mexican people. It's fascinating that in both Fatima and Mexico these celebrations often have been considered "popular" celebrations, but lately it's spreading across the board. Social media and TV does that, it's much more accessible. What's fascinating to me is that there are hundreds of cities across the United States now that have their own [Our Lady of Guadalupe] marches. And two weeks ago I was invited to a suburban, mostly white, parish in Cincinnati that was filled with people from Kenya and Rwanda to celebrate Our Lady of Kibeho. It was fascinating to watch. It has happened because some of the priests at the University of Dayton helped to settle some of the Rwandan refugees.
Mary is the only woman to have her own sura, or chapter, in the Koran. "Mary is the purest and most virtuous of all women in the universe," says Bakr Zaki Awad, dean of the theology faculty at Al Azhar University, Cairo's leading theological university. Do you think that Mary could be a mediator or a promoter of unity as between Muslims and Christians?
Yes, I do. When we are looking for common cause, a place to start the conversation, to understand that we have shared values, it is extremely important to use Mary as a beginning place. The rhetoric now has become so harsh that it would be very good to show what we have in common with our values. We have extremists in all religions but we should not tar an entire religion -- Islam or Christianity -- because of the extremists.
---
Related: An 'intercessor with Muslims'
---
In May 2015, you traveled to Lourdes, France, with 184 wounded warriors -- U.S. combat veterans who had served in Iraq and Afghanistan -- and their families, sponsored by the Archdiocese for the Military Services and the Knights of Columbus. They had come for the annual pilgrimage of militaries from 35 nations this year to celebrate peace.
You write that "Bustling among us was one of the most remarkable women I've ever come across: Army Col. (Ret.) Dorothy A. Perkins, 60, an affable triathlete and mother of two who was commanding a battalion of 480 soldiers at Fort Hood, Texas, when the United States was attacked on September 11, 2001." What so impressed you about Dorothy Perkins?
She was amazing. It was by chance that we ended up in the same group. Forty-percent of the group were non-Catholics. Many had multiple deployments to Iraq and Afghanistan. There were people who suffered traumatic brain injuries. There were many heartbreaking stories and it was humbling to be with people like that. Dorothy was friendly and bubbly leading people around and she told me that she was very devoted to Mary. I asked, "Why?" So we sat and I interviewed her about her life story. She has advised the Joint Chiefs of Staff, she was in charge of advising the U.S. ambassador in Iraq about hostages, she has been in special operations and counter intelligence and she's devoted to the Virgin Mary. The Virgin Mary was really her "go-to," a substitute mother. She has this robust spiritual life and it starts with the Virgin Mary.
You had your own experience of the baths in Lourdes. You write, "Then came the freezing immersion -- a bracing moment of deep peace." What was that like?
There were times going through the experiences, times where I did feel that [sense of peace] in Lourdes. Also when I stepped onto the grounds of the basilica in Fatima, I was so much overcome with emotion. I just had tears in my eyes, welling-up completely and I had no idea why that was happening. So there where times when you would feel the air or the atmosphere change. That happened to me a few times while I was doing this story.
When you reflect on the experiences of Mary in these different countries, by different sets of people and cultures, what stands out as consistently being the same among the devotees?
There are certain characteristics of Mary that everybody describes. On the superficial level it's her youth and beauty. The people who claim to have seen her are stunned. According to the girls in Rwanda and Medjugorje, Mary spent hours and hours talking with them. There is a pattern: She appears to poor people, often in conflict zones, in parts of countries that are neglected economically. Pope Francis emphasizes that you do it for the "other," you think about the "other" before yourself. Mary's message is very much the same, pray more, atone for others, go to confession … it's not enough to just show up.
Now with the Christmas season upon us, so many Catholics still have the old, childhood idea of the Virgin Mary in their minds -- praying the Hail Mary, marching in processions,at least people in my generation do. One of the nice things about this assignment was to learn the scholarship much more and to realize what an endless reservoir this is to tap. You can understand the Virgin Mary on a completely different level, a more complex level, than when we learned about her as little kids. But at the same time, we can feel about Mary like we did as little kids. It doesn't matter.
A European bishop during your Lourdes trip said, "World War III is already under way in the Middle East and Africa." He praised the military there for focusing "on peace, justice, and human rights. May this experience make you witnesses for hope." Do you think Mary is seen is as a "witness to hope?"
That meeting at Lourdes with all the different militaries came about after World War II so that France and Germany could start talking to each other again. That's extremely important, that there be a way [to reconciliation]. The pope is trying to do that now. What does he always say, "Pray for me." We have to look for common ground, for hope. That is what the symbol of Lourdes really stands for. It's not the physical cures that stand out, but the spiritual cures.
Over your career as a journalist, you've interviewed rock stars such as Bob Dylan, and political leaders such as Russian President Vladimir Putin. How does this assignment compare to all the others?
This was one of my longest and far-flung assignments. It was something that stretched me. This was the hardest challenge for me, the most challenging piece I ever had to do within 5,000 words – to portray the spiritual emotions and at the same time give the background facts. It was not an easy thing to pull off. Some people wanted more of an academic conversation. Others wanted much more about feelings. I was trying to give as much as I could to honor both of those requests. It was fascinating, interesting and I'm very glad I did it.
*This story has been updated to correct grammar and minor quote inaccuracies.
[Tom Gallagher is a regular contributor to NCR and lead writer for the newspaper's Mission Management column.]