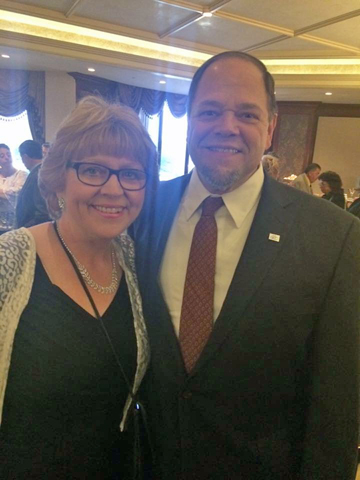 Geraldine Cassone and her husband Paul (provided photo)
Geraldine Cassone, food pantry coordinator for the past 20 years at Immaculate Heart of Mary Church, in Brooklyn, N.Y.; Cassone also serves as a eucharistic minister, lector, faith formation teacher, and Rosary Society vice president
Lives in Windsor Terrace section of Brooklyn, N.Y.
Sr. Camille: Can you explain what inspires your extraordinary commitment to your parish, Immaculate Heart of Mary, in Brooklyn?
Geraldine Cassone: It came quite naturally. My Uncle Tom was in religious life. I remember as a young child he would take me with him and visit the elderly and homebound. I always remember their faces when we would arrive at their home, a hospital or a nursing facility. The face of loneliness. I remember feeling sad when we would arrive but Uncle Tom, aka, Br. Damien, was a great storyteller. He could always bring a smile to the face or make them laugh. Make them forget about their problems for a couple of hours. I remember leaving their home, hospital, or nursing facility and feeling really good about the experience.
Where did you grow up?
I was raised in Immaculate Heart of Mary Parish. I was the youngest of seven children and we all attended IHM school. My father was a welder for Con Edison and my mother was a homemaker. My father had back problems for years and had several surgeries. Under the best of circumstances, we were struggling, but things became very bad when my father was out of work for more than a few weeks.
Our favorite dinner meal was rice and raisins. We thought it was a treat. Truth be known, it was all my mother could afford to put on the table. It was Thanksgiving 1965 and my father had just returned home from the hospital. My mother was worrying about money — which was the norm in our house. The bell rang. We ran to the door, pushing each other out of the way, which was also the norm. It was several people from our parish with boxes of food, including a complete Thanksgiving meal, turkey and all.
Although I was only six years old, I remember the feeling of relief on my mother's face when the food arrived and I also remember the smiles on her five sons' and two daughters' faces as they peeked in the boxes to see what goodies were in there.
Your recollection of that event shows how deeply it touched you.
That was the first time I remember really understanding the concept of kindness. It was also probably the first time I really believed that God was answering my mother's prayer and providing for us. Several months later, I was to receive my first holy Communion. I remember my second grade teacher, a sister, taking me to buy me my Communion outfit. I remember my beautiful dress and veil and I remember looking in the mirror, swaying my dress around, and feeling like a princess. But more importantly, another act of kindness. My mother always taught me to love God and to love my neighbor. These experiences taught me the importance of her words to me.
What is your parish?
My parish is Immaculate Heart of Mary located in the Windsor Terrace section of Brooklyn. It is a community of people who strive to be more Christlike toward each other and who attend to the needs of each other and our community.
Please describe your family.
I met my husband, Paul, approximately 34 years ago, when we were both working in the field of developmental disabilities. He is now the executive director of the Guild for Exceptional Children, a not-for-profit agency who serves people with developmental disabilities.
How old are your children?
Our daughter, Annie, is 26 years old. She works for Young Adult Institute, teaching adults with developmental disabilities. She is currently enrolled in an M.P.A. program at Baruch College.
Our son, Chris, is 24 years old. He is currently a science teacher in Brooklyn, N.Y.
How do you manage to meet the needs of both your family and your parish?
When my children were little, they were very involved with our parish. They were both altar servers at Immaculate Heart of Mary and they both worked at the rectory at IHM when they were in high school. They began working at the food pantry when they were 6 and 8 years old and they still occasionally volunteer their time at the pantry.
Who are your helpers?
I am blessed to work with several wonderful women: Marianna D'Avino, Donna Foley and Eileen McCormick. In addition, we have several high school young adults who volunteer their time at the food pantry (as part of their community service for Confirmation prep and high school). The local Scout groups help us during the holiday season, collecting food for the pantry and they also help with distribution of the food.
Do many people seek help from the food pantry?
Although we have many people who we consider to be "regular" recipients, we also cater to the homeless people in our community. In addition, emergency cases arise from time to time, e.g., something arising from the family's provider losing a job, and we do home deliveries as necessary. We are always available for emergency deliveries.
What do you learn about and from the people you help?
I learned a long time ago that you can never judge a book by its cover. When I was in college, I did a report on homeless people, specifically, people living on the benches across from Central Park. As a teenager I was always under the impression that homeless people were "lazy." I learned a valuable lesson in college.
You see, it turned out that the majority of the people living across from Central Park that year had once lived in the high risers across from the benches they were sleeping on but, because of a mental illness, the loss of a job, or a bad divorce, they found themselves homeless. Where was the safest place for them to sleep at night? In the neighborhood they were used to living in. Sad but true.
There are many people in our community who are struggling who are too proud to ask for help. There are also many people in our community who are suffering mentally, physically, emotionally; but because it is not visibly evident, people often assume they are not in need of special services or help.
What are the greatest needs you try to meet in both arenas — parish and family?
To show people that I love them. That they are important. To show the homeless person who we give food to that they are as important as the CEO of a big company. We are all God's children.
When I was working, I sometimes felt that I wasn't always present for my children. Although I tried to attend every game or school event, sometimes I wished I was able to be a stay-at-home Mom and attend to every detail for my children during their formative years. It was a difficult balance. I tried to convince myself that the quality of time was more important than the quantity of time, but I still wished I could have done more for my children.
Where and with whom did you grow up?
I was born in a fourth-floor walk-in the Park Slope section of Brooklyn. My family of four brothers, one sister, myself, mother and father and occasional extended relatives moved to the Windsor Terrace section of Brooklyn in 1961, shortly before my second birthday. It was a tree-lined block located between Greenwood Cemetery and Prospect Park and my mother would often say it was like moving to the country. I loved the area so much that we bought the house across the street from my mother in 1992 when our youngest child, Christopher, was born.
What values were instilled in you as a young person?
To love God. To love my neighbor. To love my country.
What in Catholicism urges you to continue your commitment?
As a young child in the Catholic community, I learned: "Love your neighbor as yourself." Those words remained with me in both my professional life (over 30 years working in the field of developmental disabilities) and in my personal life (food pantry coordinator for the past 20 years, eucharistic minister, lector, faith formation teacher, Rosary Society vice president, various community groups). I believe living a life of service, human service, is essential. Perhaps it is because it is all I have known. To me, service is a way of life. It is very difficult for me to imagine a life without service. It is such an important part of my life. It makes me happy. It fulfills me. It is part of God's plan for me on this earth. I feel privileged to be able to serve others.
How and with whom do you pray?
I have a deep devotion to Mary. I am the vice president of my parish Rosary Society, so I am a firm believer in the power of the Rosary. In addition, I have a simple prayer I say several times a day:
Light. Love. Power. Presence. The Light of God surrounds me. The Love of God enfolds me. The Power of God protects me. The Presence of God watches over me. Wherever I am — God is.
I have shared this prayer with many people. In addition, I talk to God during the day. Whether I am driving in my car, sitting at my desk, working in the food pantry, preparing for a faith formation class, I always ask him to show me the way and thank him for the many gifts he has given me in my life. Prayer can occur at any time and at any place. That's the beauty of talking to God.
What things are most important in your life?
Faith, family and friends.
Is there anything else you would like us to know?
When I was expecting my youngest child, Chris, I was told I had toxoplasmosis, a disease which often causes stillbirth or miscarriage. Children who survive may be born with serious problems, such as seizures, hydrocephalus, enlarged liver or spleen, mental disability, etc. I was encouraged to abort due to these medical issues.
I opted to keep my baby and let God's will be done. We were blessed to welcome an 8-pound, 13-ounce baby boy in April 1992. You are probably wondering why I would tell you this story. To make a long story short, I was prescribed non-steroidal anti-inflammatory medications (NSAIDs) as a result of several hip surgeries I had over the years. Unfortunately, the medication has virtually killed my kidneys. I was informed several months ago that I am in need of a kidney transplant. My son, Chris, was tested, and is a match. If all goes well, he will be giving me the gift of life next month at the Rogosin Institute at New York Cornell. I am so grateful to my children who both offered me the gift of life. I am also grateful that I will have the opportunity to dance with my son, Chris, at his wedding next June 24. God is good — all the time.
Please be assured of my prayers for successful surgery and all you need to continue celebrating life.
[Mercy Sr. Camille D'Arienzo, broadcaster and author, narrates Stories of Forgiveness, a book about people whose experiences have caused them to consider the possibilities of extending or accepting forgiveness. The audiobook, renamed Forgiveness: Stories of Redemption, is available from Now You Know Media.]
Editor's note: We can send you an email alert every time Sr. Camille's column, Conversations with Sr. Camille, is posted. Go to this page and follow directions: Email alert signup.