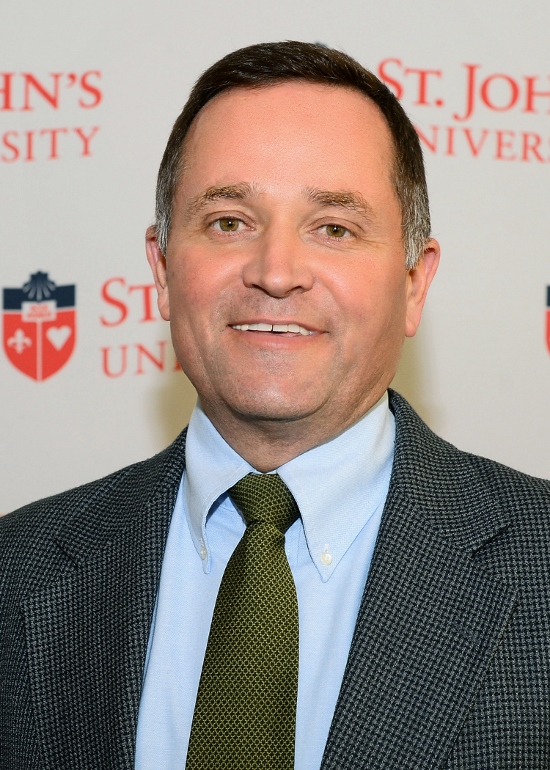 Dennis Gallagher, Director of Liturgy & Faith Formation at St. John's University Jamaica, N.Y. (Provided photo)
Dennis Gallagher, Director of Liturgy and Faith Formation in campus ministry at St. John's University
Age: 55
Lives in: Howard Beach, Queens, N.Y.
Sr. Camille: Dennis, what was your childhood like?
Gallagher: My childhood was very happy. Mine was a supportive family that gave me opportunities to grow and challenged me always to do my best. I grew up within a happy neighborhood community. I had many friends, and I thoroughly enjoyed being raised within Catholic education through high school. It provided me with a daily experience of God's presence and how to discern God's call for me. The sisters and lay teachers were great influences upon me.
Where and with whom did you grow up?
I was born and raised in Aquebogue, N.Y., part of the Township of Riverhead, Long Island, N.Y.
My family consists of my parents, Eugene and Gloria Gallagher, my two brothers, Kevin and Greg and my sister Kathie.
Can you recall heroes or role models?
My dad fits that description. He was a service minded professional -- a podiatrist. He spent time with our family and in the community he served. He was involved in the parish, the Lions Club and hospital board. Dad taught me that the values of my faith are to be lived in my daily actions. He often said, "Your actions speak louder than your words." His daily prayer life led him to living with God by loving and serving those whom God puts in your path.
Are they the same today?
Yes, Dad is deceased 25 years. He passed away suddenly when he was 63, but he left a lasting legacy with me. He taught me through prayer and his service with and to others how to be an attentive, kind, caring presence in my own world.
What were your childhood goals?
Be happy, be good, always try, do my best, work hard and see where it goes. When I was young I wasn't one who knew what I wanted to do as an adult, only that I wanted to have a life work that would help others.
Did you pursue this goal?
Yes, my work ethic and my personal life reflect that I'm not afraid to take risks and try new things. I love meeting new people and I cherish my family and longtime friends. As a young adult, I discerned a religious vocation. At age 25 I began a year as a seminarian. Then, at 27, I entered the Franciscan Brothers of Brooklyn. I spent six years with that community. I found my life's vocation as a teacher, campus minister and working with youth and young adults. Pastoral ministry fit my personality by providing a full time way to incorporate my profession and faith life all in one. It might not have been what I thought of doing as a child, but I grew into it after my college years.
Please describe an ordinary work day.
My work day involves being the director of liturgy and faith formation in campus ministry at St. John's University in Jamaica, NY. My responsibilities include planning and coordinating liturgies, events, the RCIA program, bereavement ministry, being a pastoral presence for students who need a compassionate listening ear, and taking care of the facilities of our campus church, St. Thomas More Church.
I'm delighted to work with a staff of 15 others in campus ministry but most directly with a staff of four which includes the university chaplain, campus minister for liturgy and faith formation, campus minister for music ministry and faith formation, and an administrative assistant. We work well together as a team, and our gifts and talents complement each other within our ministry. We support each other very well.
Each day brings different opportunities to serve our students' pastoral and faith formation needs. My favorite day is Monday when I meet with our RCIA students. This year we are blessed to have 19 students on this faith journey. To be in a position to guide, catechize, pray with and reflect with them on the faith of our church and to be that instrument of God's grace is a beautiful vocation. It leads to many moving moments with my students. Over and over again I realize my vocation as a pastoral minister is to lead students to God's loving presence through the sacraments. To support them as they grow in their faith is a privileged opportunity.
Can you share an experience that validates what you do?
Several years ago, one of my RCIA students came to me wanting to know more about what it is like to be a Catholic Christian. He'd come from China and grew up as an atheist. His experience here as a student in New York had some serious challenges and he was seeking spiritual relief, as well as a way to feel included. One of his friends encouraged him to come to our student Sunday night Mass each week, and he listened, observed, and followed the Mass as he tried to figure out how all these many people could come together and feel so good about themselves. His first reason for wanting to try the inquiry period of the RCIA program was that he observed, 'Everyone at Mass is so happy, and they really like each other. I want some of that!'
It sounds simple but it shows that how we live our lives, how we welcome others into our community and how we make others feel like they belong, helps them to understand the love of Christ and that it is more about giving than receiving that brings happiness.
What makes students want to become Catholic?
I slowly learn the stories of what attracts them. The stories differ, but the common thread is their hunger for spiritual fulfillment. College students are at an age when they're ready to come to know and believe in what Christ and our church community models as living in the divine love of God.
Through our community, they come to understand the essence of God which is 'mercy,' that compassion, care, forgiveness and a 'beatitude attitude' are needed to put others first. One of my favorite quotes I often share with students is, 'Nobody has it all together, but together we have it all.' Having it all in faith, love, openness and acceptance is key to coming to a faith relationship with our loving God.
About what are you passionate?
I'm passionate about helping people have the opportunities to maximize all that life can offer to them. I've been blessed with a family that guided me to grow in body, mind and spirit, and which encouraged me to learn, not just through book knowledge, but through life experiences. I like being in a position that helps people to be able to do the same, especially those of lower economic means who may not have the opportunities that were easily afforded to me. I'm also passionate about being part of organized charities that help people who are hungry and homeless. I am pleased to be able to offer a helping hand to maximize their potential that could lead to an education for a better life.
Charity and justice work together. It's through charitable work that I've come to understand the needs of the poor which led to my involvement in trying to be an advocate for them.
How did you connect with the Dorothy Bennett Mercy Center?
I knew about the Dorothy Bennett Mercy Center from its inception 20 years ago, as I was educated by the Sisters of Mercy in high school and have kept in contact with several of the sisters. Then three years ago, I was invited by Mercy Sr. Caroline Tweedy, our board president and a personal friend of mine, to become a board member because of my educational background in adult education and my involvement in pastoral ministry within the church.
What is its mission?
The Dorothy Bennett Mercy Center is a small grassroots community center, founded in 1995 by the Sisters of Mercy. It provides after school activities, adult education and a referral program that meets the needs of immigrant families. The center is based on the beliefs that parents are a child's primary teacher; parents and teachers form the caring support of an extended family, including role models and mentors with access to educational resources and social services. It promotes self-respect as crucial for one's social, spiritual, and emotional development; communication skills to increase self-esteem and independence; and it offers programs geared to serve immigrant families. These require continuous restructuring to meet changing needs and opportunities.
How are you engaged with that program?
As a board member I've been involved with helping to encourage the center's staff, children and adult learners; I guide financial decisions and have led a search for a new executive director. Our goal is to secure a future for the center to continue the good work that it does for everyone who benefit from these life-changing opportunities.
What do you have to offer it?
My knowledge, experience, my personal and financial support -- to everyone from the children, parents and adults whom we serve, the staff, and to our fellow board members.
What does it give you?
A way to put my faith into action and to live out our church's social justice initiative of solidarity with families who attend our programs to prepare themselves to participate in all that our society offers. This support is especially geared to bolster the life, dignity and potential of immigrant families in our community.
How does your Catholic faith influence what you do?
My personal prayer puts my servant leadership ability into the hands of God's providence as I work to be an instrument of God's will wherever and however I can.
How and with whom do you pray?
I spend time in prayer before the Blessed Sacrament; I participate in Mass, Scripture mediation, and enjoy long walks with God. I also enjoy faith sharing with my students, colleagues, friends and family.
Do you have unfulfilled dreams?
To be more involved in the interreligious dialogue of the church. We live in a globally conscious world, with many influences from many faith traditions, and I'd like to bring others along with me to engage in these different faiths more directly. I believe that dialogue will help build the world where mutual understanding, mutual respect and mutual support would be more freely given to create a peaceful world for everyone's future.
Have you found a pathway to their realization?
One way has been to create a program with colleagues in both my previous and present universities. Currently I'm involved with the Vincentian Mission Institute, which is a formation program with colleagues from the three Vincentian Universities in the United States. I aim to learn the Vincentian charism, mission and potential for being that lay Vincentian in following in the footsteps of St. Vincent de Paul and St. Louise de Marillac. Hopefully one of our group projects can be in the area of inter-religious dialog and support, as St. John's University is a highly diverse community.
How do you relax?
Long walks, watching a good movie or TV show and writing poetry. I also enjoy reading and sharing time with family and friends, often over a good meal together.
What else would you like us to know?
As I get older, I realize, life can be short. I've had many loved ones in my life pass on, and I want to make the most of my God-given life. It is with God I'm most happy, and to see Christ within the other makes me a joyful person. I strive to give my all so the reward can extend to others.
[Mercy Sr. Camille D'Arienzo, broadcaster and author, narrates Stories of Forgiveness, a book about people whose experiences have caused them to consider the possibilities of extending or accepting forgiveness. The audiobook, renamed Forgiveness: Stories of Redemption, is available from Now You Know Media.]
Editor's note: We can send you an email alert every time Sr. Camille's column, Conversations with Sr. Camille, is posted. Go to this page and follow directions: Email alert signup.