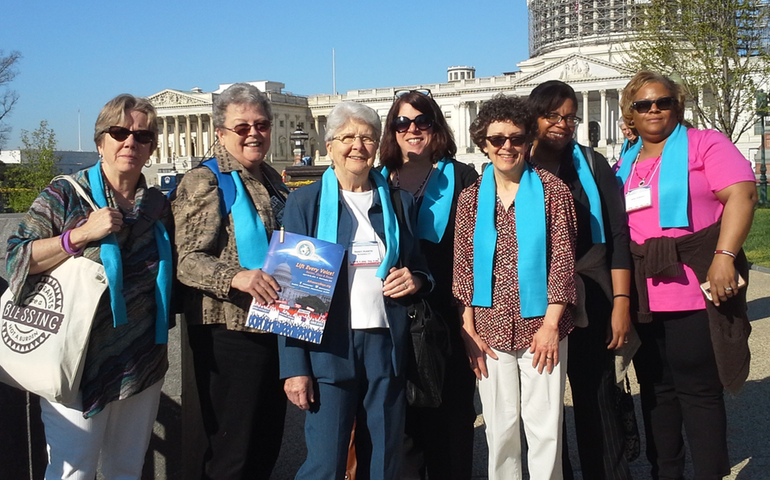 Marianne Comfort, third from right, with Mercy sisters and associates preparing to advocate on Capitol Hill for voting rights and against the Trans-Pacific Partnership trade deal
Marianne Comfort
Lives in Takoma Park, Md.
Works at Sisters of Mercy of the Americas
Sr. Camille D'Arienzo: Marianne, the directory of the Sisters of Mercy lists you as a member of its Justice Team. What does that position entail?
Marianne Comfort: I am part of a three-person justice team for the Sisters of Mercy of the Americas, which encompasses the United States, Central and South America, the Caribbean, Guam and the Philippines. We are charged with engaging Mercy sisters, lay associates and companions, co-workers, volunteers, students and friends with what we call our critical concerns. Those are: Earth, immigration, nonviolence, anti-racism and women.
We provide opportunities for members of this Mercy network to pray over injustices in our world, advocate on public policies, and commit to changing personal behaviors and ministry/institutional policies as ways of living out these concerns in our everyday lives.
What brought you to that position?
I had been a newspaper reporter for a number of years and gradually felt the call to put down my notepad and pen and, instead of writing about other people's active engagement in the world, get more involved in the local community myself.
I got a job in grant writing and public relations for an ecumenical human services organization in Schenectady, N.Y.; joined the board of a community loan fund that invested local people's money in all kinds of great projects; actively participated in a community-supported agriculture farm; and even co-hosted a monthly radio show focused on farm and food issues.
These were exciting years that led me to discern religious life with the Sisters of St. Joseph of Carondelet in Albany, N.Y., whom I admired so much for their commitment to justice. I spent six and a half years in formation with that community and still cherish my time there and the relationships I formed that sustain me to this day. In my final years there, I worked for Catholic Charities in Albany in education and advocacy around statewide poverty issues and helped start a refugee resettlement program.
And about a year after leaving the Sisters of St. Joseph, I saw an ad in NCR for an opening on the Institute Justice Team for the Sisters of Mercy of the Americas and it seemed perfect for me, a fulfillment of the skills gleaned from all my previous jobs and allowing me to continue living out a passion for justice with women religious. I was so thrilled to be offered the position, and it continues to be rewarding to this day.
That was surely a grace-filled journey. How long have you held that position?
Nearly six years.
Who are your collaborators?
The Sisters of Mercy of the Americas have made an amazing commitment to a structure for justice work that, beyond our three-person team located just outside Washington, D.C., includes a network of justice ministers (mostly sisters) around the U.S. and in Central and South America.
How do you bridge the distances?
We talk on the phone once a month and meet once a year in person to coordinate efforts at the local, state, regional, national and international levels. And there are individual sisters we rely on for their commitment to immigration reform and ending deportations, to care for creation and to eliminating human trafficking, to name just a few.
Our justice team also works closely with the congregation's responsible investing arm, Mercy Investment Services; the Conference of Mercy Higher Education (an association of 16 Mercy-sponsored colleges and universities); and the network of Mercy high schools. And we participate in the justice work of Mercy International Association, made up of the 12 Mercy congregations and institutes around the world, and its advocacy office at the United Nations.
I wonder if anything in your background prepared you for this work. Where and with whom did you grow up?
I grew up with my parents and two younger sisters outside Syracuse, N.Y. My parents, who were a music ministry duo for a number of years, are still active in the parish around the corner from where we grew up. My mom, a retired schoolteacher, volunteers at a thrift shop at an inner-city parish in Syracuse, and my dad, a retired electrical engineer and amateur woodworker, has designed and built an ambo, candle stands and a shelf for the holy oils for the church.
One of my sisters now teaches music at a Catholic school in Madison, Wis., after some years performing on the French horn in orchestras and ensembles around the Boston area. My other sister is a physical therapist based in Salem, Mass., who engages her severely disabled patients in adaptive sports like skiing and biking. I'm proud of them all.
Where and with whom do you now live?
I'm happy to say that I got married over Memorial Day Weekend 2015 to a wonderful guy whom I met kayaking five years ago, just a few months after moving to the Washington, D.C., area. His name is Ted and I'm always inspired by his commitment to his Buddhist practice and daily meditation.
We live in the very community-oriented city of Takoma Park, Md., which has the best Fourth of July parade ever. And we live the adventure of not having a car and relying on public transit (and meeting very diverse and interesting people that way) and lots of walking and bicycling.
Can you cite anyone who influenced your resistance to injustice?
I can't really point to any one person who influenced me in this way. It's more an accumulation of people over my lifetime who have deepened my understanding of social and economic injustices and various ways of addressing them -- a first boyfriend who was steeped in Catholic social teaching and had considered the priesthood, a college roommate who became a Franciscan sister to live out her passion for service, writing about social justice advocates while I was a newspaper reporter, meeting women religious passionate about justice, the Mercy justice team director Jean Stokan, who lives and breathes the urgency of easing the suffering of people around the world.
Are there issues you believe women religious should address?
Mercy justice ministers are exploring in an ever-deeper way the whole concept of sustainability, and it is taking us beyond commitments to recycling and driving less, to considering our complicity in the excesses of a capitalist system that is destroying vulnerable people, communities and cultures around the world and Earth herself. Pope Francis speaks of this at length in his encyclical Laudato Si'. I believe that women religious can take a lead in promoting this encyclical and its deeply radical messages.
How can you facilitate these?
Women religious can invite people of all faiths and no faith into deep reflections on our way of life and its impact on poor and marginalized people and on "our common home," as Pope Francis describes Earth. And we can invite people to consider new economic structures and new ways of relating to all of creation. Here are two examples:
First, congregations of Sisters of Mercy around the world are engaged in a yearlong reflection process on Laudato Si'. Hundreds of small groups made up of Mercy sisters, lay associates and companions, co-workers, students and friends are currently digging into the root causes of issues that speak to them in that document: displaced peoples, climate change, environmental degradation, excessive consumerism and the lack of access to clean water, among other issues. Participants will then move into theological reflection on those root causes, and out of all of these discussions some ideas for action at the local, national and international levels are expected to emerge.
And second, some women religious and those of us who work with them participated in a conference over the summer on what's called the "new economy," or what Pope Francis calls an "economy of inclusion" that benefits all people and Earth. Real-life examples include worker-owned cooperatives, urban farming, community loan funds that invest in projects big financial institutions won't support, and small-scale, locally governed clean energy projects. What a difference it could make if congregations of women religious moved their money from big banks to community financial institutions, bought from cooperative businesses in marginalized communities instead of from large corporate vendors, and served locally grown food in their institutions!
Do you see your work on the Justice Team as an expression of your faith?
Yes. For me, it's impossible to separate participating in the liturgy each week and praying with Scripture most mornings from how I choose to live my life. When I hear or read Jesus' teachings about treating the "least of these," I have to pay attention and respond. I am blessed to have a job that allows me to respond every day.
Given your education, contacts and experience, what do you think God is asking of you?
Years ago, I had a pretty profound experience of God pointing out all the gifts that had been granted me and that much more was in store and that I needed to be open to receive them. It was a humbling realization that perhaps I hadn't put those gifts to the best use at times.
It didn't take too long after that to learn that some of those "gifts" would come packaged in hardships: a death of a dear friend and two other people important in my life within a year's period; a relapse of a health condition; questioning why I was drawn to religious life to only leave after a few years.
What I've taken from that is that God is asking me to see God in all of it and put all the learnings -- humility, compassion, empathy, the importance of relationships over always doing things -- to use in my work and life. I can't say I do it well even some of the time, but it's what I'm being called to grow into.
Where do you find grace in operation in your life and work?
I find grace in the different people who turn up to help me stand again when I fall down, whether it's in relationships, dealing with a health issue, paths I've taken that didn't quite work out, or work missteps.
What gives you joy?
I relish my role as the "fun aunt" to my three nieces and nephew. I find so much joy in just playing with them and, as some of them turn into teenagers, seeing how they are becoming beautiful young people with unique talents and passions.
I also find great joy in cycling along a river, lakefront or ocean beach or through beautiful farmland; hiking to a panoramic view atop a mountain; and cross-country skiing in a snow-covered evergreen forest.
And there's nothing like the spontaneous joy of jitterbugging with my husband under a pavilion as we wait for a bus near our local food co-op.
What makes you sad?
I'm deeply saddened when I catch glimpses of people who seem to have no meaning in their lives. That came upon me once when I was at a doctor's waiting room and all of these silly game shows were on the television, and it hit me that there are people who just sit at home watching those day after day. And lately I've been reading articles about the rising mortality rate of middle-aged women, and the portraits are of women so steeped in despair at having no jobs and few meaningful relationships that they are literally dying of drug abuse and alcoholism and mental illness.
How do you relax?
My friends would laugh at that question, convinced that I don't know how to relax. But I try to have a novel going at all times, and I do enjoy a good movie occasionally.
What else would you like us to know?
Working on big-picture issues in the advocacy world of Washington, D.C., can be really theoretical and abstract. I try to balance that with helping give out groceries at my parish's food pantry and subbing as an English teacher for recent immigrants so that I'm interacting with real people experiencing the injustices of our immigration system or the limitations of public assistance in helping families with food and shelter.
[Mercy Sr. Camille D'Arienzo, broadcaster and author, narrates Stories of Forgiveness, a book about people whose experiences have caused them to consider the possibilities of extending or accepting forgiveness. The audiobook, renamed Forgiveness: Stories of Redemption, is available from Now You Know Media.]
Editor's note: We can send you an email alert every time Sr. Camille's column, Conversations with Sr. Camille, is posted. Go to this page and follow directions: Email alert signup.