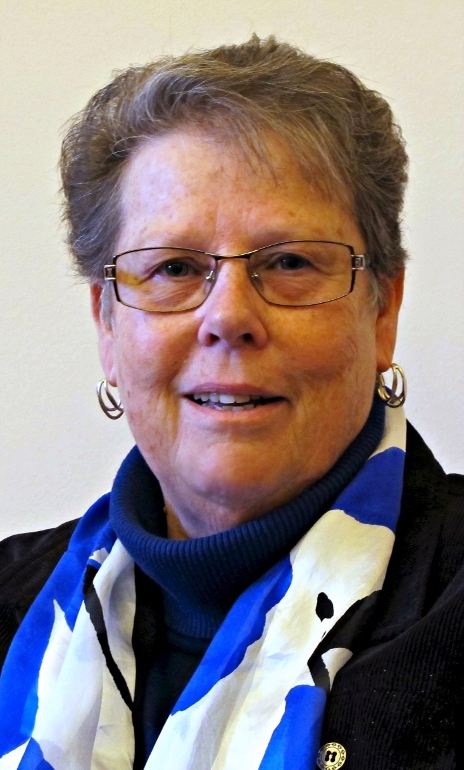 Sr. Diane Guerin, Justice Coordinator-Mid-Atlantic Community of Sisters of Mercy. (Provided photo)
Sr. Diane Guerin, Justice Coordinator-Mid-Atlantic Community of Sisters of Mercy
Age: 69
Lives in: Merion, Pa.
Sr. Camille: You hold the title of Justice Coordinator for the Mid-Atlantic community of the Sisters of Mercy. What does that role entail?
Guerin: As justice coordinator I'm responsible for ensuring that the Critical Concerns, (nonviolence, women, racism, Earth, and immigration) which constitute the justice agenda of the Sisters of Mercy, are integrated into all we do as a community. Since justice is integral to our mission, all of our sisters, associates, and co-ministers are supportive of the work of justice.
What drew you to this ministry?
Even as a young child I had a passion for justice, although I was unable to articulate this at that age. Indelibly imprinted on my young mind were the pictures of the Civil Rights struggle I saw on a black-and-white television. I could not comprehend dogs attacking children and fire hoses being turned on people. In my college years, I was active in justice and boycotted products. I also demonstrated against the Vietnam War. This passion grew in me, and all my ministries have in some way been connected to justice. I was program director at the Philadelphia Martin Luther King, Jr. Association for Nonviolence and worked for several years in the School District of Philadelphia Office of Desegregation. When the Mid-Atlantic Community posted the position of justice coordinator, I was immediately drawn to this ministry as an opportunity to engage a broader range of issues at a deeper level of commitment.
Who are your primary collaborators?
An invaluable resource and primary collaborator in this ministry is the Mid-Atlantic Community Critical Concerns Committee. Others with whom I work closely include: the justice coordinators throughout the Institute of the Sisters of Mercy and local justice coordinators of religious communities of women and men.
Who are part of these?
Local organizations include: Witness to Innocence, regional Pax Christi chapters, Food and Water Watch, Sanctuary Movement, and Coalition to End Human Trafficking. National groups include: Pax Christi, NETWORK, Detention Watch Network, Amnesty International, Faith in Public Life, as well as many others.
Where and with whom did you grow up?
I grew up with my parents and three brothers in the Northeast section of Philadelphia. It was a neighborhood of many children, most of whom attended the local Catholic school which was within walking distance of our home. We even walked home for lunch each day. Our home was directly across the street from a large wooded park, Pennypack Park, where many delightful hours were spent building forts, walking the trails, hiking the hills, ice skating on the creek and sledding down what we considered immense slopes! Our neighborhood was not considered the suburbs, and a short bike ride took you to the "avenue" where I went to the library every Saturday and cruised through the shops with my friends just looking and rarely purchasing anything.
Can you identify specific heroes or role models?
I was deeply influenced by Martin Luther King, Jr., and his work of nonviolence. Although, not specifically highlighted in the movement, I was drawn to the strength and courage of the women who accompanied King.
Sr. Patricia Joseph Corkery, RSM, definitely had a strong influence on my life and at age 94, in diminished health and failing memory, her intense love of God, her strength and dignity are a blessing to behold.
In my own family, my paternal grandmother was an amazing woman. She had seven children at home, and was married to a prominent judge at a time when women were rarely acknowledged. Yet, in her own, strong but quiet way, she expressed her opinions and demanded respect and attention to her words. I learned early on the power of that quiet strength and bearing. Would that I had inherited just a bit of her quiet approach to life!
Where were you educated?
Grades 1-4: St. Dominic School, in Philadelphia; Grade 5: St. Jerome School but at St. Hubert's Catholic High School, Philadelphia, in a double grade of 5 and 6 because our new church and school was being built. (This was quite an adventure!). Grade 6-8: St. Jerome; Grades 9-12: St. Mary's Academy, Philadelphia-Sisters of St. Joseph; Grades 12-16: Gwynedd Mercy College, Gwynedd Valley, Pa.; Master's degree: Antioch University, Yellow Springs, Ohio; and Ph.D.: Walden University, Minneapolis, Minn.
What inspired you to join the Sisters of Mercy?
I had never seen or known about the Sisters of Mercy until I attended college at Gwynedd. Initially I had planned on going to Chestnut Hill College and at the last minute changed my mind. Several sisters I had in high school encouraged me to join them as a Sister of St. Joseph. Although I loved them dearly, I just knew somehow that the 'fit' was not right for me. So, happily I went on my way a bit relieved that I no longer had to think about a religious vocation. Wrong!
When I met the first Sister of Mercy I knew immediately I was drawn to her community. I tried as hard as I could to ignore that attraction! All the sisters I met on campus were warm, friendly, inviting, full of joy and laughter, and the students, all girls at the time, were drawn to them because they were not afraid to show their humanity. They laughed with us, they cried with us, they challenged and supported us.
It was my good fortune and a true gift in my life that I met Sr. Patty Joe early on in my college days. She had us so immersed in the work of justice! This was a new experience and one that deeply influenced my life.
I guess I wasn't the typical candidate because when I finally mustered up the courage to tell her I was considering becoming a Sister of Mercy she encouraged and supported me, but told me several years later that she was shocked when I asked her. Good she never shared that or I might not be here today. In talking later about this, Patty shared that I was so involved on campus with newspaper, justice work and being a bit of a rabble rouser, she did not think I had entertained any thought of the convent. Actually, I was trying hard not to entertain those thoughts!
What were your earlier ministries?
I taught English to grades 6 and 8 and high school English at two different high schools in the Philadelphia area. In 1975 while teaching at an inner city high school that was experiencing racial tensions in the school and neighborhood, I was trained by the Quakers at Pendle Hill in nonviolence education, conflict resolution and mediation. This experience launched my diverse involvement in this type of reconciliation work.
Can you share a story that validated your choice of a justice ministry?
There are many that come to mind, but I will choose a recent one. I was with a group of about five Mercy College students lobbying their representative in Washington. We wanted to encourage the rep to regulate fracking in Pennsylvania. This was going to be a hard sell. The students were well prepared but nervous. I told them that I was there for support and would help if they got stuck, but that this was their show. Their aide was overpowering them and telling them the benefits of fracking.
I was about ready to intervene when a strong voice spoke out: 'Yes, you're telling us how safe fracking is but they told my father when he worked the mines it was safe and now he is dying from black lung disease. This is not safe at all!' The aide was stunned and unable to respond adequately. After the meeting the young woman apologized for speaking out. I told her she was wonderful. In our de-briefing later that afternoon with the other groups who had lobbied, this young woman told the group, 'I found my voice and I can never be quiet again.'
This was just as exhilarating an experience for me knowing that this young woman had indeed found her voice and would continue to use it to bring justice to the world.
What areas do you consider in deep need of change?
This question applies to so many areas that it is almost overwhelming. For me, a place to start, is to help people learn ways of engaging in conversation, moving to dialogue.
Please explain.
Communication is key to understanding, resolving conflict, and finding ways to honor the experience of others. Our styles are often so confrontational that it either shuts a person down or escalates conflict to the point of no one hearing or respecting the other. I honestly think that we often don't hear our own tone of voice or words nor are we always aware of our body language. Sharing and appreciating different perspectives, learning to accommodate when necessary and staying at the table realizing that the solution quite often is not either or, but rather both and. Restoring a sense of civility and respect focused on dialogue could, I think move us toward creative solutions and shared commitment. Many issues of justice could be resolved if this were to happen. This is true for our church as well as our world community.
How and with whom do you pray?
I most often pray in images generated through readings of Scripture, poetry, headlines, nature. I share these experiences and reflections with other sisters and those close to me. For over 40 years I've been part of a small group of sisters, priests, lay women and married couples who have shared life together. We meet socially but also pray deeply together. As we age, and some have moved on to their heavenly reward, we meet less frequently but there remains a strong bond among us.
Where and with whom do you live?
I live with Mercy Srs. Renee Yann and Kathleen Mary Long in Merion, Pa., in a small second floor apartment above the Merion Mercy Day Care Center. The apartment is located on the grounds of Merion Mercy Convent where the Mid-Atlantic Administrative Offices reside. This is also home to Waldron Mercy Academy, Merion Mercy Academy and McAuley Convent, a skilled care facility.
Do you have a favorite Scripture or Gospel passage?
The disciples on the Road to Emmaus is my favorite passage. It holds deep meaning for me as I lived many years in the inner city in a row house convent by this name. We tried to recognize on our city streets the face of our God manifested in the many with whom we worked and ministered.
An integral part of that passage for me is the disillusionment of the travelers on the road. It wasn't until they recognized the presence of God with them that this disillusionment was dispelled.
I try to carry this awareness of all those on the road with me and to always know that God is there. I just need to open my eyes!
How do you relax?
I enjoy sharing a good time with family and friends. I hate to miss a gathering! I love to cook and try new recipes. I'm an avid reader of everything and it goes back to reading cereal boxes at the breakfast table as a kid! I love music -- not all but almost any kind: classical, folk, oldies, popular, show tunes. When time and finances allow I love to travel and meet new people, see new things, and experience different cultures.
[Mercy Sr. Camille D'Arienzo, broadcaster and author, narrates Stories of Forgiveness, a book about people whose experiences have caused them to consider the possibilities of extending or accepting forgiveness. The audiobook, renamed Forgiveness: Stories of Redemption, is available from Now You Know Media.]
Editor's note: We can send you an email alert every time Sr. Camille's column, Conversations with Sr. Camille, is posted. Go to this page and follow directions: Email alert signup.