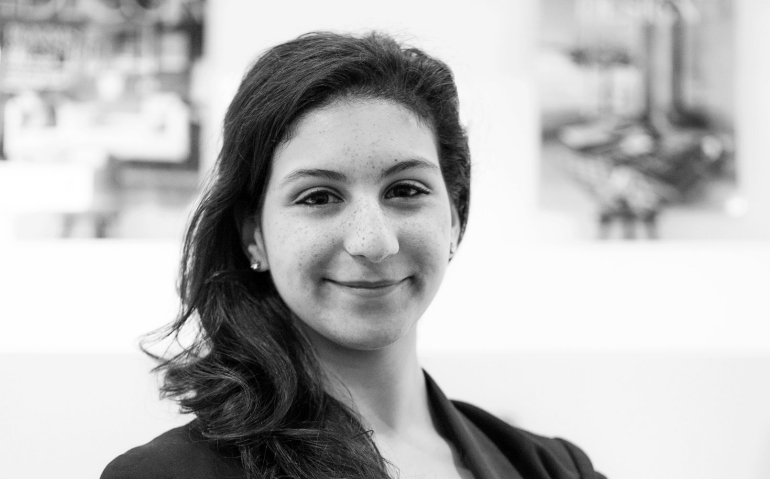 Patrice Kugler. (Provided photo)
Patrice Kugler
Age: 26
Lives in Brooklyn, N.Y.
Works at Marino PR
Sr. Camille: Patrice, when my cousin, Sr. Stella Auricchio, CSJ , suggested you as someone I might like to interview for this column, she admitted that she didn't know you very well, but said that she and others are impressed by the quality of your presence. This comes from observing you as a parishioner of St. Francis Xavier Parish in Park Slope. Have you lived in this neighborhood a long time?
Patrice Kugler: I lived in Park Slope for the first 10 years of my life, before my family moved to Bedford Stuyvesant. Even after our move, we continued to attend St. Francis Xavier.
Do you currently live with family members or friends?
I currently live in Crown Heights with one of my best friends.
What schools did you attend?
I attended St. Francis Xavier School (now St. Francis Xavier Catholic Academy), the school associated with my parish, and Saint Saviour High School, both of which I have to thank for giving me an excellent academic foundation. After high school I earned my bachelor's degree at Fordham University Lincoln Center in Manhattan. I had not planned on attending a Catholic university specifically, but Fordham was definitely the right place for me. I feel lucky to have attended a school that offered me a very rich intellectual life and a community that helped me grow in my faith.
What attracts you to your parish?
The community at St. Francis is the reason I have been a parishioner for such a long time. I have been attending St. Francis since I was very young. My parents, both musicians, both sang in the choir and met there. They were married at St. Francis in 1989, and we have been part of the parish ever since. My father has served as cantor for many years, and my mother is a member of the choir. She also served in several other ministries and founded our Hospitality Committee. My parents' dedication to our parish taught me the importance of service and what it means to be an active member of a community.
As a child, I was surrounded by many people who gave their time and efforts to St. Francis, so I grew up viewing it as a natural part of my life. I was -- and am -- lucky to be a part of a very vibrant and caring community that has continued to support and encourage me through my life. It is because of those wonderful people that I have stayed involved in the parish: it's my way of saying thank you to them for helping me grow into the person that I have become.
Apart from the incredible community here, music has been a central part of my love for this parish. Thanks to our phenomenal director, Dr. Michael Kaminski, we have an excellent choir that performs a wide range of sacred music from September through June. Both of my parents still sing in the choir and now I do as well. When I was very young I spent a lot of Sunday mornings upstairs in the choir loft with my parents, listening to and learning to love sacred music. When I got older and started singing professionally, I fully understood how lucky I was to have spent so much time around music at St. Francis.
What nourishes your spirituality?
Music does, in a big way. I've sung in choirs for a long time and started serving as a cantor when I was a teenager, so music is very closely tied to how I practice my faith.
Besides choir, are you involved in any church related activities?
I am a substitute cantor there and also a cantor for one of the Sunday masses at Our Lady of Angels in Bay Ridge, another wonderful parish that I feel very fortunate to be part of.
I served as a member of the Pastoral Planning Council for St. Francis and chair of the council's Community Action and Social Outreach Committee for three years. We worked with other committees and ministry groups to organize outreach projects and social events for the parish. We feel it's important to ensure that everyone feels welcome at St. Francis. We also have a community that likes to be actively involved in social outreach, so we work to find new projects in which they can participate.
Is there some activity or service to which you would like to give time?
In the future I think I would like to get involved in retreat ministry. I have attended some great retreats both at St. Francis Xavier and at the Bishop Molloy Retreat House in Queens, and they've been such a gift. Someday I'd like to devote time to helping to give that gift to other people.
What do you believe your faith requires of you?
I think my faith requires me to step outside of my comfort zone. I'm an introvert by nature, and it can be easy for me to go about my day and keep to my work without actively reaching out to others. I'm learning to be more sensitive to the people around me.
I'm trying to put this into practice at St. Francis by becoming a more welcoming parishioner. I've learned a lot from my fellow Pastoral Planning Council members at St. Francis Xavier -- who are great at doing just that -- and I'm trying to get better at it myself. An act as simple as introducing yourself or wishing someone a good week can sometimes mean more than you think it will.
Do you have a favorite Scripture passage?
One of my favorite passages is Psalm 118, "Give thanks to the Lord, for he is good; his love is everlasting." It's typically used for Divine Mercy Sunday. There's something very bright and joyful about this text, and it's one of my favorite psalms to sing during the year.
Are you drawn to any particular work of mercy?
I think I'm drawn to corporal works of mercy because I grew up in New York City, where there are people in need of help everywhere.
Have you volunteered in any activity that helps the homeless or homebound?
Yes. One that I have worked on is Jack's Sandwich Project. This initiative was inspired by Deacon Jack Franca, who served St. Francis Xavier parish for all the years of his diaconate, and was beloved for his illimitable kindness and gentle nature. He had a special tradition: every Thanksgiving, he would make a full turkey dinner and bring it to the homeless and hungry of Park Slope. In Deacon Jack's memory, St. Francis parishioners have carried on the tradition by donating food items, assembling turkey sandwiches and snacks, and delivering them around the neighborhood to anyone in need on Thanksgiving morning. I've been involved in this project for a few years and it's become one of my favorite things to do during the holidays. Since we've recently had a lot of interest in the project, we've started to organize it in the spring as well, to give more people a chance to participate.
Has any person inspired or encouraged you?
My parents inspire me, both individually and as a couple. They have been married for 27 years, and both my sister and I feel very fortunate to have watched them grow together and support each other through everything they have lived through. As an adult, I'm applying those lessons in my own relationship and I'm learning to appreciate them even more.
My mother is my biggest role model. I can't begin to describe everything she's taught me in my professional as well as personal life -- but one of the most significant learnings is how important it is to be involved and give back to the people around me. She has been my guide and constant support as I've figured out the kind of person I want to be.
My father is an incredible musician, and he's the reason I love music as much as I do. He has listened to me and supported me as I've worked to find my voice, figuratively and literally, and it's one of the best gifts I've ever had.
Another parishioner who has inspired me is Marie O'Connell, a close family friend and a member of St. Francis Xavier parish for more than 50 years. She was my Confirmation sponsor and has continued to be a constant source of love to her beautiful family, an excellent example of faith to our parish, and one of the most amazing women I've had the privilege to know.
How do you pray?
I mostly pray on my own, in the morning and sometimes during the day if I'm particularly busy.
What is your image of God?
I don't have an image so much as I have a feeling of peace.
What in society makes you sad?
It goes without saying that there are a lot of sources of sadness in our world right now. We're seeing a lot of anger and intolerance -- and I think much of it is fueled by fear. There are a lot of people who don't understand that our biggest problems won't go away if we don't talk about them. Recognizing injustice and intolerance and speaking up about it has to be the first step in effecting real change.
What makes you happy?
Observing people -- of any faith or background -- simply being kind to one another. It happens more often than I think a lot of people believe it does.
What practice would you like to see more visibly in our church?
I think as people's lives become increasingly busy, making time for ministry can be difficult. But I believe that anyone who devotes time to any ministry or service would agree that giving of yourself doesn't just impact other people -- it impacts you just as much. Whether it's joining a committee or ministry group, or offering to help for a few minutes at an event or function, there's real reward in giving your time and getting involved in your community.
Did you ever consider becoming a sister?
The thought crossed my mind when I was very young, but I did not feel a strong inclination toward religious life.
What are your goals in life?
Apart from my professional goals (of which I have many), I want to keep working on finding ways to be of service to other people.
Do you perceive any challenges?
There are probably going to be moments when I won't want to give as much time to ministry as I have in the past. My challenge is to stay mindful of why I engage in ministry and outreach in the first place, and use that as motivation to continue that work.
How do you spend your leisure time?
Anyone who knows me well will tell you that I read a lot. I also compose. I've written instrumentals and arrangements up until now, but I'm currently trying my hand at choral music for the first time. I'm working on a setting of Ubi Caritas, and it's probably going to be a while before it's done -- but the process of working with a genre of music and a text that I love is a lot of fun in itself.
I've always liked sports, and a few years ago I started running distance. Running gives me time to clear my head and refocus on the things that matter most to me. The endorphins don't hurt, either.
Apart from that, cooking and gardening are two things I enjoy a lot -- and I'm very lucky to have the space to do both. At the end of a long day or a long week, there's something very calming about working with my hands and giving my brain a real rest from work. I have my mother to thank for not only showing me how to do these things, but also how to find joy in them.
What is important to you?
My family and friends mean everything to me.
[Mercy Sr. Camille D'Arienzo, broadcaster and author, narrates Stories of Forgiveness, a book about people whose experiences have caused them to consider the possibilities of extending or accepting forgiveness. The audiobook, renamed Forgiveness: Stories of Redemption, is available from Now You Know Media.]
Editor's note: We can send you an email alert every time Sr. Camille's column, Conversations with Sr. Camille, is posted. Go to this page and follow directions: Email alert signup.