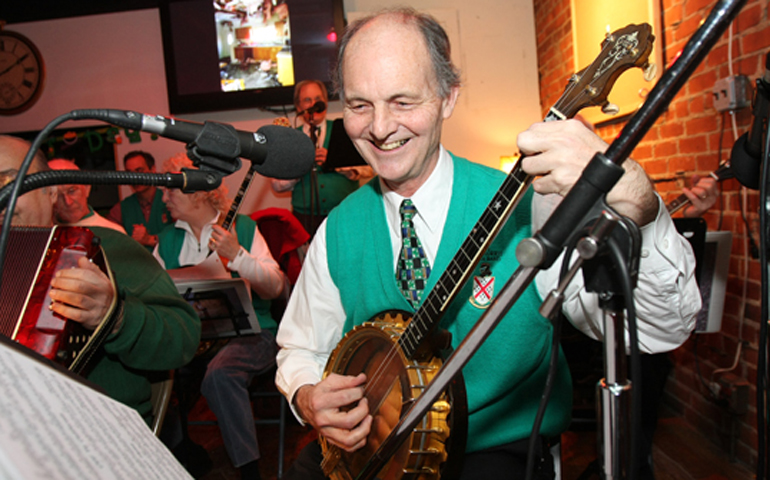 Fr. Bill Brisotti playing banjo with an Irish band at a fundraiser after the parish outreach burned in December 2007. (Provided photo)
Fr. Bill Brisotti, Pastor of Our Lady of the Miraculous Medal parish
Age: 73
Lives in Wyandanch, Long Island, N.Y.
Sr. Camille: Bill, during the past 42 years, you have lived and labored in Wyandanch, reputedly one of the most economically challenged areas on Long Island. How did this assignment come about?
Fr. Bill Brisotti: I came here in January 1974 as an associate until March 1983. At that point I moved over to Casa de la Paz, a new Catholic Worker community house, also in Wyandanch. I had asked Bishop McGann for permission to do this, and had the approval of the pastor, Fr. Andy Connolly, to live with the new CW community and promote its work in Wyandanch and continue serving as a curate in the parish. Bishop McGann refused my request and sent me a letter suspending me from priestly ministry. Another priest was sent to replace me at the parish.
That must have been a hard blow. What did you do?
I used the next three years to get increasingly more involved with the undocumented immigrants and spending significant time in Central America, the source of most of these immigrants, helping promote the visiting of many U.S. citizens to learn about the troubles causing this tremendous migration of people, and to promote the value of the 'accompaniment presence' to help ensure some bit of security for the people. I worked as a volunteer with the program of refugios for the displaced in the San Salvador archdiocese in El Salvador, living in one of the camps for several months.
I also visited Nicaragua twice and helped in the founding of Witness for Peace, an accompaniment project that lasted throughout the Contra War. I also was able to help the families of the disappeared in Guatemala in mid-1985, at the end of the military dictatorship in that country, in a project of the Peace Brigades International, a Quaker organization which accompanied people in danger.
In February, 1986, Bishop McGann asked me to serve for a while in Our Lady of Loretto parish in Hempstead, which had a huge number of new immigrants from El Salvador who'd fled the war, and there was no Spanish-speaking priest in that parish. I worked on organizing the people in Hempstead for the 1986 'amnesty' program, which helped hundreds of people through that process.
After two years in Hempstead, I helped for a while with the Spanish community at St. Anne's, Brentwood.
During all of this, I continued my connection with Casa de La Paz in Wyandanch. In 1989, I moved back to Casa de la Paz and continued serving the diocese with the Bishop's permission by celebrating Spanish masses at Resurrection Church in Farmingville, St. Anthony's in Rocky Point, and St. John of God in Central Islip through the '90s.
Then, in 1999, when Fr. John Cervini resigned as pastor of Our Lady of the Miraculous Medal, Wyandanch, to work in our diocesan mission in the Dominican Republic, I applied to be pastor. So, I have been first administrator for three years, and then pastor of OLMM for a total of 17 years.
How would you describe your parish and its parishioners?
Our parish is very multicultural and multiracial -- and has been for many decades. Our church was constructed in 1936, and the building materials were provided by a local business, one of the oldest black-owned companies on Long Island. Black families were deeply involved in our parish since its beginning.
We have African American families with a long history in the Roman Catholic church, from the southern states, from Harlem, from the Caribbean, from Panama, among other places. We also have parishioners from several African nations.
Over the past few decades, the number of Hispanic families has increased dramatically. We've had a Spanish-language liturgy here each Sunday since 1972, but since about 2005 we have added two more Spanish Masses, which all pack the church to overflowing. On Palm Sunday and Easter Sunday, besides the regular Masses, we need to have two overflow Spanish Masses in our Parish Hall, which accommodates almost twice the number of people that our church building holds. We also have a growing Haitian community and have had a weekly Creole Mass for about 25 years.
Your congregation has many needs. Do they have energy and inclination to help others?
Our parishioners have been socially conscious and active for many years. Out of the initiative of laypeople, priests and religious women of our parish working together over the last 40 years have come many institutions of service for the Wyandanch community: Resurrection House, Wyandanch Homes and Property Development Corporation, the Wyandanch, Wheatley Heights Ambulance, the Wyandanch Public Library, The Mercy Inn Soup Kitchen.
Our Bishop Gerald J. Ryan Outreach, named for the auxiliary bishop who began his priestly ministry at Our Lady of the Miraculous Medal parish in 1950, and went on lead the beginnings of Catholic Charities in the new diocese of Rockville Centre, serves multitudes of people throughout the year and is the largest outreach of its kind in our diocese.
How long have you lived in Wyandanch?
I began working here as an associate priest on Jan. 23, 1974. Fr. Andy Connolly was being named administrator and was told to look for another priest who would want to work here.
He consulted with some friends, and somehow my name surfaced. I had been working at Our Lady of Loretto, Hempstead, since being ordained in June of 1968. There I was involved in youth ministry and began to get involved village ecumenical activities. I started the Spanish-language Mass in that parish and was trained by Catholic Charities to assist in immigration cases affecting people in Hempstead.
So, Andy called me in mid-December 1973. I was due to be transferred in June of '74, so this was opportune. I went to meet him and see the parish, and knew right away that this was the place for me.
What are the challenges you face?
We have the standard problems and challenges of every parish, rising costs and income not coming near to keeping pace. We have all the sacramental programs of other parishes, but everything has to be done in three languages. Our parish is growing in numbers but draws mostly people with low incomes
What have you and your people accomplished?
I think I've continued the work of my pastoral predecessors into this still-new century, in collaborating with great laypeople and religious to build a growing, welcoming and engaging parish community here in Wyandanch. Hispanic and Haitian spirituality communities are increasing in number and flourishing.
We are one of the founding members of Long Island Communities, Assemblies and Neighborhoods, which is part of the Industrial Areas Foundation, a community organizing group, and have collaborated in many projects to help people here in Wyandanch and throughout Long Island.
I'm on the AMOS (A Movement of Solidarity) advisory board of Long Island Jobs with Justice, working on many issues like local farm worker rights, forming leaders in communities throughout Long Island to advocate for Comprehensive Immigration reform and to accompany immigrants facing deportation hearings. We've also worked with clergy leaders throughout the Island to prepare Faith Leader Focus Groups which led to publishing 'People of Faith Advocating in the Public Square: Long Island Challenges, Hopes and Opportunities.' We've also organized, for the past six years, Working but Still Poor conferences which engage the justice and activist people from throughout the Island.
Our parish Roundtable for the Common Good has been active in interfaith work. We revived our parish's 30-year tradition of a Seder meal during Holy Week, but now we have it led by a Jewish Rabbi doing a traditional Jewish Seder, with participation of our multicultural community and Muslims from the Turkish Cultural Center of Long Island. We will also participate in a traditional Muslim Iftar, with a Jewish Rabbi and members of the Jewish community.
We're now finishing our first year of Jewish, Christian, Muslim 'Abraham's Table' conversations on topics such as 'ISIS is not Islam,' creating the 'Beloved Community' (on MLK Day), how Jews, Christians and Muslims preach love while experiencing hate, our concept of God, our concepts of sacred scripture, stewardship of the earth. We're now putting together our program for next year.
Back in the 1970s, we became deeply involved with our neighboring Trinity Evangelical Lutheran Church, first in social ministry in service to the poor and collaborating for housing and other needs in Wyandanch, and later with the laypeople, religious women and clergy of our respective denominations studying the teachings of both of our churches. This led to the publishing during the spring of 1974 of 'A Joint Statement of Our Common Faith,' emphasizing what we hold in common. We then petitioned the leadership of both denominations, in the Vatican and Geneva, Switzerland, for permission to celebrate the Eucharist jointly. There was an hour-long documentary film, produced and televised in May, 1974, by CBS News, about our unique ecumenical efforts. As you can imagine, there was Lutheran acceptance -- and Roman Catholic total discouragement. Almost to the day, 25 years later, in 1999, the official Lutheran-Roman Catholic Dialogue came up with the same conclusion as we did, but still no change in practice has come.
Where and with whom did you spend your childhood?
I was blessed with a strong family, and close relationships with relatives in both my father's and mother's families. There were good role models in all my grandparents and my aunts and uncles, as well, of course, in my parents. I grew up in a family environment of political awareness, social responsibility and community involvement in the city of Glen Cove and beyond. I am the middle child of five boys.
I was born in Parkchester, in the Bronx, in 1942, but the family moved to Glen Cove in late 1945. My father didn't have a car in those days, but we lived within walking distance from the Glen Cove Long Island Railroad station, so he commuted to his work with an insurance company in Manhattan.
I was an athlete as a teenager, participating in track and field in high school and college.
I also spent a summer during high school as a 'New York State Farm Cadet', and lived with a family on a dairy farm near Ogdensburg and worked as a farm hand. I'm still in touch with my family up there, and have visited them over the years. I posted a video of a quiet moment on the farm on YouTube entitled 'Early morning moment, Mitchell Farm, Hammond, NY, August 22, 2013.'
Did any of your activities connect you to people living on the margins?
Besides the usual newspaper route, I also had other jobs as a kid that influenced my vision of the world: working in the purchasing department of Glen Cove Community Hospital; working as a farmhand with Puerto Rican farm workers, who were paid .75 cents an hour with 'room and board'-- which meant bunking in a shack behind the barn and eating out of tin cans -- while I was paid $1 an hour (the minimum wage at the time was $1.10 an hour) on a Brookville truck farm; and running a checkout at a small A&P supermarket in Glen Cove, where I became a member of the Amalgamated Meat-Cutters and Butcher Workmen of North America labor union of the AFL-CIO.
Are you close to your family members?
Yes.
Where did you go to school?
I attended St. Patrick's Elementary School, Glen Cove; St. Mary's High School, Manhasset; Mount Saint Mary's College (now University), Emmitsburg, Md., and Immaculate Conception Seminary, Huntington. My bachelor of arts degree is from Cathedral College, Brooklyn.
What is your image of God?
God is the source and end of everything, the prime motivator to enable people to take risks for good in life.
Do you have a favorite Scripture passage?
'The Lord is my Shepherd, nothing shall I want.'
Choice prayer?
I think the Lord's Prayer says it all.
When were you ordained?
I was ordained on June 1, 1968, a time that we all remember of great social unrest, with the assassinations of Martin Luther King, Jr., and Robert Kennedy, the violence surrounding the Democratic Convention in Chicago, the Catonsville Nine, and the growing unrest against the war.
One of the first things that happened to me as a priest, around noon of my first day on duty in Our Lady of Loretto, Hempstead, I received a call from the U.S. Army Base at Mitchell Field and was asked to accompany an officer to advise a family of the death of their son in Vietnam. I remember arriving at the house, walking with the officer up the walk to the front door, ringing the bell, and the mother answering the door and immediately collapsing in front of us, before even a word was said. One month later, her husband, the soldier's father, died of a heart attack. The death of that young soldier led to the death of that family.
What or who inspired you to become a priest?
As is probably fairly common, the reason I entered the seminary was not the reason I was ordained. In my youth I was impressed by the priests of my parish, who were all very good men, friendly, kind, pastoral and very active with the youth of the parish.
In my later elementary years, I was recruited to sell the Brooklyn Tablet after Sunday Masses. Fr. Mario Costa was my boss. I'd have to be there at 5:30 a.m. to set up; I loved it, particularly talking with the people and helping the janitor cleaning and mopping up the messes and fixing stuff that would go wrong on a Sunday morning. Another task at that time was to wheel Fr. O'Sullivan, our invalid pastor who suffered a stroke about a month after he became pastor about 1951, over to the sacristy every Sunday so he could attend the 8 a.m. Mass.
When Fr. Fred Schaefer joined our diocese and was named to St. Patrick's, he had a major impact on my vocation. I was in high school at the time. He continued the spirit of the other priests, but he brought something new. He spoke Spanish, having worked in Puerto Rico, and began reaching out to the hidden Spanish-speaking population of the parish, mostly stable hands, day-laborers. He brought them together at the church and celebrated Mass with them. I attended sometimes. This impressed me greatly and planted seeds for the future.
A few months after I entered the seminary in September, 1962, Fr. Charles Kohli was assigned to our parish. He also had a major impact on my formation, opening me up to many things that were going on in Catholicism. He helped me to understand liturgy, and what the decades-old movement for liturgical reform was all about.
Just before Fr. Charlie came to Glen Cove, he was working at St. John of God in Central Islip, and invited Fr. Dan Berrigan to speak about the growing troubles in 'Indo-China.' This was during our Christmas break, so I attended with several other seminarians. Fr. Charlie also invited me to join him on a visit to the NYC Catholic Worker, to one of their Friday night 'Clarification of Thought' sessions. It was there that I first met Dorothy Day, who of course impressed me greatly.
I later would get to know Fr. Dan and his brother Phil thru the Atlantic Life Community (ALC), a gathering of peace communities, Catholic Worker houses, etc. from throughout the Northeast, which held annual retreats at Kirkridge in Bangor, Penn. This was, of course, greatly influenced by nonviolent direct actions to protest the Vietnam War and promote civil rights. The Plowshares actions developed from the ALC, the first being the Plowshares 8, and spread around the world.
Through them as well as Tom Cornell of the Catholic Worker, I was prepared to help young people with counseling for the military draft, which was very helpful when I was assigned as a priest at Our Lady of Loretto in Hempstead.
Another influence on me as a kid was the execution of Julius and Ethel Rosenberg. I grew up in a politically aware family, and my parents talked about the developing case and trial. I remember identifying with their two sons, Robert and Michael. The day of the execution, we were all sure there would be a last-minute reprieve. I remember the sadness when they were actually killed. This was a little before my 11th birthday. My life-long opposition to capital punishment stems from that.
I was also greatly influenced by my experiences in Latin America during the summers of 1964, 1965 and 1966, in Maryknoll parishes in Peru and Chile. This was a time of tumultuous change in these countries, as well as the church of Vatican II, reimagining the very idea of 'mission.' Liberation theology was being born in those very places. I worked with wonderful priests, sisters, brothers and laypeople, particularly doing census work among the recently arrived indigenous people who'd fled desperation in the Sierra and were squatting wherever they could find a bit of space, alleyways, slums, etc. I also worked in the development of cooperatives, helping create new economic realities for desperately poor people.
Did your ministry turn out the way you anticipated?
I've found that ministry is always evolving. Experience and reflective life leads one to grow into ministry. It's not a static entity. I look back over the years and observe that it has been, and continues to be, everything I'd expected, and more.
Please explain.
I think I've always been a positive person trying to connect with other positive people to do good things.
What have you learned from the people you serve?
Language, culture, spirituality, lifestyle, the ability to discern what's important in life and what is not -- these and so many things I've learned from the people over the years.
Can you speak to the challenges of an immigrant population?
Too many of them live in constant fear. They need people of our country to understand why they're here, that there are no legal ways for poor people to escape the political dangers and economic hardship of their beloved homelands and to emigrate to the USA. Ironically, the USA is both the great low-skill job magnet attracting millions of unemployed workers from nations to her south, while at the same time being very much responsible for these small nations' political and economic woes, because of our foreign policy and 'free-trade' agreements.
Then there are the young students who came here as babies or young children and know only this country. They don't know their country of origin at all, so insisting that they return there is a grave injustice.
It's distressing to hear some politicians demanding this unreasonable return.
I just became aware of a situation in our parish where several ICE agents surrounded a home looking for a man, who has papers and a work authorization and has committed no crime, but failed to report a change of address. Everyone in the house was intimidated by the agents, and one accidentally (?) dropped his weapon on the floor in front of the children. The immigration lawyer who'd been helping him told me she spoke with the head officer and assured him she'd provide him with the man's address the following morning, and the officer agreed. The officer, instead, immediately went to the man's workplace and arrested him. He is now in ICE custody in New Jersey, as we have found out with difficulty. We've held meetings with people to advise them of their rights in such situations when ICE comes to homes or work places, but the intimidation is very real, and the agents act as bullies. We're also training volunteers to accompany immigrants to deportation hearings, to ensure that the judges and agents know they are being observed.
What injustices need to be righted?
This is a massively complex question. Every injustice needs to be righted; not necessarily by me or you, but we all need to be sensitive to the efforts of people who struggle for justice and certainly not hinder them. We need to connect with the positive people, the 'glass half-full' people, to build the right kind of solidarity in the world for the common good. 'No justice, no peace!' We need comprehensive immigration reform
Has Pope Francis had an impact on you or your people?
Absolutely, yes. He has been a breath of fresh air, affirming so many aspects of our parish vision and mission.
I think of my work in Maryknoll parishes in Peru and Chile as a seminarian back in 1964-1966, working with indigenous folks who'd fled starvation in the mountains to live in squalor in Lima slums or alleyways; and with a cooperative in southern Peru, building houses with some of these same indigenous folks; and with unemployed vineyard workers starting, with the church's help, a pig-raising cooperative in central Chile, just a few years before Salvador Allende would become president, bringing hope for the poor, which would later be dashed by the Nixon-Kissinger-CIA sponsored coup, murdering both Allende as well as leaders in the cooperative and progressive movements.
We now have a pope who understands all these incredible injustices and their morbid legacy, as well as the courage of the folks who've struggled for justice and peace all these years. He understands why the theology of liberation was born in this seed-bed of injustice.
I think of Archbishop Oscar Romero and the many clergy, religious and lay church workers and nonviolent social activists throughout Latin America who have been so unjustly treated, and perhaps even misunderstood by Francis' predecessors.
How can he do this?
His pastoral emphasis is challenging the status quo in Rome that has proven to be so out-of-touch with the realities of our world. He is also challenging many of the bishops throughout the world to be more pastoral, and is meeting much resistance.
If you were a bishop, what programs would you encourage?
I would promote sincere listening among all the workers of the diocese and its parishes and other institutions. We need to be professional in the work we do, but the pastoral dimension of everything we do is of paramount importance. It is said that Bishop Kenneth Untener would begin every meeting with the question: 'How does what we are doing affect the poor?' That seems to me to be a good mantra for church workers at every level
Do we 'imitate' Christ or 'impersonate' Christ? I would work to combat any sign of clericalism among the clergy of my diocese.
How would you mentor a seminarian?
I would encourage a seminarian to seek a broad experience beyond easily identifiable church functions. I would encourage him to shun and oppose any and all forms of clericalism.
Do you have unfulfilled dreams?
Yes. I dream of the day when the 'social gospel' and work for justice and peace would be the default or basic setting for seminary training, and indeed all pastoral training of deacons and lay ministers. I also dream of the day when the church will catch up with the Gospel we preach, and admit and celebrate the role of women in all levels of ministry.
How do you relax?
I play music. I've been in music performance since I was a kid, singing with my dad in a men's group in a Protestant church in Sea Cliff. I performed in my college glee club and am an active member of the Long Island Banjo Society for over 50 years.
I have led old protest songs in rallies and demonstrations for many years, including playing my banjo in Columbus, Ga., the home of the U.S. Army School of the Americas (now renamed the Western Hemisphere Institute for Security Cooperation) and the heart of the Pentagon. I also played for Fidel Castro, along with an elderly Jewish fiddler and the Rev. George Houser, one of the founders of the Congress of Racial Equality and organizer of early freedom rides, as well as being an accomplished harmonica player. That was in 1992 during the first 'Friendshipment' to Cuba of IFCO/Pastors for Peace.
For the past 17 years I've also taken up traditional Irish music and play in an Irish band, along with the daunting (perhaps insane) task of learning to play jigs, reels and hornpipes on the fiddle after the age of 70.
You can be sure we'll want to stay tuned! Thank you.
[Mercy Sr. Camille D'Arienzo, broadcaster and author, narrates Stories of Forgiveness, a book about people whose experiences have caused them to consider the possibilities of extending or accepting forgiveness. The audiobook, renamed Forgiveness: Stories of Redemption, is available from Now You Know Media.]
Editor's note: We can send you an email alert every time Sr. Camille's column, Conversations with Sr. Camille, is posted. Go to this page and follow directions: Email alert signup.