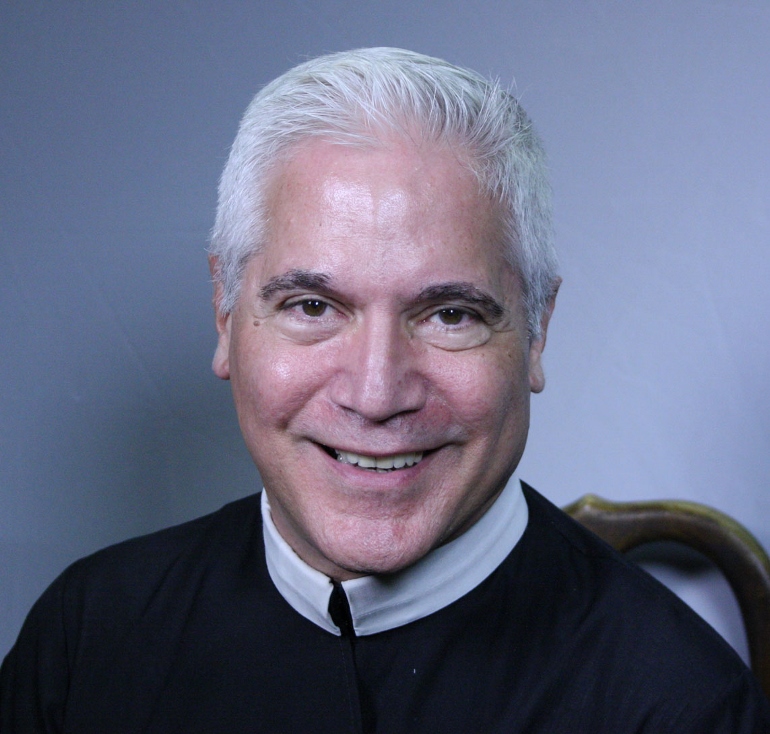 Fr. Francis Gargani, 2011. (Courtesy of the Redemptorists of the Baltimore Province)
Fr. Francis Gargani, Roman Catholic Priest of the Redemptorist Community
Age: 70
Lives in: Brooklyn, N.Y.
Sr. Camille: Where and with whom did you grow up?
Gargani: I am a native son of Mt. Vernon, N.Y., in the parish of Sacred Heart. I was taught in grammar school by the Sisters of Mercy of New York and at Mt. St. Michael High School.
Both of my parents were born in the U.S., but my grandparents were immigrants from Italy. My father was a steamfitter and my mother worked in the industry of making women's apparel.
I have two sisters: the elder, Theresa, has been divorced for many years, and has two grown married daughters; my younger sister, Susan, is married with two grown sons. One of them is married with a son, and the younger one is a police officer in Yonkers.
I have always enjoyed having a large, extended, Italian family, and I grew up with very close relationships with my 20 aunts and uncles and many cousins. I try to keep in touch with them all, and I bring the cousins of the Gargani clan together once a year.
I host Thanksgiving dinner each year here in our Redemptorist house with many family and friends, as well as Redemptorists, attending.
What schools did you attend?
Sacred Heart Grammar School; Mt. St. Michael High School; SUNY New Paltz; St. Alphonsus College (Suffield, Conn. for my B.A. degree); Mt. St. Alphonsus Theology School (Esopus, N.Y.) for my M.A. in Religious Education and Divinity; Catholic University (Washington, D.C.) for the Liturgy master's program; and Fordham University (Bronx, N.Y.) for the Spirituality and Spiritual Direction master's program.
You are surely well educated! Who or what drew you to the Redemptorist Order of Brothers and Priests?
Firstly, I hope God. Secondly, the Sisters of Mercy always 'planting' the idea in our heads. Thirdly, while in high school, attending a large vocation fair and saving the materials. When at SUNY, I was sending for more material and meeting with a variety of vocation directors. Newly ordained young Redemptorists helped out in the local parish, Esopus and the major seminary close by. They were a big influence. And the vocation director was personality plus!
When did you join them and when were you ordained?
I joined the Redemptorists after one year of college (back then I was considered a 'late' vocation), 1964. I went directly into the novitiate! My first vows were in August, 1965, and my ordination was June 20, 1971.
What is your position in your community?
I have been the acting superior (rector) of our provincial headquarters in Brooklyn for the last six and a half years. It's my first 'administrative position,' since I served in two parishes for 10 years (in Saratoga Springs, N.Y. and Pittsburgh, Penn.); as a Catholic campus minister at Old Dominion University in Norfolk, Va., for seven years; in our Redemptorist retreat house in Mt. St. Alphonsus, Esopus, N.Y. for nine years (our former seminary); and a ministry focused on justice and peace for nine years while living in the South Bronx in a Redemptorist parish.
What does that position entail?
Besides the ordinary administration of a community of nine brother Redemptorists, a staff of six, a three-story building and a guest house (doing the ordinary tasks of bill paying, grocery shopping, overseeing maintenance and renovations, and enjoying the coming and going of many guests), I continue to give a variety of retreats, parish missions and programs on social justice, and I serve on several boards, such as Pax Christi and the New York Chapter of the National Pastoral Musicians.
What about your ministry delights you?
Playing the 'host with the most' or 'the merry Innkeeper!'
I share ministry with amazing people from Pax Christi, NPM (National Association of Pastoral Musicians), and several justice and peace groups, as well as teach annually in 'One Spirit,' a two-year inter-faith program for faith leaders, and I am part of a wonderful Justice & Peace Committee of Sacred Heart parish in Bayside, Queens. I have had the privilege of ministering with Notre Dame Sr. Kathleen Deignan, professor of religion at Iona College of New Rochelle, for 15 years, in a variety of programs on Thomas Merton, Thomas Berry, Earth justice, Celtic spirituality and the nexus of Christianity with Buddhism.
I am also delighted to be part of Cave Canem, a black poets organization, participating in its founding at Mt. St. Alphonsus in 1996, and delighting in its amazing growth over its 20-year history!
I am an associate at Mariandale Retreat and Conference Center, a Dominican Sisters of Hope ministry, offering Eucharist monthly, teaming the annual Holy Week retreat, and with a wonderful team, doing a summer directed retreat the last 16 years!
What challenges you?
Trying to keep a balance in my life with ministry, administrative duties, and prayer and recreation.
Who are your collaborators?
Too many to mention! The amazing J&P team of Bayside, Queens, with the amazing Mercy Sister, Kathleen Masterson! I collaborate with wonderful Dominican women religious at Mariandale, and for many years with their wonderful program director, Janet Corso.
I am privileged to be on the Board of Pax Christi under the capable leadership or Rosemarie Pace as our salaried director of our New York metro chapter. I collaborate with the director Chris Reilly and a wonderful team of a board for the New York chapter of National Association of Pastoral Musicians. I have already mentioned my collaborator par excellence, Notre Dame Sr. Kathleen Deignan. I am blessed to collaborate with my Redemptorist brothers in retreats, parish missions, and the administration of our headquarters, presently serving on the Province Commission for Community Life and the Committee on Senior Ministry and Living.
I can never say enough about the talented and deeply spiritual teams of spiritual directors that I am honored to team with for the several directed retreats I facilitate at Mariandale and our Redemptorist retreat house, San Alfonso, in West End, N.J. For years, I shared in the still amazing outreach of 'The Mercy Center' of the South Bronx, teaching ESL there for nine years and fun social dancing each semester. Mary Ann Dirr, her brother Joe, and Sr. Mary Galeone collaborated to make the center a model of 'mercy and empowerment' for immigrant women and men and their families.
I ran retreats for folks with HIV/AIDS, collaborating with the dynamite Immaculate Heart of Mary Sr. Regina Burns and a Redemptorist who is now provincial of Australia, and retreats for the homeless, serving on the Board of Interfaith Housing and Homelessness. I have had the joy of collaborating with Betsy O'Neill and 'The Sacred Dance Guild,' sharing the art of liturgical dance in various places for multiple occasions. I had the privilege of collaborating recently with a talented team offering a day of prayer and reflection for the LGBT community of New Jersey and will do so for an upcoming June retreat. And the list goes on!
What inspired your passion to engage in works of justice and peace?
Experiencing probably my own 'not fitting in' as an adolescent and young man certainly is one factor. Both of my parents always stood up for the 'under-dog,' especially my father, a proud union man. Growing up in a changing neighborhood, which was transitioning from white to black, and joining the Catholic Interracial Council in high school. The Civil Rights movement of my formation years for sure. Reading about Dorothy Day in college and finally sitting at her feet in the Catholic Worker farm in Tivoli, N.Y.
Admiring the Berrigans! Reading Dr. King and Malcolm X in college and theology years, as well as Ghandi. Becoming close to a young Catholic Worker couple who moved close to Old Dominion and began a house of hospitality there. Hopefully, the Gospel ... Jesus ... and some of our own recognized saints and present-day saints! Serving on our Redemptorist Social Justice Commission, traveling to various programs we support. And too many also to enumerate who have inspired and formed me over the years!
Thank you so much! You surely inspire many, including me. Would you explain the meaning of Emmaus as an intentional community?
Emmaus is one of many 'intentional communities,' in the U.S., born post-Vatican II. As with others, its early founders were ready to run with the Council, while their parishes were more than dragging their feet! Various American bishops gave permission to groups of laity to form non-territorial communities of faith, often without any ownership of buildings, with assigned priests in their early formation years.
Originally well over one-hundred people, Emmaus of Stamford, Conn., is now a small, very dedicated community of Catholics who each taking responsibility for planning the Sunday Eucharist, for financial stewardship, and for social and ecumenical outreach. There are presently three professors of St. John's University who share the presiding role along with me, planning the liturgies each week with two Emmaus members. When I began sharing their faith life nearly 16 years ago, they were served by two wonderful Jesuits from Fordham. Though Emmaus of Stamford continues to age out, it offers its members a way of being 'church' that few in the pews experience!
What else would you like us to know?
That if I have in any way been of service to God, our church, the Redemptorists, and the many people whom I serve among, it's only because literally thousands have shaped and molded me with love and compassion and forgiveness and encouragement. I am incredibly blessed in more ways than I can fully grasp, and continue to look forward to a life of on-going ministry and beauty and music and theater and cabaret and dance!
[Mercy Sr. Camille D'Arienzo, broadcaster and author, narrates Stories of Forgiveness, a book about people whose experiences have caused them to consider the possibilities of extending or accepting forgiveness. The audiobook, renamed Forgiveness: Stories of Redemption, is available from Now You Know Media.]
Editor's note: We can send you an email alert every time Sr. Camille's column, Conversations with Sr. Camille, is posted. Go to this page and follow directions: Email alert signup.